← Back to all posts
How to Prepare for Moving With a Dog to a New Home
Once you start considering a relocation, you begin thinking about many obstacles you will face along this journey. Sure, things will be pretty stressful for you, but what about your furry best friend? Moving with a dog has some specifics that you must keep in mind if you want to make this transition easy on your pet. Have you thought about what can be helpful to your little friend during these tough times? If not, keep reading to find out.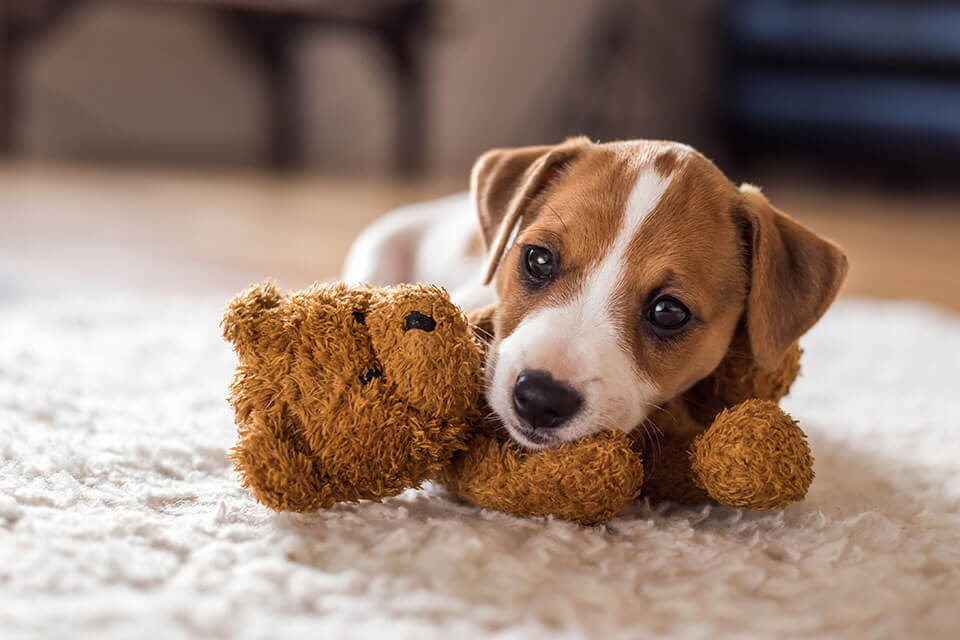 If you haven't moved with animals before, you have a lot to learn. Unfortunately, dogs can feel relocation stress just as much as humans. Although the thought of stressing your pup during this period can be enough to make you reconsider the whole move, you don't have to worry that much. All you need to do is take good care of your furry ones and use some tricks to prepare them for the move and adjust to changes.
Why Is Moving Stressful for Dogs?
Even those who don't have an animal and don't know how to move with a dog can for sure realize that the anxiety about the move out in animals comes from the same place as the relocation stress that humans feel. Stepping out of a comfort zone and going into the unknown is scary, especially if you can't talk - like animals. Additionally, dogs are territorial, and they don't really like to change their house. Organizing an efficient move will be a bit more demanding if that move includes a canine, but it's nothing that can't be done. You can manage anxiety in pets by following a few relocation tips that we will share with you - they truly can improve relocation with pets for both animals and humans.
How Can You Make Moving Easier for Your Dog?
Stress-free relocation is an urban myth, but that doesn't mean we should let things go their way and not even try to help our animals. The most crucial thing to keep in mind is that your pup will be overwhelmed, and you have to find a way to calm them down - even if you have to move in a hurry. Be sure to let them know that everything is going to be just fine. They have to see that you aren't going anywhere - and this is especially important for pets who suffer from separation anxiety. So, what can you do? Naturally, you will have to organize your move, but also find time to apply some relocation hacks that will calm your furry friend down.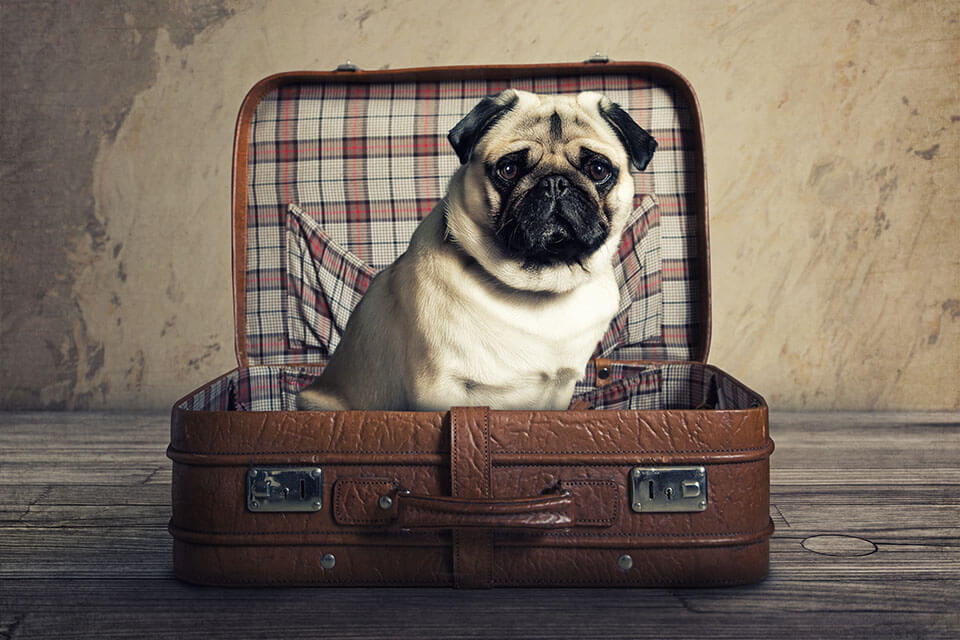 Your Pet Is Used to a Certain Routine - Try to Keep Things as Normal as Possible
Why do dogs have a hard time adjusting to moving? When they have been living in the same house for years, or their whole life, they become used to everything around them. They are familiar with every corner of the place - where they sleep, where the food is, or where they like to play. Dogs love their routine, and they aren't so excited about it being taken away. It's actually a pretty similar situation as relocating with kids, so it is wise to use similar psychology here but adapted to animals.
Keep the same routine for as long as you can before going to a new home - this will bring a lot of peace to your animal. Give food at the same time you usually would, and take your pet for a walk during the usual hours. Although this may seem like doing nothing, don't underestimate the advice. As the relocation day approaches, you will be stuck with countless tasks from your to-do list, so it may be challenging to stick with the routine. Don't worry, you will prepare for movers and handle complex packing tasks such as packing dishes - but remember that taking care of your little one comes first. Overlooking this is one of the worst relocation mistakes.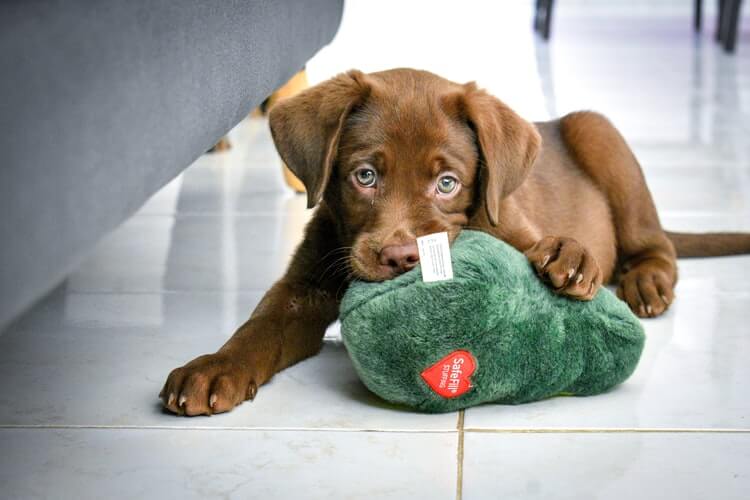 Packing Supplies Can Be Scary for a Pup - Training Can Help in That Case
You might think that boxes are the most boring item on this planet, but your pup might not agree - not to mention the scary sound of tape and all that weird bubble wrap. Supplies are relocation essentials, and you can't move without them, but what are you going to do if your pet is terrified of them? Luckily, in this case, a little training can go a long way.
Give Your Four-Legged Friend Time to Adapt to Packing Supplies
Before you start checking off tasks from the packing list, you might want to give your animal a day or two to adapt to supplies. You don't have to start packing books immediately - not even if it's a last-minute move. So, what kind of training should you apply in this situation? It's nothing complicated. All you have to do is leave a box or two and some supplies in the corner of your choosing, somewhere where the pup will notice them.
Don't try to draw attention to this setup. You should let a pup approach the supplies on its own when they are ready. Soon, the boxes won't seem so scary, and the pup will realize it has nothing to fear. Here's a pro tip - you can give food as a reward for when your furry friend approaches boxes on its own. That will create a positive association and speed up the training process.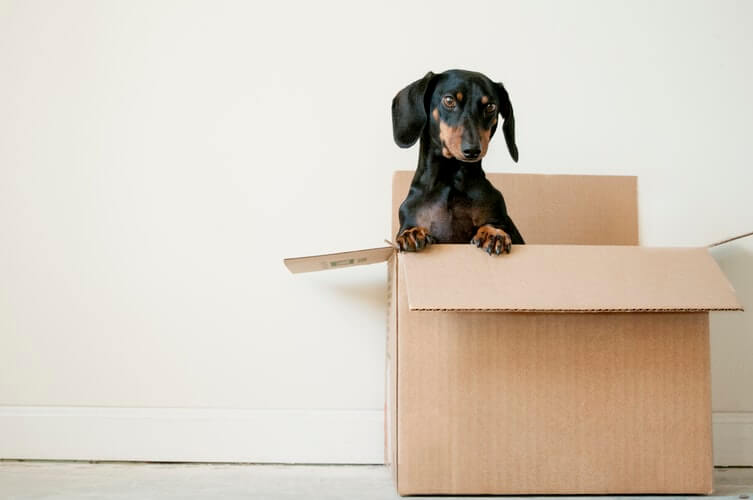 Physical Exercise Is of the Utmost Importance
The question - how do I prepare my dog for moving? - has a lot of different answers, and not everybody will approach this the same. But, what most canine owners (and experts) agree on is that exercise is highly beneficial during the relocation process. Why is that? Besides the obvious benefits for physical health, it will improve the mental one, as well. So, even though you will be preoccupied with packing kitchen items or planning how you will move furniture, you mustn't overlook the exercise.
Make sure you add extra time to the daily walks and try to prolong the fetching game for as long as you can - until your pup gets bored of it. Playing with others in the park is also a smart trick to help eliminate excess energy. If dogs are tired after a long day, they won't be feeling anxious - just like the gym enables you to relax, running around calms dogs. In case you are too busy downsizing for a move or trying to get rid of items movers won't move, you can ask a friend or family member to come by the house and play with your pup while you pack pots and pans - no sane person would turn down that offer.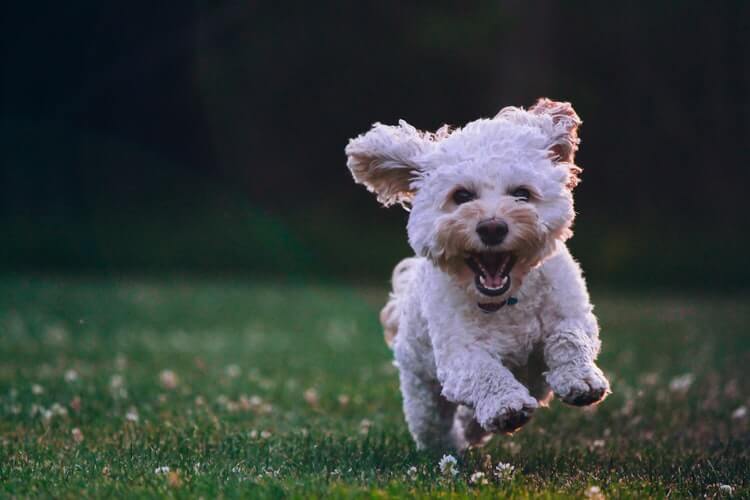 If You Can, Visit the New Neighborhood With Your Furry Friend
Of course, this tip is only possible if you are having a local move - that is, if you will be living within the same city. If your new neighborhood is close to the old one, you can walk with your four-legged friend and explore the area. This also counts as additional exercise, so it is basically a two-for-one tip. Also, it could be good for you to take a break from packing fragile items or other demanding tasks such as packing electronics. While your dog explores the neighborhood, you can do that as well - see if there are some lovely parks or streets that look nice for future walks.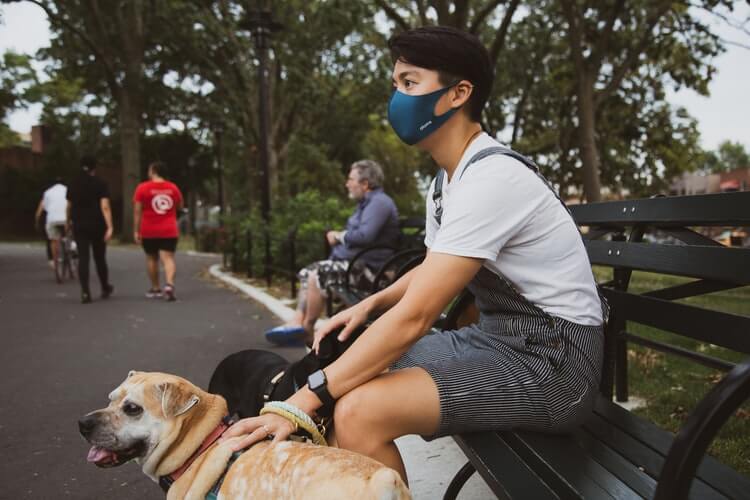 Provide Your Dog With a Safe Space
While you pack your belongings, your house will be in complete chaos. All those things out of the ordinary can confuse the pup, so there must be at least one safe place that stays the same as it was before. Choose an area where you will put your pet's toys, water, and food, and try to keep that setting for as long as you can. It should be a comfortable spot where they can relax, so you might want to pack that up last after you are done with everything else. You can even add some of your clothing to enhance the sense of security - this little trick can work wonders in calming an animal.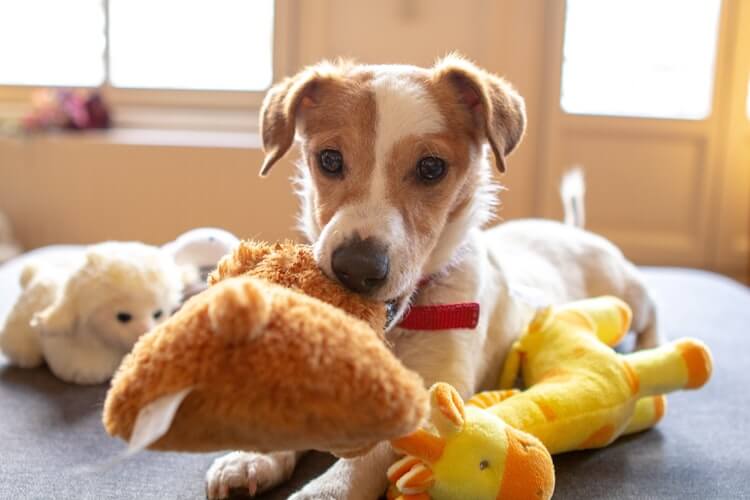 Find a Trustworthy Sitter for the Relocation Day
The relocation is quickly approaching. Boxes are packed and sealed, furniture is wrapped, and you chose a relocation company a long time ago. Everything is ready, but what will you do with your furry friend while the move is in progress? You wouldn't want those little paws to run around while the movers do their job - accidents can happen. The best solution for the relocation day is finding someone you trust 100% to take care of your pup. It could be your friend or a sibling. It doesn't matter, as long as you are positive that your canine companion will be okay with them until you have tipped the movers and the whole move is over. Then, you can start with the first task on the new apartment checklist - introducing your pup to their home.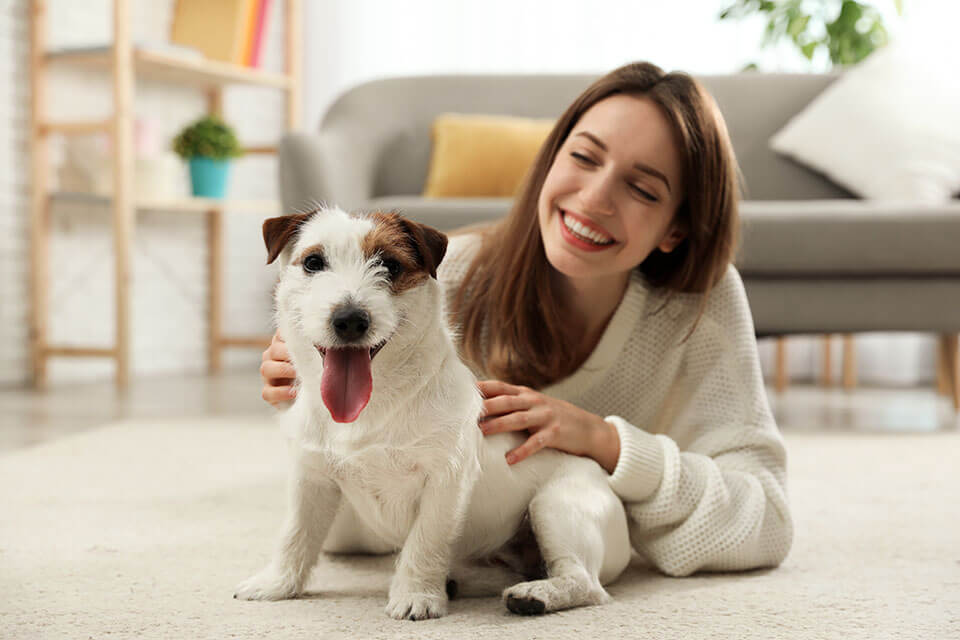 What to Do After Moving With a Dog to a New Home?
How long does it take for a dog to adjust to a move? Each animal is different, but approximately it can take anywhere from a few days to a few weeks. Don't worry if your canine isn't immediately ready to settle in a different space. Adapting to a new home takes a while, but there is some stuff you can do to ease up the stress in the period after the move.
Explore the Place Together
Immediately after you move in, you should explore rooms together. It's best to keep your furry friend on a leash during this process. Walk into each room and give the animal a few moments to explore the space. If a particular room doesn't sit right with a pup, don't force it. Keep your voice calm and happy, and don't forget to offer treats for your little one in every room.
Having a Safe Space in a New Home Can Help Pets Adjust Better
Just like you had a safe corner for your pup in the old home, you should set one in this house as well. Preferably, you should do this before you bring your furry friend, but if you can't, it's perfectly okay to do this after you explore the rooms together. Try to mimic the safe space from the old residence - that will bring a sense of comfort and familiarity to an area the pup doesn't know.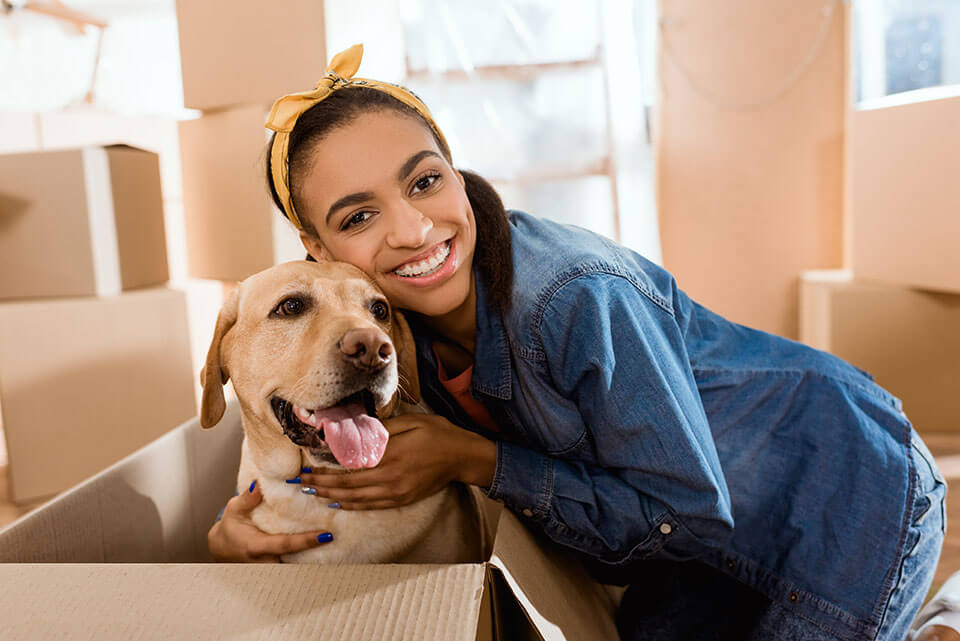 To Make Moving With Dogs Less Stressful, You Are Going to Need the Best Moving Company - Our App Can Help You
Even though planning a move can be pretty challenging, you can overcome many relocation industry challenges and issues simply by using our app to compare moving companies. Brilliant Mod24 features will allow you to find the best movers for your move who will handle all the difficulties that come along. What can Mod24 bring to the industry? Our unique approach to relocation issues and the fact that we are following all industry stats and trends will ensure you get the move you deserve - no stressing over incompetent movers or worrying about relocation scams.
If you use our app to find a reputable company, rest assured that everything will go just as smoothly as you planned. No matter how big your relocation budget is, we can find a solution for your move and provide you with a company with experienced and trustworthy movers. Contact us for more information on our services - we are here to assist you in any way.