Wondering how to pack silverware properly, so you don't end up playing ninja with your knives and forks flying around? There are a few essentials you need to follow, and you'll learn everything about them in the following article. Silver is known as one of the most reflective metals, so apart from safety, you should also try to keep it well maintained and shiny during this process.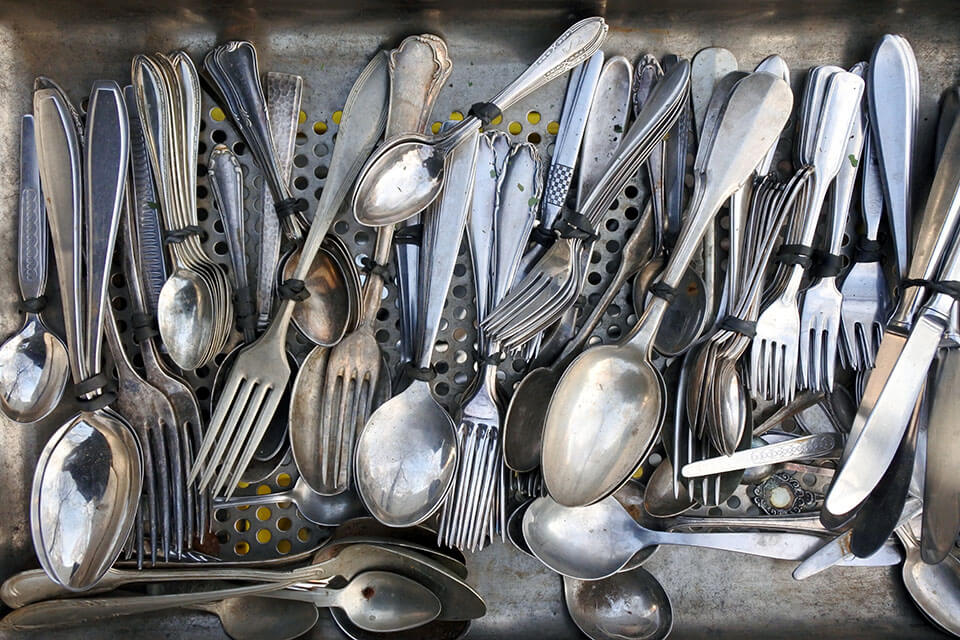 How Do You Pack Cutlery When Moving?
Even in the modern era, old family traditions still live, and believe it or not, there are many families that still pull out their finest silver set for Sunday lunches with their loved ones. If you're among them and want to find out the best ways to protect your cutlery, especially silverware, for relocation, you've come to the right place.
This article will help you remember all the important steps you need to take in order to go through this process easily and move efficiently. You can say goodbye to any kind of relocation stress - everything will go smoothly, and you won't experience any inconvenience. If you still feel like you can't go through the whole relocation process on your own, it is always good to consider hiring professionals. Finding a reliable moving company can be easy as well if you rely on our convenient app to compare moving companies. If you choose our moving company app, there won't be any risk of relocation scams, so you'll have an efficient move without anxiety.
How Do You Pack Dishes and Silverware?
Dishes are usually very delicate, so you need to follow tips and tricks for packing fragile items. You'll need to organize them by size and materials they are made of and get the suitable supplies you can use for protection. After getting appropriate supplies, you'll need to use all of your knowledge to protect everything properly and relocate your precious inventory in one piece without a scratch. You should also take care of hygiene - everything should be clean and packed with clean materials. Keep in mind that most of these objects are something you eat your food with, so you have to keep them in good condition.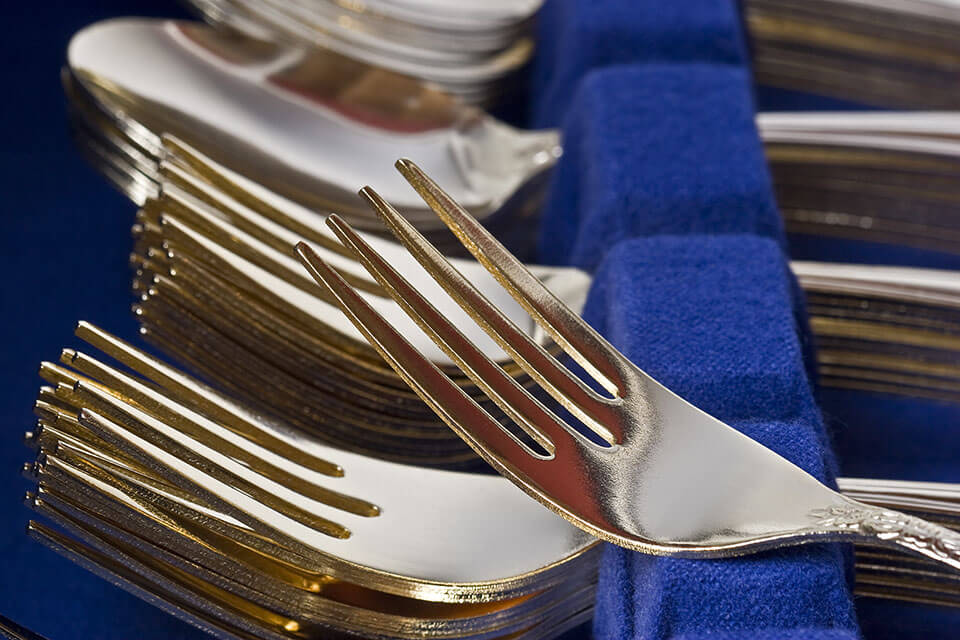 Start on Time and Organize Your Utensils First
One of the key hacks for every successful relocation is knowing how to organize packing to move. Start by making a to-do list and add all of the tasks we mention so you don't forget something. Before you pack, you should go through all of your kitchen inventory and decide what exactly you want to relocate. Maybe you'll find some dishes that you barely or never use, so relocating them won't be necessary. If they are still in good condition, you can decide from various options for getting rid of items you don't want. This will help you downsize your move and, with that, make the whole process much easier.
After making this selection, organize everything by categories. For example, forks should be stacked together in one category and spoons in another. If you have differently shaped and sized spoons, you can also have separate categories for different options. Sterling silver, for example, shouldn't be wrapped under any circumstances, so make sure you separate it at the very beginning. You should put it in pouches of cloth and separate boxes.
Ensure Everything Is Clean and Polished in the Right Way Before Packing
What's the use of relocating dirty dishes into a brand new and sparkling kitchen? You will only get mad at yourself that you were lazy before and you'll have to spend precious time at your new home cleaning. Take care of this before you move and spend your hours exploring the new neighborhood.
Let All the Pieces Dry
After cleaning and washing your silver and other kitchen inventory, don't forget to dry it. The best way is to let it air dry, but if you're relocating in a hurry, you can rely on a dry piece of cloth to speed up the process. Packing dishes while they're still wet is wrong for many reasons - silver can tarnish, and wet cardboard boxes can easily tear up, and all the dishes will fall out. To prevent any unnecessary accidents, avoid this common relocation mistake and ensure everything is dry before you put it inside a box.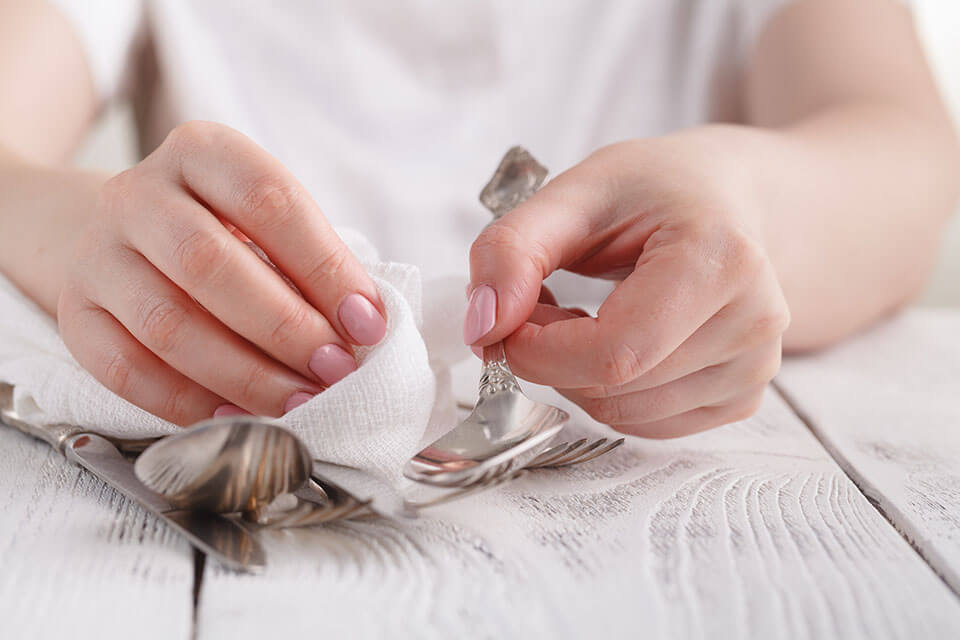 Get Appropriate Packing Supplies
The next step is getting suitable packing supplies that will help you protect your delicate silver from getting damaged during relocation. This is one of the things you mustn't forget to do. Go to a local store and get:
● Boxes,
● Plastic tape,
● Packing paper,
● Special tray,
● Labels.
Don't worry if you're relocating on a budget - most of these items are very cheap and considered relocation essentials, so they won't require large additional expenses. It will be much worse not to use them and risk damaging your expensive set of silver cutlery.
A Tray Is Great for Organizing Silverware for Moving
Silverware usually comes with a suitable tray most people keep. It's specially designed to fit different-sized pieces, so it's also perfect for relocation. Keep all the pieces inside the tray in their original positions and take a piece of plastic wrap or paper to wrap the tray.
Place the Tray Inside the Moving Box
After wrapping a tray with a chosen material, you should set up a container where you can put it. Ensure that all of the edges of the box are secured with pieces of plastic tape - this will prevent the bottom from breaking open. Cushion the box with packing paper or some other cushioning material and place the wrapped tray inside. Fill the empty spaces with more crumpled wrapper and close the container. After closing it, secure the top with an additional layer of tape and ensure it's labeled properly.
If You Don't Have a Suitable Tray, Try Making a DIY Version
If you lost your tray or your set simply didn't come with a suitable one, you could make a DIY version of this you can also use later for storing your silver. Any kind of wooden or plastic tray can be convenient as a base. Add pieces of the same material to divide the tray into differently shaped and sized sectors that will fit your particular set.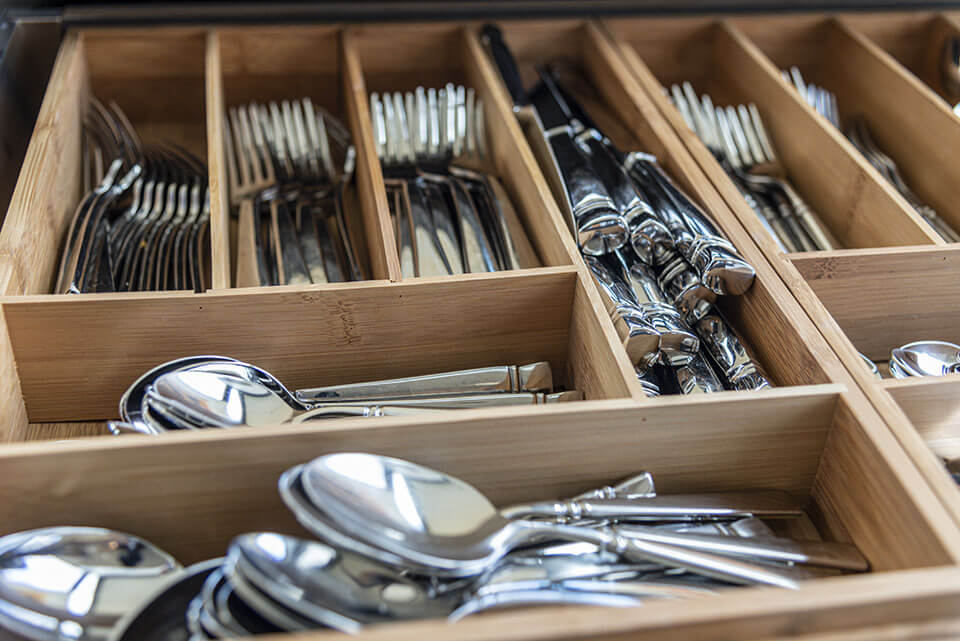 Pay Special Attention to Knives
How do you pack a silverware knife? You need to be extra careful when doing this - there is no need to remind you that knife cuts are one of the most common home and kitchen injuries. Don't let the last-minute relocation distract you - stay focused while doing this. This is also very important if you're relocating with pets or your children are relocating with you. There is no need to risk knives flying around and possible injuries to you and your loved ones. Put a knife or a separated category of knives on a piece of wrapper and fold it over. Alternate the directions of blades. One of the cool hacks is to stack your knives in a heat protection glove. They are usually made of thick, soft, and highly resistant materials that will protect your knives and protect you on the other side as well.
Wrap Other Large Pieces Individually
It is essential that you wrap each piece individually, especially if you already organized your items into different categories. Make sure to use quality material that's not printed or other suitable materials. Keep in mind the previously mentioned advice that sterling silver shouldn't be wrapped. Put a piece of paper on a flat surface, place the object on it, and fold the paper around it. Ensure all the edges are covered. Repeat the process if the object is large and it requires more than one layer of paper for all the surfaces to be covered. After covering it properly, you can put it in a box with other wrapped objects, just ensure to fill the empty spaces. You should also consider using smaller boxes because these items can be very heavy, and larger boxes can't hold the weight of all the items inside.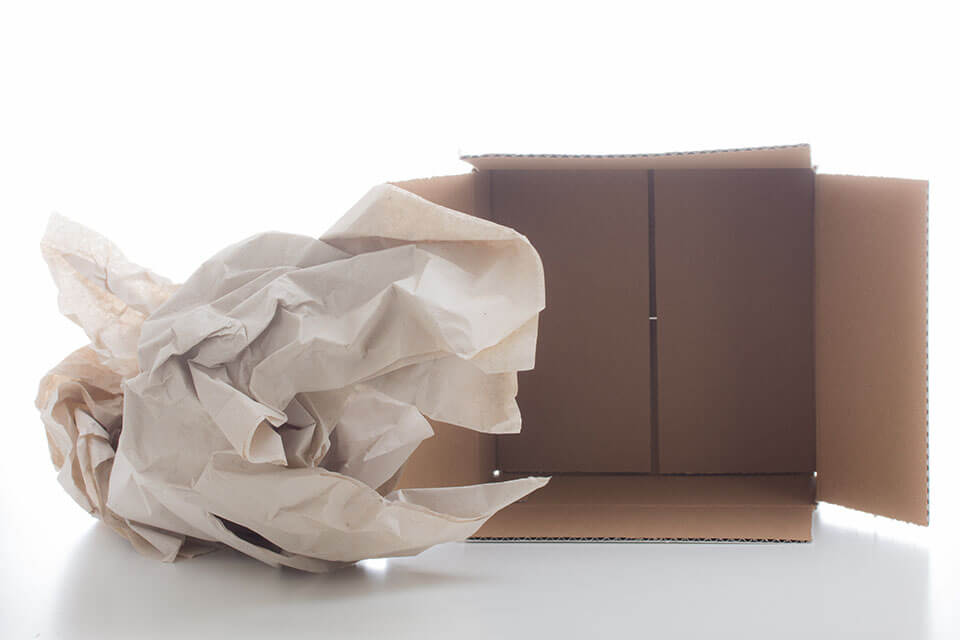 Learn How to Keep Delicate Pieces From Tarnishing
If you already know how to pack stainless silverware for moving, you must be wondering how to keep other pieces from tarnishing. It is important that you know that air may cause silver to tarnish, so it should be protected with suitable materials. Wrap each piece in clean, unprinted paper or tissue. This will definitely prevent unwanted tarnishing or at least make this process much slower. You can also buy a specialized tarnish-resistant flannel material you can use for wrapping. Other alternatives are silver cloth or unbleached cotton muslin. Adding a piece of chalk to the box, bag, or drawer where you keep your silver helps absorb excess moisture and, with that, any further tarnishing.
This step is highly recommended if the humidity in your area is high - adding chalk will help in the absorption of humid air. This will further keep the silver dry and, with that, tarnish-free. If you chose to keep your silver in a visible spot, for example, on your kitchen shelf, you could also add a piece of chalk, but this, unfortunately, won't prevent the tarnishing process as much as if you kept it in a closed place. Adding chalk will help you spend less time polishing it after it slowly tarnishes over the years in your new home.
How Do You Pack Utensils for Storage?
If you read everything so far, you're already aware that most of the previously mentioned techniques can be used for storage purposes as well. Keep in mind that even if you don't live in an area with high humidity, storage areas such as garages or other similar places can have higher humidity levels. That's why it's very important that you prevent tarnishing by wrapping utensils in suitable protective material and adding chalk to absorb the humidity and keep the environment dry. Wrap everything separately and place it inside the container that you'll later close with a piece of tape and label, so you won't forget anything even if it stays in storage for years. If you're wondering how to pack silverware for shipping, you can follow all of these tips as well.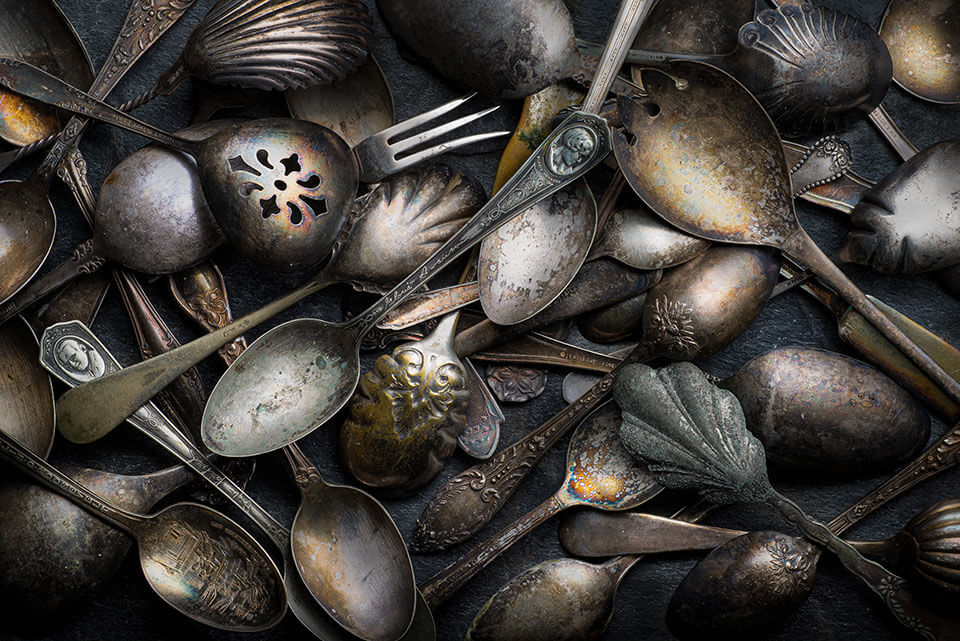 If You Still Don't Know How to Pack Silverware for Moving, Consider Hiring Professional Movers for Assistance
Once you decide where to live and find your ideal home following the appropriate house hunting tips, it's time to look for professional assistance for your relocation. If you're wondering how to choose a good relocation company in your area, we can put your worries to an end. Once you know how much money you saved for the move, you can choose among some of the services you find suitable and find a perfect company that provides them. How? With our amazing moving company app that will help you find reliable movers in your area in no time.
Mod24 features are modern alternatives to all the old-school ways of finding reliable movers in your area. You used to ask your neighbors about local or long-distance movers and their services, and now you can ask us! Just log in to your dashboard, give us all the required details, and our amazing algorithm made by experts will offer the best solutions. Contact us if you have any concerns, and our employees will happily guide you through everything you need to know.