When it comes to relocating, preparing before the move isn't the only challenging process you have to deal with, especially if the average household in the US needs around 20 boxes for the relocation process. So unpacking boxes after moving is a task you just can't avoid. No matter how tired and exhausted you are after the professional movers unload the last box from their truck, you'll have to arrange things you brought from your old place.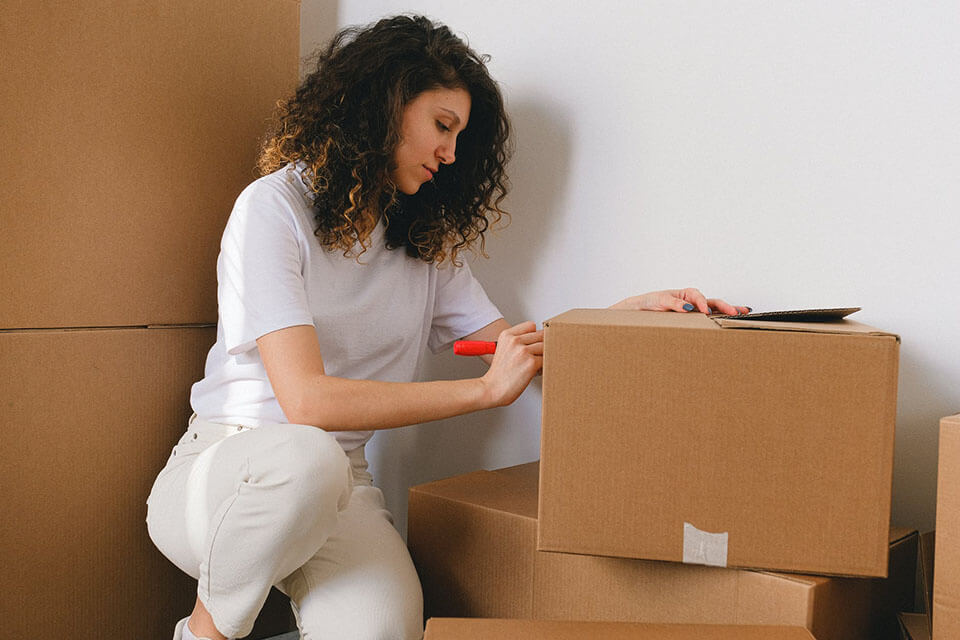 Feeling anxious about relocating is normal, especially if it's your first time moving. There are simply so many tasks to be done. If you thought that finding a relocation crew with the services that might come in handy (from packing to a storage facility where you can keep your belongings) is all you have to do, you're wrong. You can't really settle into your new home if your items are still waiting in the garage or storage unpacked. But with some tips and tricks, this process will go smoothly, so prepare yourself for one more adventure.

Is Unpacking Faster Than Packing
- It Can Be With Proper Wrapping up First
Regardless of how big or small your old household was, there will be a bunch of boxes, probably in every corner of your future house. Without proper preparation before the packing process, you'll feel the consequences once you move into the next place. One of the best ways to organize yourself is to create a packing list and know exactly what you'll bring and what not.
If you're relocating from a house to an apartment, knowing how to efficiently downsize when relocating and deciding what to get rid of is essential. Not only will you have more free room, but you'll also have fewer boxes to pack and unpack, too. So before the relocation day comes, ensure you organize the wrapping up process correctly. This is a significant step when it comes to last-minute relocation, too.
Pack Smart and Label Boxes Clearly
One of the best relocation tips you can get is organizing your move in advance and making the plan for an efficient move. When it comes to the boxing up process, the first thing to know is that labeling will save you both nerves and time. Once you get the right-sized boxes for the rooms you'll pack, include the labeling task as one of the most important. Here are the labeling materials you'll need:
● Fragile tape,
● Sticky notes,
● Different color markers,
● Regular tape.
There are many options for labeling each box - color coding, writing down the content, or simply writing numbers in the order in which you will open the cartons once you move in. However, one thing is certain; labeling is a method that should help you and ease the whole process.
How Long Should It Take to Unpack After Moving
When you're in the middle of the relocation process, there are some ground rules you need to set before you even start doing some of the tasks from your relocation to-do list. If you're relocating with kids, know it can be trickier (the similar stands when relocating with pets), but it's manageable. There are around 9 million households with children in the US, and the average American moves seven times after they turn 18. In other words, you're not alone in this.
However, whether you'll need one day or a whole week to settle into your new home depends on many factors. We all want to make it effortless, but it takes about 182 days to remove items from the last box, according to the latest research. Don't let it discourage you because you can do it in no time with a good plan and organization.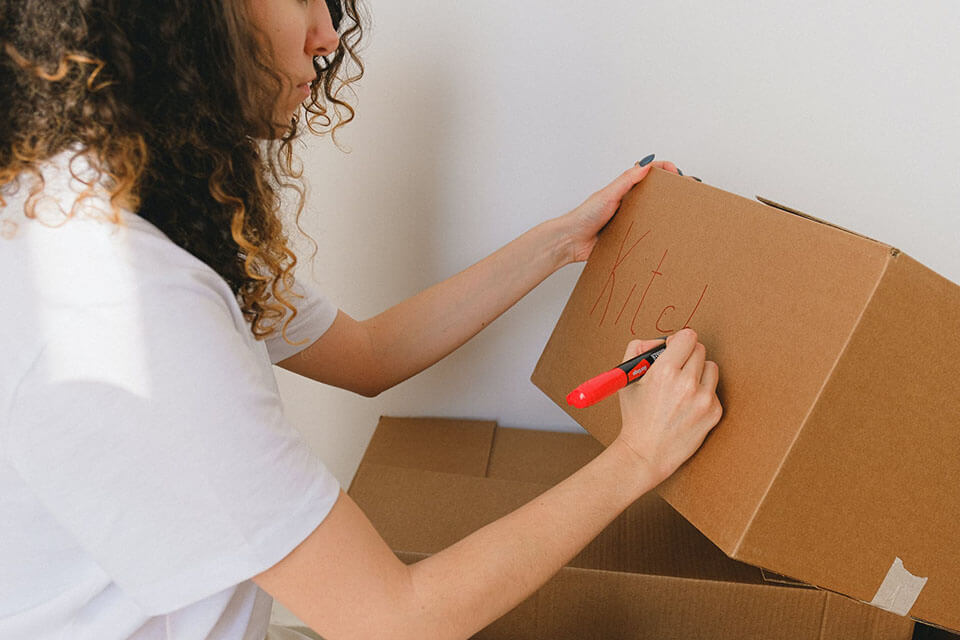 What Is the Best Way to Unpack After Moving
and Why It's Important to Stay Organized in Your New Home
The biggest problem for most people is removing stuff from cartons after the move. The reason is that there's too much stuff to be unpacked, and for some of us, it can get just too overwhelming. Achieving a stress-free move wasn't the easiest thing you've ever done, so why get stressed after the move when you should think about the future place and all possibilities you'll have?
Prevent all negative thoughts by creating a new apartment checklist that will keep you up-to-date and help you not lose focus. That's why you won't make one of the biggest relocation mistakes - forget to unpack the relocation essentials first.
Before Unpacking, Ensure Everything Is Clean and Shining
Relocation stress is a common phenomenon when you leave your old apartment and adjust to the new surroundings. There's no better way to relieve stress than to do some cleaning. No matter how clean your future home seems, you should make sure everything is sparkling clean before you arrange where your items will be. If you cleaned your old apartment, then you already know all the needed techniques and supplies, but there's one thing to remember - start with the place you'll unpack first.
Unpack Room by Room and Don't Let Distractions Take Your Precious Time
Your stuff is all over the place, and the mess that it can create can't do any good. So like every stressful and tedious process, it needs some organization. This means you shouldn't open each carton and get the item you need at that moment (that's the reason you should put essential stuff in one separate bag before the move.) That way, you'll lose your focus, and everything will become an obstacle you won't be able to do on your own. If you have more than two or three rooms in your future apartment, it's best to do one at a time.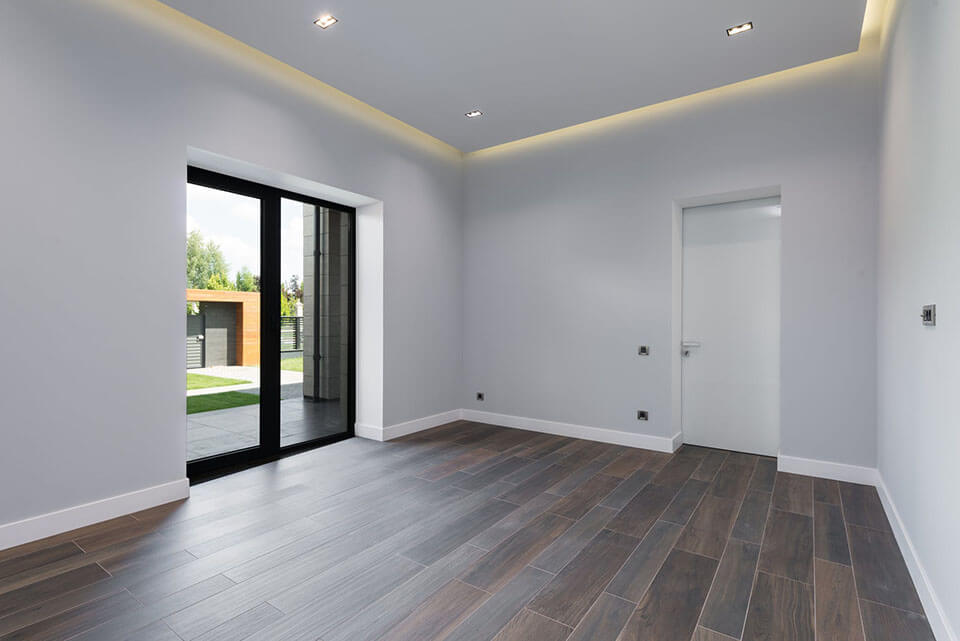 Unpacking Boxes After a Move
- Make a List of Essentials and Decide Which Room Will Be Unpacked First
Once all the cartons are labeled property, you can exactly see what is in each one of them. It's a good thing because the next thing you should do is create a list of essentials that will be unpacked first. That way, you won't have to remove all things from each carton, but only what you'll use on the relocation day and a few days after. Another great thing about the essential list is that you don't have to unpack everything right away.
After the essentials, move on to deciding which room will be unpacked once the professional movers leave. Rooms that you and your family will most probably use right away are the kitchen, bathroom, and bedroom. So you can begin in this order.
Start With the Kitchen and All the Items You'll Use Once You Settle In
The kitchen should be one of the first rooms to be unpacked not only because you will have to prepare meals and cook, but also because there are a lot of things you should store. And precisely all that storing you had to do, from boxing up glasses to protecting and securing pots and pans, is a great indicator where you'll spend most of your free moments once you move in. Get all the bigger appliances installed, as well as the smaller ones you'll most certainly use - toaster and coffee machine. For smaller kitchenware, like plates, bowls, and cutlery, you can take out only a few of them and then return to organizing the rest of the space.
Proceed With the Bathroom
After the kitchen, you can prepare the bathroom and make it functional for the first few days after the move. Most of it is already ready to use (the toilet, sink, and shower will probably be ready to go if the water has been turned on). You can take care of the rest of the stuff, such as toilet paper, towels, and medications because we all know that little things can assist in adjusting better to the future life.
Prepare to Unpack the Storage Space and Get Creative to Save Some Room
No matter how small or big our household is, we all want to create more free space and get the best of it. However, in some cases, it's not that simple, and you have to pack everything more carefully and use your creativity.
On the other hand, there might be some cartons you don't have to empty right now - for example, if you're relocating during the summer, you most probably won't have to use Christmas ornaments. So leave all the packages you won't use any time soon unpacked in the storage spaces (closets, garage, and basement). There, you can also put your winter clothes and other cartons that, for now, will wait when you get an opportunity to deal with them.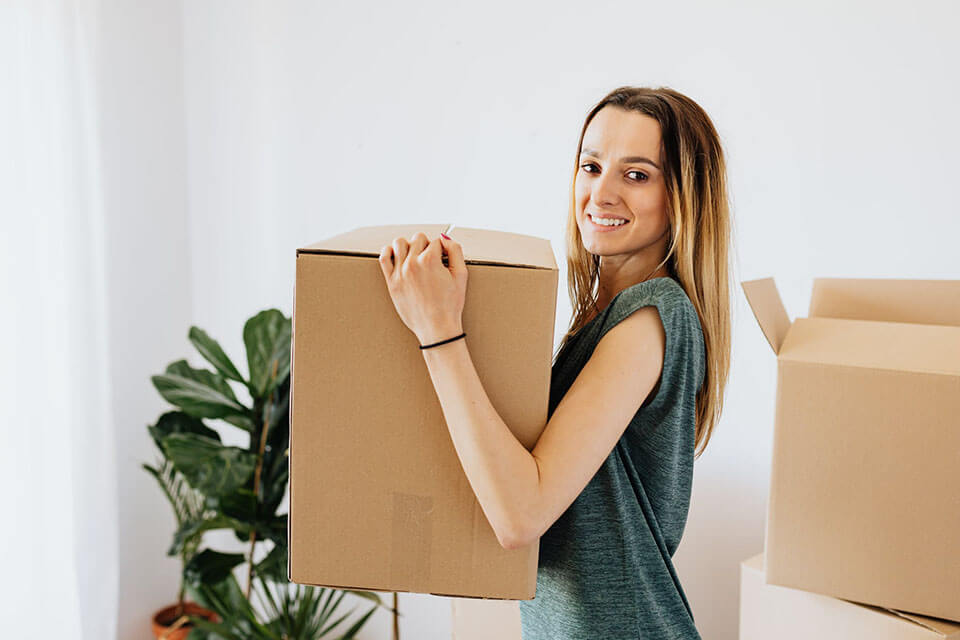 How Do You Unpack a Box Quickly
- Plan Where Will Each Item Go
Once you survive the boxing-up process, placing things in your future apartment shouldn't be as demanding. However, you can't just remove the stuff from cartons and get it over with. To get unpacked as quickly as possible, you have to plan where each item will go and even take measurements if necessary. Once you have a plan in your head, or if it's more practical, you can draw it on paper, it will be more realistic, and you'll be faster because you won't have to think twice about whether that lamp is supposed to be in that corner of the bedroom.
Think Where Will Your Furniture Go and Clean the Space Before Assembling It
You can take care of the furniture and other robust things, such as appliances, on the relocation day. The good news is that most professional movers will gladly give you a helping hand in assembling the bigger furniture if necessary and put it where you want, so you don't have to put it in storage and wait for someone who can do it for you. The only thing left to do is preparing and cleaning the space where these bigger things will go in your future home.
What to Do With the Remaining Supplies
After the move, you'll be left with many supplies that can be reused, and you're thinking about tossing them? There are better ways to deal with all that stuff:
● Sell - you can organize a garage sale or sell online
● Donate - Craigslist is a great site where you can donate or sell all kinds of stuff
● Reuse - you never know when you could use those supplies again. So if they are in good condition, protect them and leave them in the basement.
Can't Avoid Decluttering Even After the Moving Company Leaves Your New House
If you thought that you're done decluttering, you couldn't be more wrong. Not only do you now have a chance to really get rid of some things you couldn't give up on before, but you'll also realize that some of them can't fit or don't go along with the rest of the interior. The decluttering process will go naturally. As you remove stuff from cartons, you'll set aside those items that might get a second chance in someone else's possession.
An App for Moving Companies Will Help You Find the Best Crew for Your Relocation
No one can give you a helping hand in the relocation process like a reliable moving company that will take care of all services you want, from wrapping up your fragile belongings to safely transporting them to your future location. Relocation day can be very stressful when you don't have experience in this kind of situation. That's why the first thing you should do once you decide where you'll live is to find a reputable relocation company and enjoy a safe and sound move.