We can all agree that moving large items is difficult whether you're relocating out of state or to a house across the street. Fortunately, learning how to do it is not that complicated. If you need any help, the following tips will tell you exactly how to handle almost any bulky belongings you have at home.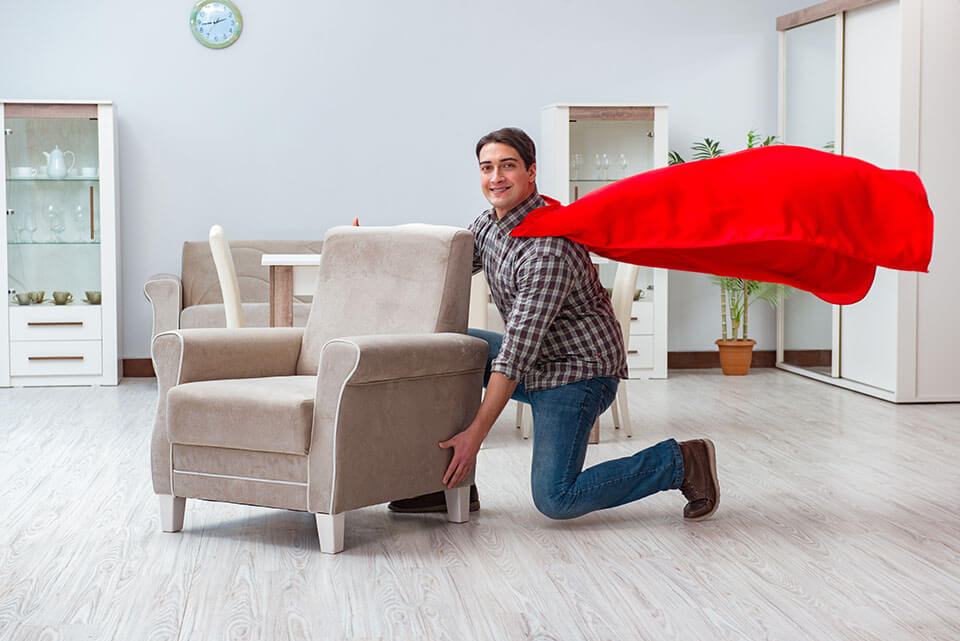 Before we go into details about how to move heavy items, we highly recommend you check out our excellent app, Mod24. It only features the best professionals working in your area, allowing you to get all the necessary services just in time for your next move.
Go Over Your Entire Inventory Before You Move Even a Single Item
Bulkier belongings are very difficult to handle, so if you want to move efficiently, you'll have to go over all the details and organize your packing right away. Doing inventory should always be the first task on your to-do list, as it will allow you to get a bigger picture of how much work has to be done before the relocation. For starters, those relocating from a house to an apartment will likely have to downsize for the move. Pieces that can't fit into your new home should be the first to go, as they'll only clutter up the place. If they are particularly valuable, selling them online or through a yard sale could also be a great way to save money to move.
Place Some of the Larger Objects Into Storage Before Relocating
If you can't decide what to get rid of, consider placing some of your belongings in storage. Professional movers have excellent storage facilities, and they will often offer you these services free of charge if you choose to move with them. However, considering that not everyone has this option, it's much easier to find storage facilities near through our moving company app. Remember that dealing with these things before the actual relocation will significantly reduce your packing list, and with that, the time it takes to prepare everything.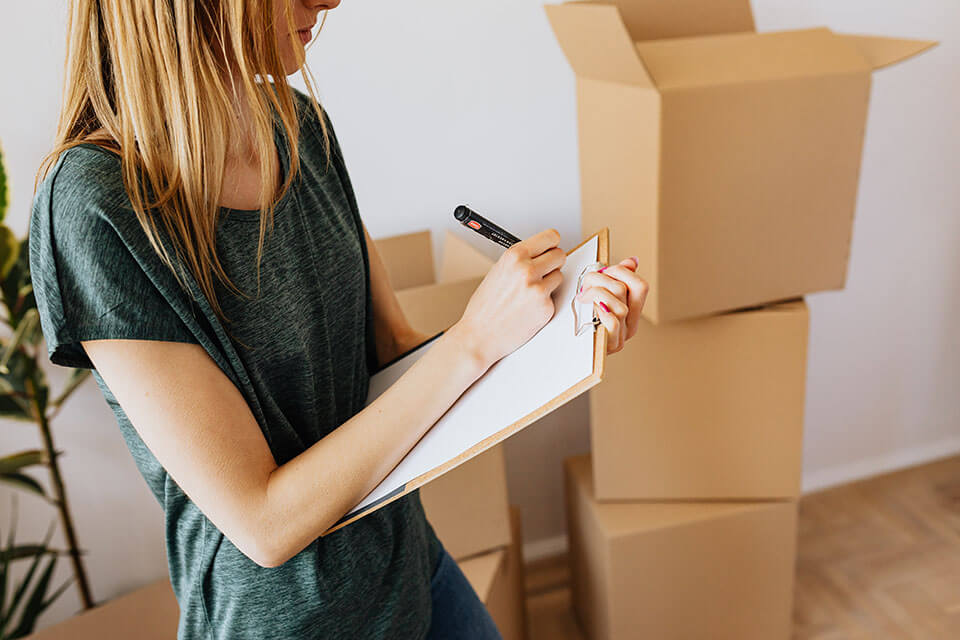 Get All the Necessary Equipment and Supplies
Considering bulky belongings can be pretty heavy, carrying them from your home to the truck without proper tools is next to impossible. Fortunately, going through your entire inventory will tell you which equipment you'll need to move any larger object with ease:
● Dollies - If you were to ask anyone, "Which is the most effective option when moving heavy objects?" a dolly would likely be the most common answer. There are two types, one with a sizable four-wheel platform that can easily be pushed, making it the best option for heavier pieces. The other one is a two-wheel hand truck, better suited for transporting taller objects.
● Lifting straps - Also known as shoulder dollies, these devices are convenient for lifting heavier objects, allowing you to distribute the weight to other parts of the body besides your back and arms. They are also adjustable, meaning you can use them to move all sorts of things, no matter what type of physique you might have.
● Furniture sliders - These tools are a must-have for anyone who plans to move heavier pieces on their own. Sliders serve as barriers between the object and the floor, allowing you to slide the thing without damaging either of the surfaces. They are often made of small plastic pieces that only go under the legs and corners, but you can also find some that look like strips.
Be aware that some of these tools can be pretty expensive, particularly if you're planning to buy brand new ones. There's also the option to rent them, but more often than not, it's still cheaper and less complicated to hire some professionals. After all, their service comes with all the necessary equipment. Last but not least, don't forget the more common tools, such as a screwdriver, a wrench, and a hand drill.
Get These Supplies to Secure Any Bulky Item You Own
Besides getting the equipment needed to move these objects, you'll also want to get some packing supplies to protect them from damage. While securing something bulky is a bit more complex than packing plates and other dishes, you won't need too many things to do it. In fact, most of the larger items in your home can be packed with:
● Blankets - Plan to get plenty of these, as they are the only material that can protect your stuff from damage throughout the entire process.
● Plastic covers - Those planning a move to another city out of state or looking to place something in storage will have to cover the larger objects in plastic. This is particularly important for upholstered furnishings, which can easily get covered with mildew in more humid conditions.
● Bubble wrap - Some more delicate pieces will also need to be wrapped with bubble wrap. Just don't use it on wood surfaces, and you'll be good to go.
● Cardboard - If you're planning on stacking things in the truck, always place a thick layer of cardboard between each object. The material can also be used to strengthen mirrors and other delicate surfaces.
● Packing tape - As with any other object, applying tape in strategic places will keep everything you've wrapped from unraveling.
● Ropes and straps - Unlike the lifting straps, these serve to keep your things in place once they are loaded onto the truck.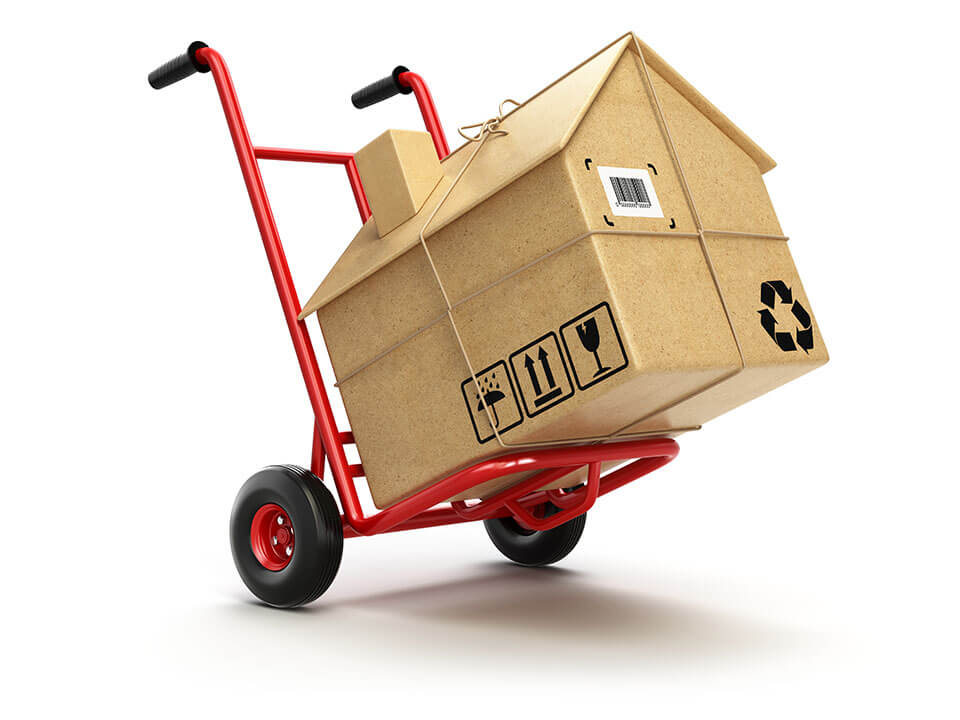 Take Measurements and Break Down Furniture Into Smaller Components
Taking some measurements early on in the relocation process will tell you whether or not the object can be moved in one piece. If it can't fit through the door and the hallway without hitting the walls and suffering damage, it would need to be broken down into smaller components. Most handles, legs, and knobs can easily be detached from the object's main body, allowing you to maneuver it much more easily. However, we highly recommend you find the item's original manual before you start disassembling it. Otherwise, you might end up breaking the thing in the process.
Keep Each Item's Parts Separate from Others
Disassembling everything will leave you with a lot of spare parts that can easily be lost or mixed up. To avoid losing anything, place each item's gears and screws into a separate ziplock bag, along with a small label or a note stating which object they belong to. Labeling also applies for larger components, which should be loaded with the main body or close to it if possible.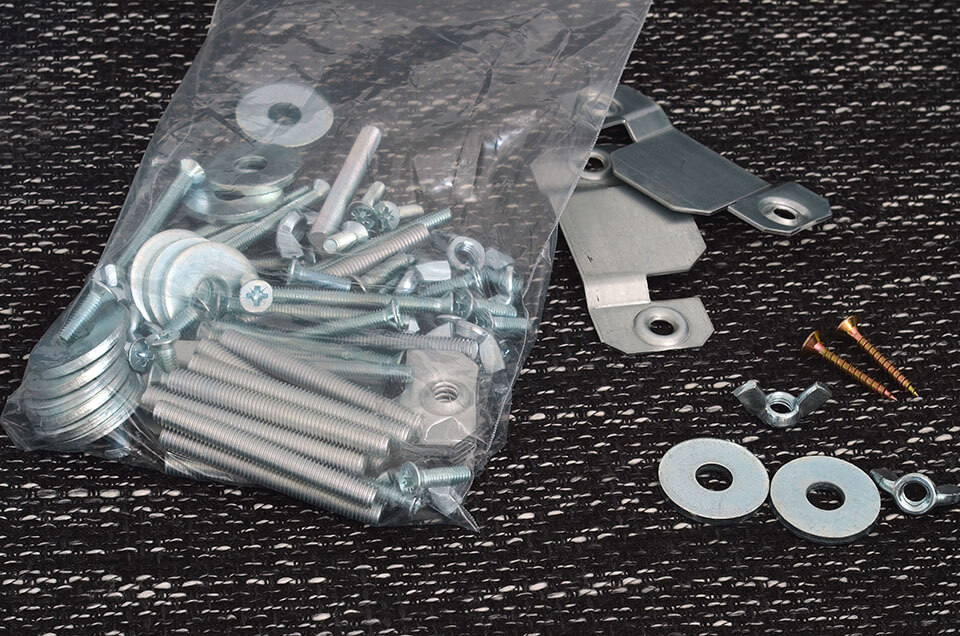 Use Proper Techniques When Moving Large Items
Whether you're moving large items across the country or right down the street, you'll have to carry them outside and load them onto the truck. Thankfully, several excellent relocation hacks will allow you to get everything out of your home as quickly as possible. While most belongings can be moved with the equipment we mentioned, some will have to be carried out the traditional way. Sofas, bookcases, and other particularly long objects often can't fit through the door in their standard positions, requiring you to rotate them at each doorway. This happens quite often, actually, so unless you carefully plan the route, you could easily reach some dead ends along the way.
How Do You Move a Large Heavy Piece of Furniture Across the Stairs?
The stairs are very challenging to navigate, as one wrong move could send both the item and the person carrying it tumbling down. To avoid any accidents, you'll have to work with a partner while using the high-low method. The person lower on the stairs will be carrying the object from below, while the other person assists them by lifting the top surface. Going slow is key here, with the person on the lower side setting the pace.
What Is the Safest Way to Move a Large Heavy Load?
If you're not careful, improper lifting techniques will cause you a lot of pain and a variety of problems further down the line. Fortunately, the following tips should help you learn how to move something heavy without suffering a painful injury:
● Get a good grip on the item - Before you even attempt to move something, try to keep the load as close to your body as possible until it feels like you're hugging the thing.
● Distribute the load evenly - Try to lift with your entire body, not just with your hands and back. Bending the knees and hips will allow you to transfer some of the burden off your back.
● Maintain a stable position - Keeping your back straight while bending the knees and hips into a squat is the natural position for lifting heavier loads used by many Olympic lifters. Once you lift the object off the ground, it's crucial to stay composed and avoid any unnecessary movement, like bending the back forward, leaning sideways, or rotating other joints.
● Look where you're going - Not looking where you're going is one of the more common moving mistakes people make when handling furniture, which could accidentally cause some damage to the walls and the item or even cost you some fingers.
● Be aware of your limits - Last but not least, don't try to lift more than you can chew. If you feel like you can't do it, it's always better to ask for help than risk an injury.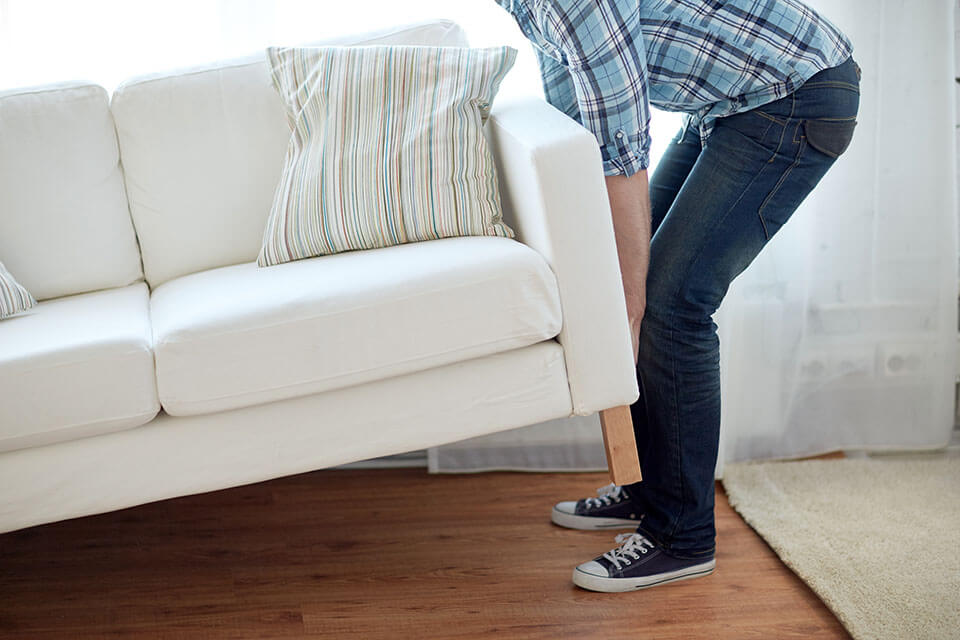 Load All the Heavy Pieces Onto the Truck First
Larger and heavier objects should be the first thing to go on the truck, meaning you'll have to do a lot of hard work right from the start. Mishandling anything at this point could cause even the strongest objects to break, so remember to use a ramp when loading the truck. Start placing them towards the back and sides of the truck right from the start, as this will balance the load and protect all your other belongings from damage. To ensure nothing topples over during transport, secure each object with ropes and straps.
Contacting Some Friends Could Help You Immensely
Even if you're a professional bodybuilder that can lift 300 pounds like it was nothing, we highly recommend you contact some friends to assist you with the furniture. While even a single person would be of great help, try to get as many as possible. Considering everything will be moved in pairs, securing enough people will decrease the workload of each group, thus making the process easier on everyone. Once the work is done, remember to treat your friends for everything they did, just as you would tip movers for their services.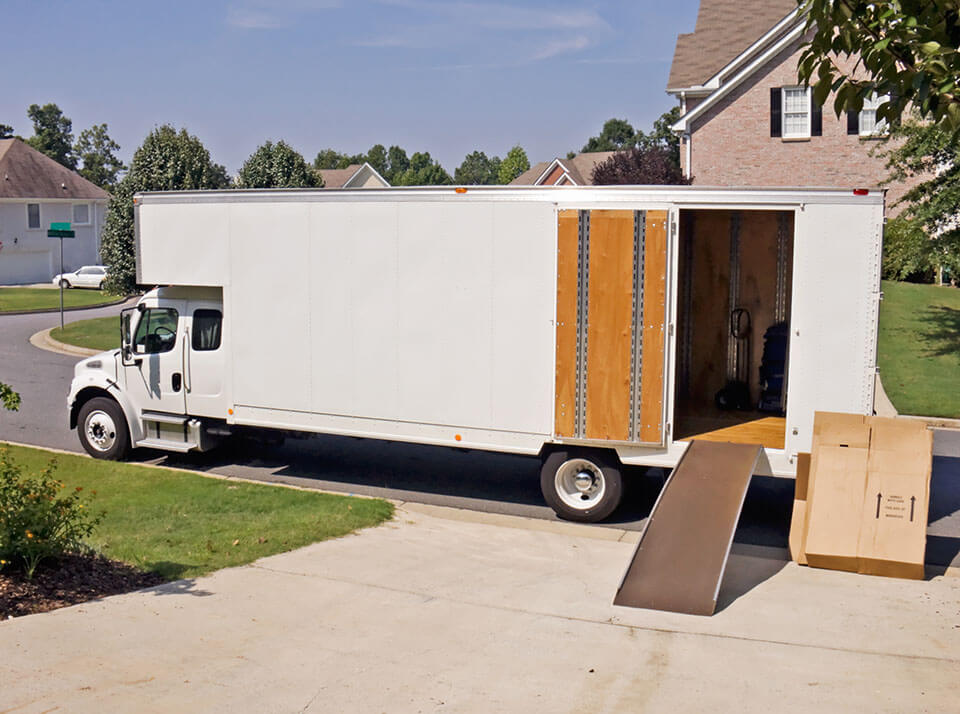 Find Some Professional Movers to Assist You
While all the relocation tips we mentioned so far should allow you to move almost any bulky object with ease, trained professionals would make the entire process even easier. This is particularly true for those that have to move in a hurry, as most last-minute relocations don't give you enough time to prepare everything appropriately. Hiring a mover to assist you is also the only way to have a stress-free relocation, so there's no reason not to hire one. If you need help choosing a relocation company, try out Mod24, our excellent app for moving.
Use Our Moving App to Find All the Best Movers Near You
Mod24 is the best app to compare moving companies, as it only features the best movers in your area. Our platform features only certified service providers, meaning you won't have to worry about relocation scams ever again. Even those with a limited relocation budget can find affordable professional services on Mod24, as the platform enables its customers to compare prices between different companies operating in the same area. If you're planning on relocating soon, we highly recommend you join our platform and start getting free quotes right away.