The 11 Most affordable Mountlake Terrace Movers
We've hand-picked and vetted the 11
best moving companies in Mountlake Terrace

for you
Mountlake Terrace Movers
When it comes to moving, finding reputable movers in Mountlake Terrace, WA, is a must. This city is located in Snohomish County, making it an affordable choice for many people. There are a few factors you should consider before hiring a Mountlake Terrace moving company. Getting a quote from different moving companies in Mountlake Terrace is essential, especially if you are moving within the same state. To get the best deal, you should call at least three companies for an estimate. It is always best to hire experienced Mountlake Terrace movers in Washington State. These companies are trained professionals and have great customer reviews. They will protect your items from damage and ensure they are in perfect condition upon arrival. Choose our
moving application
to find movers for your next stress-free move.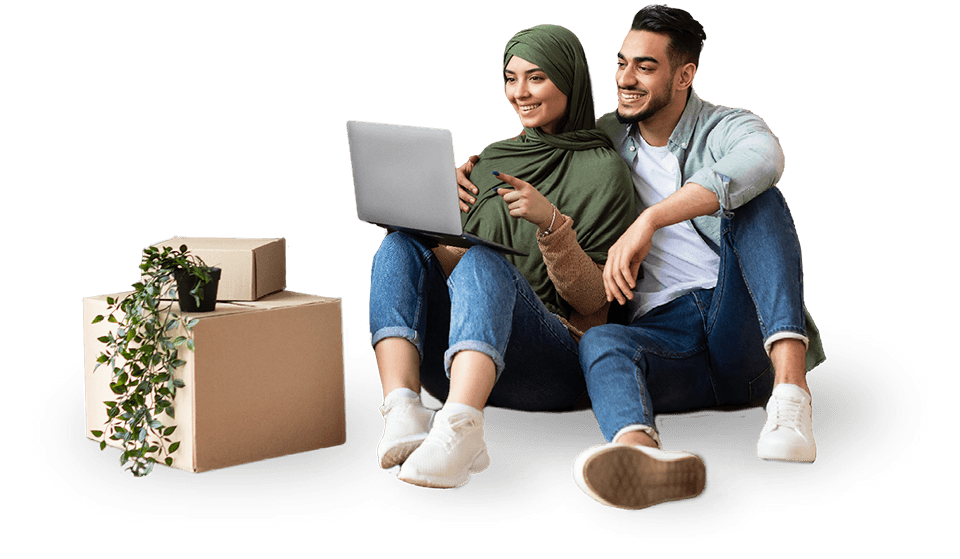 Are you relocating locally and searching for experienced Mountlake Terrace movers to help you move to this great town in Snohomish County? If so, you're in the right place on the Internet, as we're going to tell you how and where to pick the best relocation company and guide you through this lovely place. Find the Right Mountlake Terrace Movers  If you're new to the relocation process or don't know how to plan it, one of the best things to do is to search for experienced moving companies with proper services. There are a lot of them in the business, so it's no wonder that you may be confused about which one to recruit. Thankfully, Mod24 is here to help you identify businesses that are ideally tailored to your needs.
Mountlake Terrace Mover Costs and Stats
FAQ
Mountlake Terrace, WA, was founded in 1949 by property developers on the grounds of a disused airfield, with the goal of providing low-cost housing for veterans. In five years, the population had expanded to more than 5,000 residents and was incorporated as a town in 1954 to provide public services. An industrialized site was built at the north end of the area, which was linked to Interstate 5 after it was completed in 1965. 
The Cost of Living is Higher Than the National Average
According to PayScale, the city's cost of living is 16% higher than the US national average. The median house price is $470,000, and the median rent is $1,400. The median household income is $72,700. Furthermore, grocery prices are 11% higher than the US national average, where a loaf of bread is $3.70, a gallon of milk $2.16, and a carton of eggs $2. Utility prices are 15% lower than the US national average, with the energy bill of $142 a month, phone bill $150 a month, and gas is $3 per gallon. On the other hand, health care is 25% higher than the US national average. If you need to visit a doctor, that will cost you $137, a dentist $118, and the veterinary, $54.
The city is divided into six following neighborhoods:
The Town Center - Near Veterans Memorial Park, several stores, hotels, and public buildings are housed between 220th and 260th streets. It is expected to become a mixed-use neighborhood with industrial and business space with higher density housing.
Cedar Terrace - This neighborhood is situated along a Lyon Creek stretch and east of the Terrace Creek Park and Town Center. With a shopping center and multiple apartment buildings along Cedar Way, the area is mainly residential.
Cascade View - The neighborhood occupies the north part of the city, extending from Brier in the east to Interstate 5 in the west. It is primarily suburban and also contains a campus for the high school as well as a shopping area.
The Gateway Neighborhood - This is a largely residential community extending to the center of the town in the south with a shopping center between Interstate 5 and an intersection with State Route 104. The plot on the western side of the area is being transformed into a three-story building of 600 residences and a retail outlet.
Lake Ballinger - The primarily residential area of Lake Ballinger is situated at the southwest portion of the city, between Interurban Trail and Interstate 5, and contains the iconic lake.
Melody Hill - This neighborhood is a combination of office parks, commercial enterprises, and residential buildings clustered in the northwest portion of the city. On the top of a hill north of the lake and west of Interstate 5, this community has some great views.
Parks and Outdoor Activities
With 262 acres of open land, the city has 18 public parks that are managed by the city government. Public and private parks have 13 soccer fields, 14 baseball fields, 19 playgrounds, four indoor basketball courts, and 15 tennis courts. The town also works with the Edmonds School District to run recreation centers and host programs and games for residents. The Recreation Pavilion, which opened in1968, is the largest community facility and contains several swimming pools, racquetball courts, and an indoor fitness center. The center was updated in 2003 and has been the object of many replacement plans and extension proposals. At 60 acres, Terrace Creek Park is the biggest park in the region, containing open space, hiking trails, and a golf course. It is situated next to the Recreation Pavilion and overlooks the border along a portion of Lyon Creek between the Cedar Terrace community and the Town Center. Veterans Memorial Park, a wooded area along Interstate 5 with a playground and hiking trails, is located in the west part of the Town Center.
The Education System in the Edmonds School District
Edmonds School District, which covers parts of south Snohomish County, including the surrounding towns of Lynnwood, Edmonds, and Woodway, is part of the town's public schools. There are 41 schools with a total of over 21,000 students in the District. There are five schools in the city that are run by the district: one middle school, one high school, and three elementary schools. The closest post-secondary schools are Lynnwood Community College, Edmonds College, and Bothell University. Three private schools are also based here: Cedar Park Christian School, Brighton Evergreen School, and St Pius Catholic School.
Get a Free Quote and Compare Price Rates and Reviews for Movers in Mountlake Terrace
Once you have decided to move locally, you should use one of our most commonly used features on our platform that helps you to compare service rates between various relocation businesses. Get a free quote from multiple companies since each can charge a particular service differently. Compare their reviews and prices and choose the alternative that fits you. What you need to do is insert the necessary details required in the form and follow easy instructions.
What do I get when I book Mountlake Terrace moving company through mod24?
Experienced Movers
Mod24 works directly with the best moving companies in Mountlake Terrace. Rely on our professional, trained movers with years of experience.

Loading & Unloading
Our dedicated labor-only movers on Mod24 guarantee a seamless customer experience, no matter how big or small your upcoming moving project may be.
Instant Pricing
Transparent pricing. Instant quote comparisons. No hidden fees. Mod24 offers instant, straightforward, and detailed pricing for your upcoming relocation.
Protective Covering
Protective materials such as moving blankets, tape, and shrink wrap will always be provided during your move to ensure the safety of your belongings.
Secure Online Payment
Book online in a few minutes and secure your moving date with absolute ease. We offer online payment options that are comprehensive, straightforward, and secure.

Moving to Mountlake Terrace
Economy: Jobs, Housing, Rental Prices
Major Employers
Housing Prices
Rental Prices
Lifestyle: Shopping, Culture, Education, Food and Sports
Shopping: 9/10
Culture & Arts: 10/10
Education: 10/10
Food: 7.5/10
Sports: 10/10
Trusted by our customers
If you are tired of looking for moving help online, calling different moving companies for quotes, taking quick notes and scrambling to find movers near you just in time for the relocation – welcome to Mod24.
4.8 out of 5
Based on 196 reviews
Find Professional Movers in Mountlake Terrace with Ease
Wouldn't it just be perfect to have all the professional moving companies in Mountlake Terrace on one platform, along with their estimated rates, live reviews, and detailed information?
Shop Around With No Hassle
Compare moving quotes easily with a click of a button, and find the perfect Mountlake Terrace movers, or long distance movers for your budget and needs.
Licensed & Insured Moving Companies Near You
Every local and long distance moving company you come across on Mod24 is verified, licensed and insured. We pledge a professional moving service, no matter where you are and may be moving to. On Mod24, everyone is guaranteed a safe and simple move.
Book Your Move Online In Under 10 Minutes
Not only is acquiring moving company quotes a quick and easy process when you become a member of Mod24, but booking your move is even easier. Contact your moving company of choice to book, or simply do it online in under 10 minutes. It's really that easy.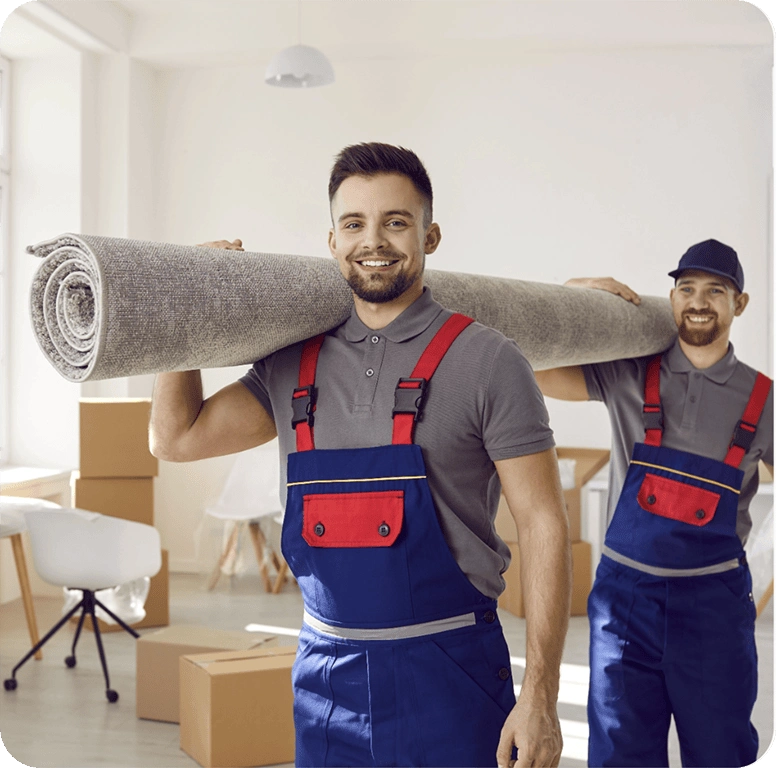 Benefits of Becoming a Member of Mod24
By becoming a member you will be granted access to our VIP list. With Mod24 membership you can get benefits that will make life easier during your next move. Check all we offer and join today!
Only
yearly!
Psst… 1st year is on us.
$49 Discount on Future Moves
$100 Worth TV Insurance
1 Month Free Storage
$200 Cross Country Move Discount
Booking Priority
$50 Off Car Shipping Services
VIP Concierge Service
20% Off For Packing Supplies
How does mod24 work to find the best Mountlake Terrace movers?
Tell us what you're moving
It's simple. We require very minimum information on the specifics of your move to generate a quote from a company of your choosing. Simply let us know about the type of move you are interested in (residential, commercial, storage, etc.) and the size of the move based on the square footage or inventory list.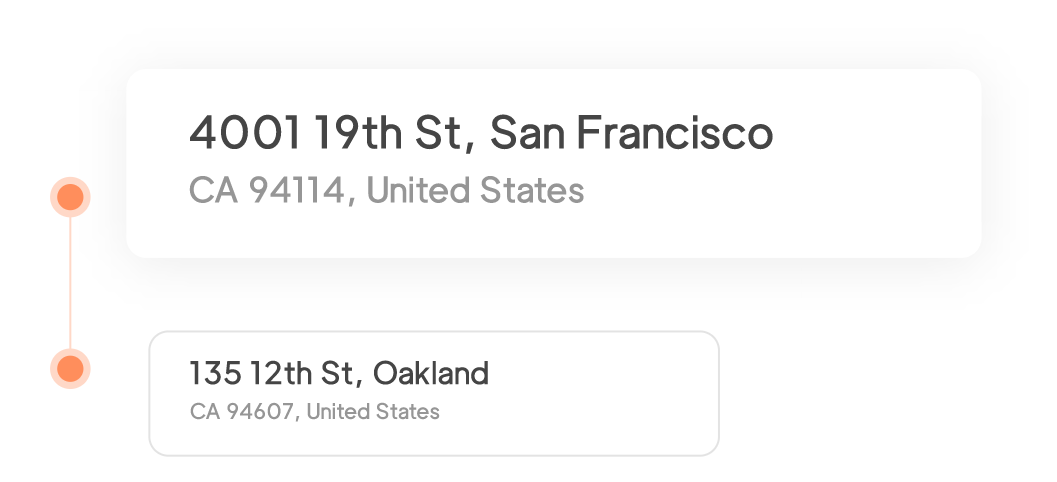 Select your pick-up location
Let us know where you will be moving from (the zip code of the pick-up location). Some companies cover multiple pick-up and delivery locations, so a pit stop won't be an issue! Just let us know about your pick-up needs and we will create the perfect quote for you!
Find your move destination
It is important to select where you will be moving to – so the distance between the two locations can be calculated. Remember that your detailed moving quote may vary depending on the distance between your pick-up and delivery locations, so try to be as accurate as possible when selecting both for an online quote.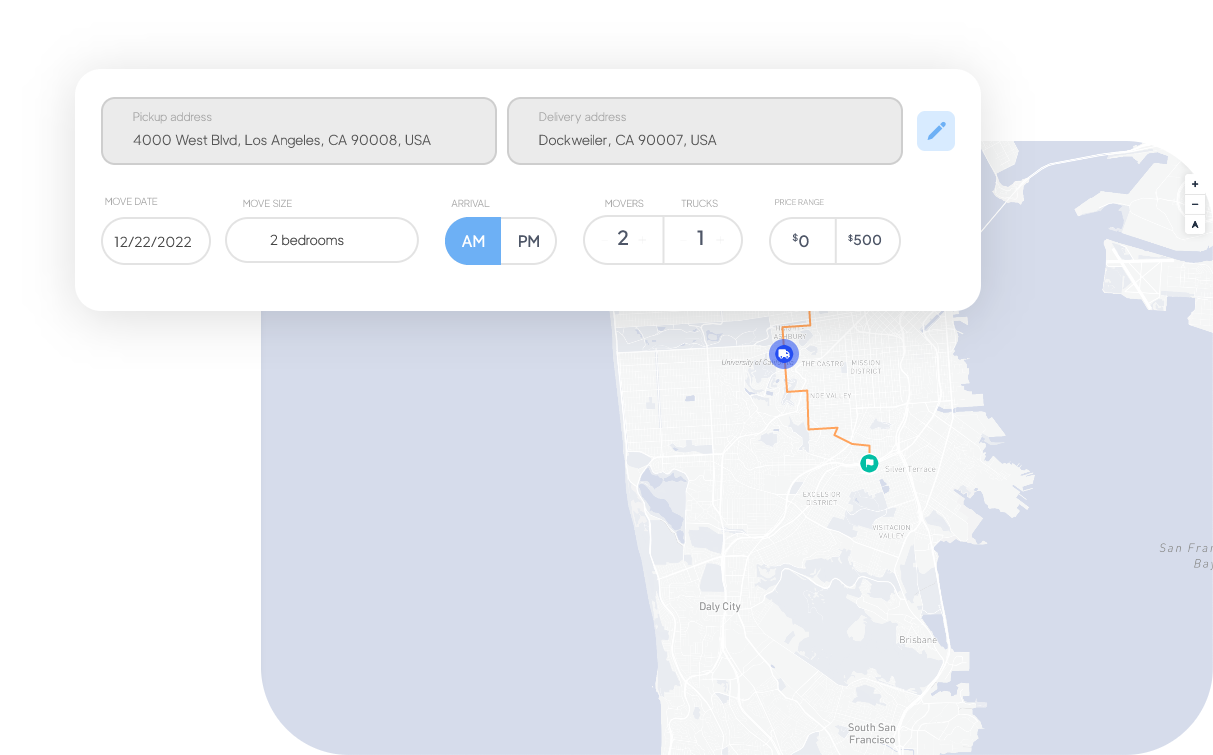 Choose your preferred date
Choose the preferred date and time for your move to take place and we will find the best moving company in Mountlake Terrace to suit your needs!
Compare quotes and book instantly
Book in just a few simple steps and secure the best Mountlake Terrace moving company for your upcoming relocation!