We are all aware of the fact that we must face and embrace changes throughout our lives. And relocating is one of the biggest changes for many. In fact, more than 15 million people around the US move every year, and for numerous reasons. Moving from a house to an apartment is actually one of the most common reasons. Of course, it is quite challenging, and it implies some major alterations in a person's lifestyle. But mainly, it involves some substantial downsizing. This represents a hard part for many. However, if you follow these tips and do it right, you will be amazed at how much easier your life will get. And not to mention packing and unpacking, house cleaning, and transporting your belongings. So here's what you must know.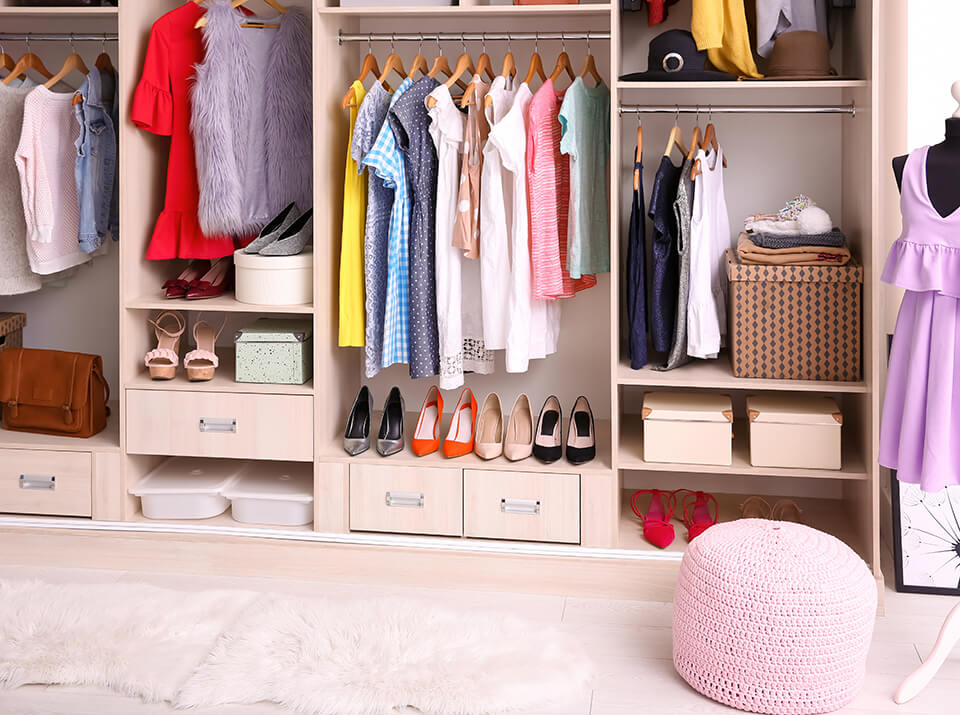 Is it Better to Live in a House or an Apartment?
First thing's first - let's take a look at all the pros and cons of both alternatives. The most accurate answer is pretty diplomatic. Choosing an option that suits you best largely depends on your own criteria, preferences, goals, and necessities. Of course, it depends on your budget, as well. If you're unsure which type of household will work for you, there are a few crucial facts you'll need to align.
Benefits and Drawbacks of Living in a House
Here are some of the main advantages of houses:
● Houses are more spacious,
● You'd have your own parking,
● It's easier to live there with pets,
● You'd most likely have a backyard or a front yard.
Before you get smitten by the comfort, get real and strive to grasp the negative aspects of renting or purchasing this type of lodging place:
● The upfront costs can be enormous, and buying it is a huge commitment,
● High maintenance fees are likely,
● Purchases require a lot of paperwork, and the way the market works is more complex and tiring.
Pros and Cons of Moving to an Apartment
Houses do offer a lot. On the other hand, apartments have many perks too. The most noteworthy ones include:
● Higher affordability,
● Usually located in the more prominent areas,
● Safer life.
Since many wonder: Is it cheaper to live in a house or apartment? - we must agree that the second option wins. Although both alternatives have much to offer, flats and studios are the best options for those who are low on cash or looking for ways to save up.
Still, some of the things that could bother you when you move into a residential building could include:
● Less space,
● Possibility of having problems with noisy neighbors,
● The lack of personalization (in some cases, when the landlord doesn't endorse changes),
● Restrictions regarding animals and potential lack of understanding for people who move with pets ,
● Parking troubles.
Nevertheless, the odds are on your side. Some of these potential disadvantages could affect you, but they aren't present in every building. If you explore and plan properly, you can avoid (the majority of) them with ease.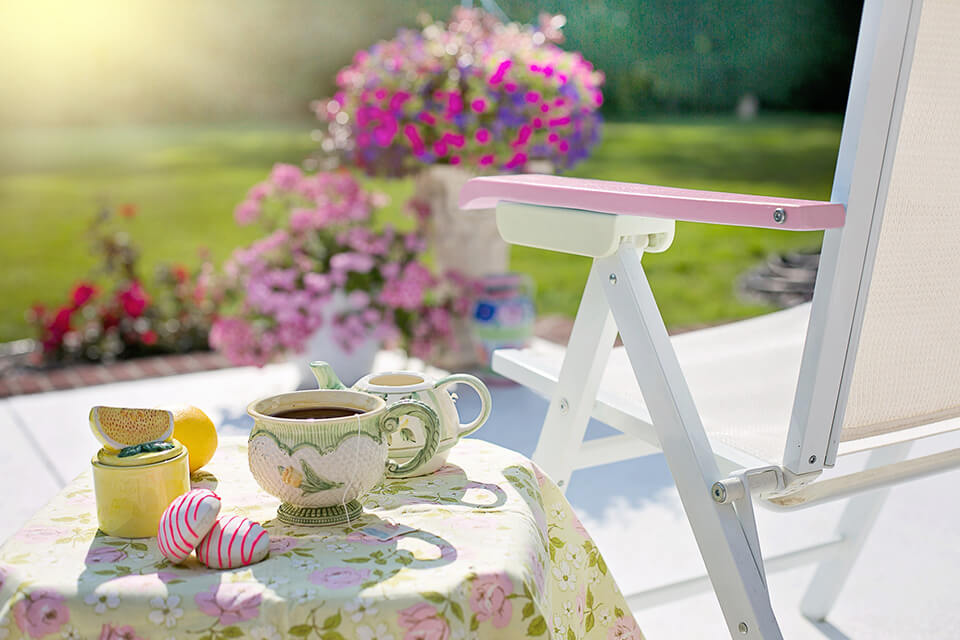 Moving from a House to an Apartment Step-by-Step
This process isn't a bit of a challenge only because you'll have to get used to less space. It also implies other differences, such as accepting the rules of the new environment. And also - you will have to leave some of your household items behind and follow several moving tips you won't be able to go without.
It actually sounds trickier than it is. As soon as you learn how to categorize your stuff and carry only the things that you'll certainly use, life gets kind of less overflowing and cluttered. Still, you must brace yourself and go through the mental barrier of being emotionally attached to objects. The sooner you break it, the sooner you'll start to enjoy the rewarding experience ahead of you.
Relocating to a substantially smaller home is a blessing in a way. Although you will ultimately have less stuff to pack, you would still have to focus on organizing your move properly and thoroughly:
● Be careful with your important documents and secure them. It would help if you created a binder that will enable you to store all the important lists and files.
● Create several checklists and customize them. You could save them on your computer or phone, or you could print them.
● Make a strategy before getting packed and create a packing list.
● Sort your belongings and declutter room by room.
● Sell or donate some of your stuff that you don't intend to bring into your new home.
● Get enough of the packing supplies, tools, materials, and equipment. Once you get the boxes, make sure to label them properly and keep them organized.
● Keep the essentials extra safe and close to you - you will need them when the relocation day finally arrives.
There is another essential part of this moving to-do list - you must get in touch with the most reliable moving company on the market. Regardless of the size, style, and any other feature of your household, having the right ally by your side is always a top priority. You can also use an app to compare moving companies and pick the one that suits you best.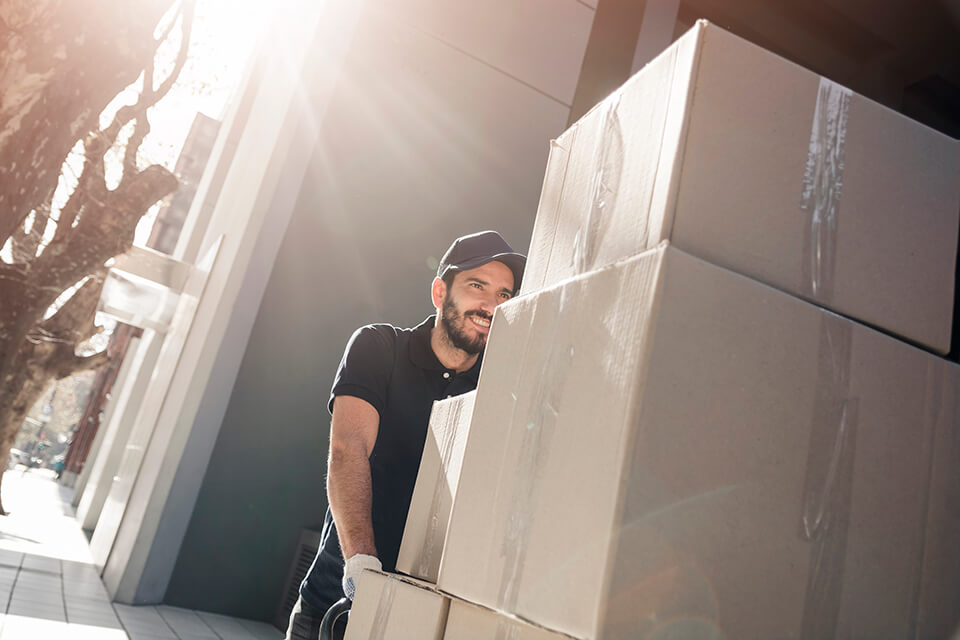 Step 1: Learn How to Downsize from a House to an Apartment
Now, the moment to say goodbye to some of your belongings has arrived. Planning is always the first step, so here's what you will have to do in order to move efficiently:
● Give yourself enough time and don't pack in a hurry,
● Sort, declutter, and pack one room at a time,
● Measure your new place carefully and consider the lifestyle you would like to have,
● Be extra patient and ask for help.
Are you ready to do this? We'll walk you through every stage.
Step 2: Give Yourself Enough Time
When is the right moment to plan, organize, downsize, and pack? If you're thinking about it, you might as well start developing a tactic to reach your goals smoothly and quickly. Some say that it is best if you start to plan and pack three months in advance. However, two months could also be sufficient. Although you can find numerous tips on how to pack to move in a hurry, it's always better to play it safe.
Explore two proven methods to organize your stuff and get rid of unnecessary clutter. First, there's a One-A-Day Method. This way works well for some. It suggests letting go of one item per day. Or you could also let go of the number of things that correspond with the date.
Another tactic many people use is called the KonMari Method. This way, you would separate your clutter by categories. If an item no longer has a purpose or value, the method suggests tossing, donating, or selling it.
Step 3: Sort, Declutter, and Pack Properly to Save Some Money and Space
Firstly, you must establish some ground rules. Secondly, prepare yourself mentally. Start small and create habits that will suit you (and keep you from getting overwhelmed). Pick a place that you think will make the most difference. Since you'd be tackling the entire household, pick a room that will be your safe zone. The best choice is usually the bedroom. Whatever your choice is, just be sure to make the whole experience stress-free.
Declutter to Downsize
Decluttering is considered a healthy habit. Even if you're not planning to relocate, you should practice it every once in a while. Getting rid of some unusable, old, worn-out, or outdated belongings helps you live a healthier life. This is the criteria you should keep in mind when going over your stuff:
● If a product has expired, you should throw it away (and do it the right way),
● Once you no longer intend to use an item, you won't need it,
● When a sentimental object no longer has the same personal value, you shouldn't keep it,
● If you have several objects with basically the same purpose, don't keep them all,
● Rarely used utilities, devices, clothing, furniture, and other elements should also be on your decluttering list.
When you start to declutter and downsize, you should create a new apartment checklist to be in the clear regarding the stuff you'd really like to keep.
Sell or Donate Some Items You No Longer Plan to Use
Not everything you currently own is fit for your next household. However, some of those belongings could match someone else's needs. If an item is broken, damaged, or unusable, then you should unquestionably throw it away. But if it has an actual purpose, selling or donating it could be an excellent choice. You can sell or give away your old (but well-preserved) clothes and shoes, unused kitchen utensils, books, kids' toys, and more.
Finally, you should consider donating your furniture. These household objects are heavy and large, which might not match your condo and its structure. Also, they add to the cost of movers, which affects your relocation budget.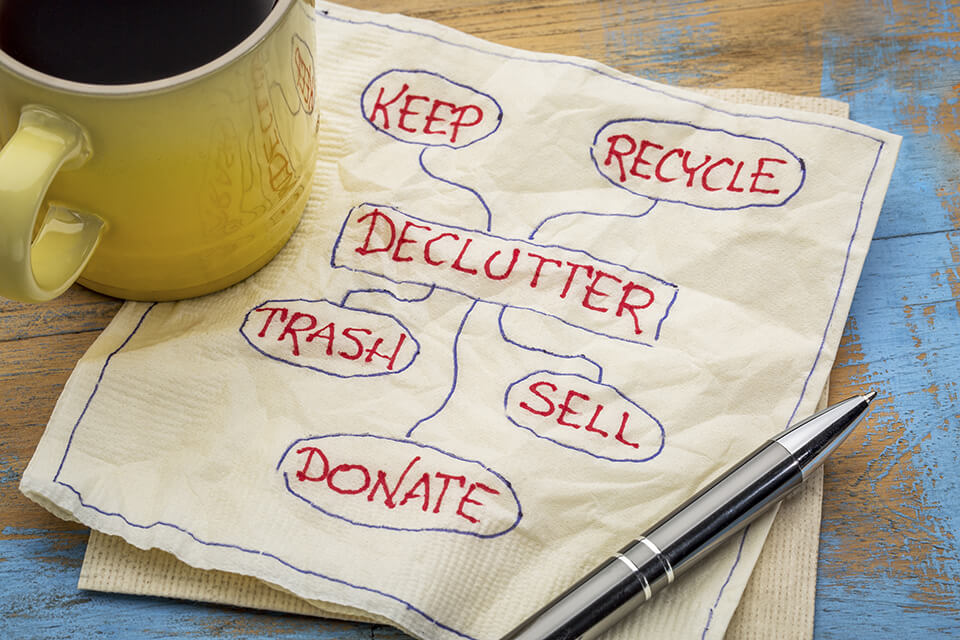 Step 4: Measure Your New Home Carefully
Downsizing from a house to an apartment starts with knowing the actual dimensions. Measure the place you will relocate to and see what truly fits. Don't miss this chance to simplify your life and design according to your preferences. It is best to know the square footage and pattern of all rooms. Even if this is impossible, you should still sort and purge your old stuff based on your needs.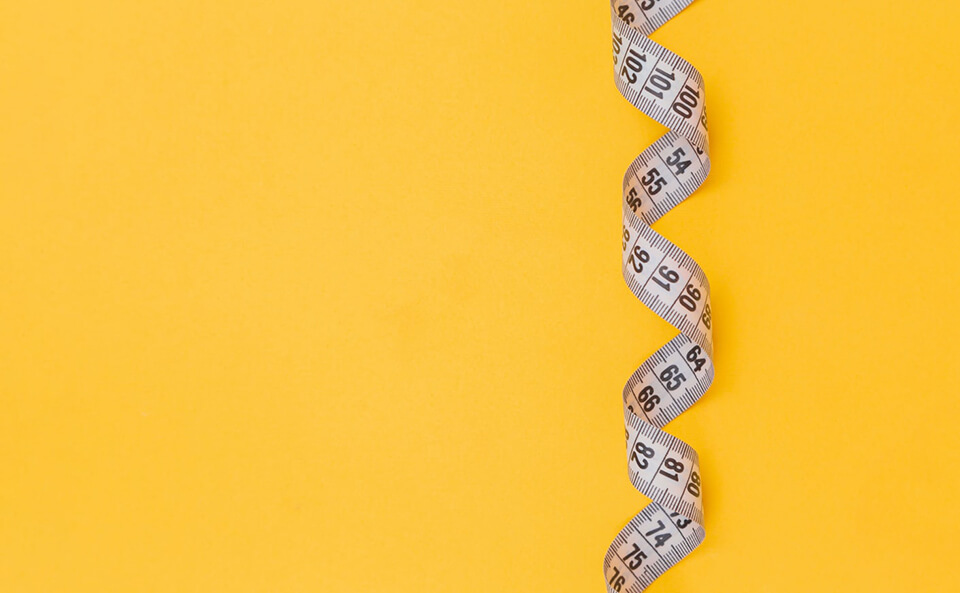 Step 5: Be Patient and Focused - Don't Be Shy to Ask for Help
Stay focused on the good work you have done so far, and never let the state of bliss that comes after a long but successful relocation day slip from your mind. With a positive attitude and a little help from your friends and family, you will declutter, clean up, get packed, and get ready in no time!
In addition to it, you can hire professional movers who will not only transport your stuff safely in their trucks but can give you a hand with packing supplies, storage services, and more.
Hire a Reliable Moving Company
Getting to know some useful moving industry stats and trends could be helpful. Still, the main thing you ought to grasp before you relocate is how to spot a good company that will assist you. Here's how you can determine whether the professional movers suit you:
● Read their reviews and testimonials carefully,
● Get free quotes from multiple companies and compare them,
● Choose the services that you need and that fit into your budget,
● Ask for an on-site or virtual estimate,
● Strive to get a sample contract before you agree to collaborate.
That way, you can relax and enjoy a stress-free move. You will be able to avoid any moving scams timely.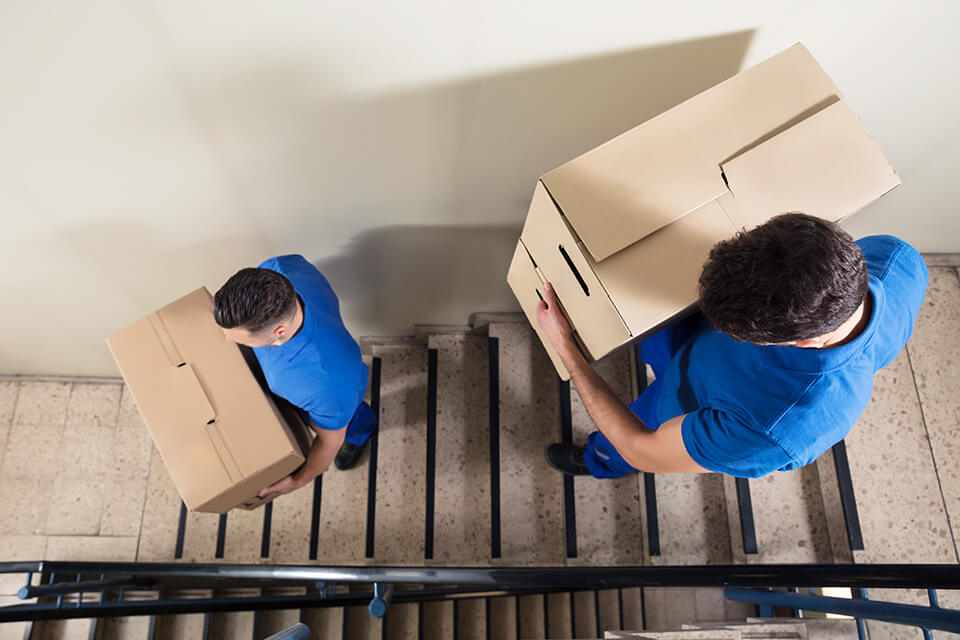 How Much Money Should I Have Before Moving Into an Apartment?
You must have some savings for the deposit, rent, and relocation costs. Strive to save up for at least three months of expenses. Do keep in mind that your rent (if you're not buying a property) isn't the only payment you'll be making. According to Statista's data from February 2021, the average monthly rent for an apartment in the US was $1,124, which isn't low. On the other hand, Seattle rents are down by 19.5%. If you choose to relocate to this city and rent, start researching early to choose the best Seattle movers.
Knowing the Marketplace: Should You Buy or Rent a Property?
The answer to this question depends on numerous factors. Where are you relocating to? Not all cities, towns, and even neighborhoods have the same prices. It's not only about the housing market. Some places simply have higher overall costs of living. According to research, New York, Los Angeles, and San Francisco are among the most expensive cities in the US. So before picking a place to call your own, explore it more thoroughly to make the right decision.
Also, if you're planning to look for a job after you relocate, it is best if you rented a place to live in. If your monthly incomes aren't secure, you should go for the cheaper option before making a long-term investment.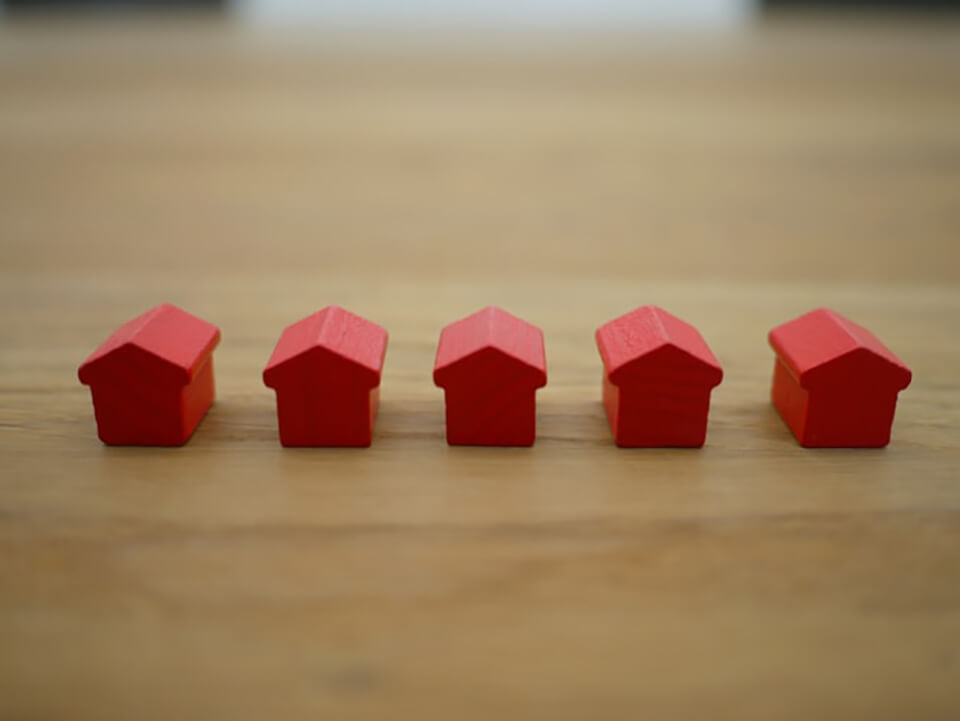 Moving from a House to an Apartment Could Be Amazing
How do I move my house to a small apartment? If this is the main question you've been asking yourself, you've come to the right place. As soon as you learn how to downsize and pick the stuff you'd like to carry into your next chapter, you will see how easy it is to embrace and enjoy the change. Although your lifestyle will be different, you will manage it just fine. And if you relocate with the help of the most reliable moving company, then there's nothing left to worry about, apart from finding some dog-friendly restaurants in Seattle or another place you're relocating to.