If you're one of those people with Carrie Bradshaw's shoe obsession, just thinking about how to pack shoes for moving must be one of the worst nightmares you've ever had. Yes, we know, they come in all shapes and sizes, and you adore them all. That's precisely why we're here, to give you a handful of expert tips before embarking on a big journey so that you can move your collection safely with you.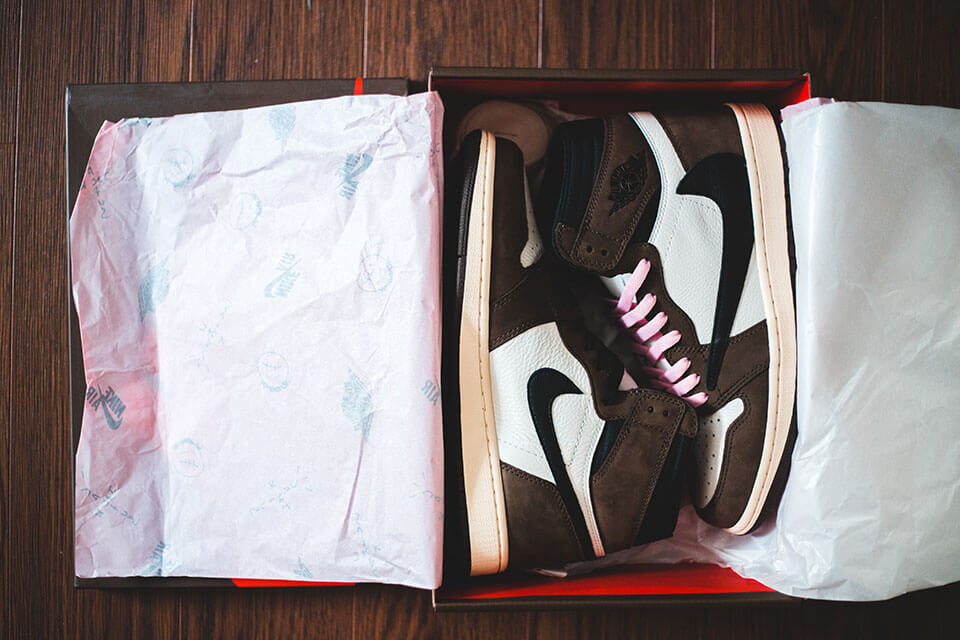 Start by Sorting Out Your Footwear
There's no way you can make it through this pile without a plan, not when you know that you've been accumulating footwear for years. And even if they are all still in good shape, they have different storage needs. The best way to pack shoes for moving is to sort out the entire footwear inventory and into categories according to season, type, and quality. Deciding on a proper storage system will allow you to stow them properly and organize your move better. Whether we're talking about that pair of old sneakers you love so much or special occasion stilettos, this simple plan will help you handle them with equal care even when packing to move in a hurry.
Don't Bring the Ones You Never Wear

Planning a move to another city, especially when relocating with kids, is a great time to learn what to get rid of since your home is probably cluttered with things, not just your footwear. But figuring out how to downsize this hot mess will not only set you free from sneakers or boots you didn't even know you have, but it will also help you save money down the road. The fewer items you have, the easier and cheaper it will be to move them. So, let's start decluttering.

The simplest way to make a selection of pairs you don't want anymore and not regret it is to ask yourself a few questions:

● How long has it been since I wore them?

● Do I genuinely still like them?

● Are they damaged?

● Have I (or my children) outgrown them?

● Are they appropriate for the climate I'm going to?

There's no need to move all of them to your new home because you'll be losing your nerves, time, and money. However, there are quite a few clever ways to leave them behind. The most preserved ones you can list on eBay or some other site. Also, a garage sale is always a good option. And of course, it's okay to give some of them away, or even donate them.
Set Aside the Ones You Wear Every Day
When packing shoes for moving, it's crucial not to forget to set aside the ones you wear the most with your relocation essentials. No, you do not need all ten favorite pairs with you right away, and yes, two or three essential pairs will do. You will most likely wear sneakers most of the time since you'll be running around a lot while settling in. Make sure this box is also marked clearly and set aside so it doesn't end up with thousands of other packages in the truck.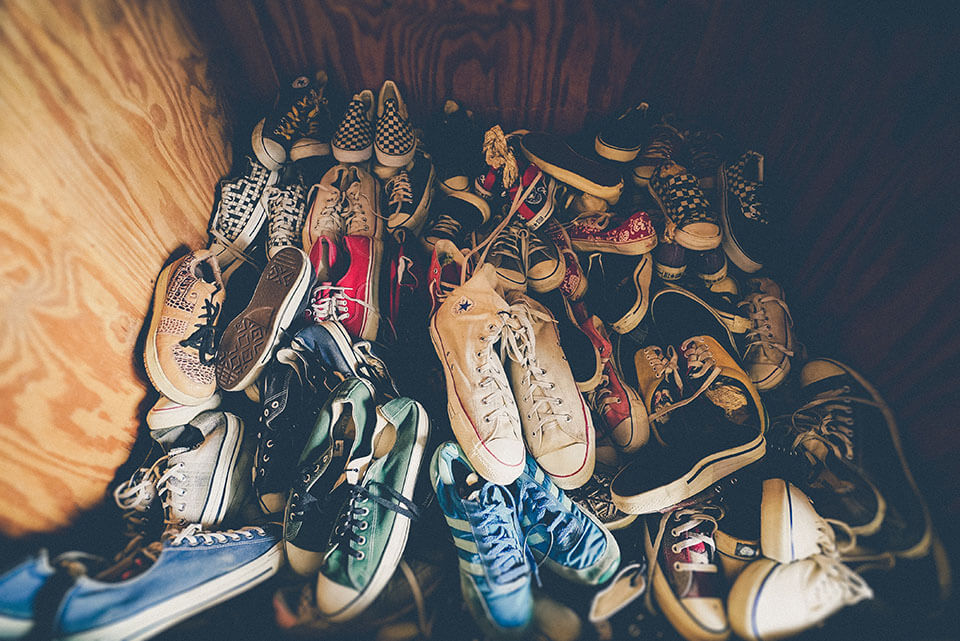 Tips on How to Prepare the Selected Pairs for Packing
Relocating long-distance can be quick and effective, but it doesn't mean you can toss a full shoe storage cabinet (plus all other ingenious shoe storage spaces we all hide in our homes) in a bag. For a stress-free relocation, there are preparatory steps you have to master:
● Clean the footwear thoroughly and let it dry,
● Use sturdy boxes with padding,
● Wrap each pair individually,
● Place the heavy footwear at the bottom of the box.
Whether you're relocating for the first time or you have experience boxing your home up, this way, the footgear that is going with you will be safe and sound.
Purchase Suitable Packing Materials Well in Advance
We're all well aware that packaging is no easy task. It's also the essential part of the entire relocation process and the one that can cause a lot of relocation stress. But the more prepared you are to fight your belongings strategically, the easier it is to tackle the task. And none of this is possible without proper supplies that will provide you with the best possible protection against potential damage:
● High-quality boxes,
● Lots of paper,
● Packing tape,
● Markers.
Teabags Will Keep Your Footwear Fresh
Although this is one of the most common things people forget to do when handling sneakers, boots, sandals, and all kinds of their favorite footwear, don't be surprised if a nasty smell hits you once you start unpacking at your new place. We've all heard of the freezer trick, but we're pretty sure you'll have more important things to do in the first few days than freezing the funk out of your shoes. To prevent this from happening, make sure you put tea, lavender, or mint bags into the packages.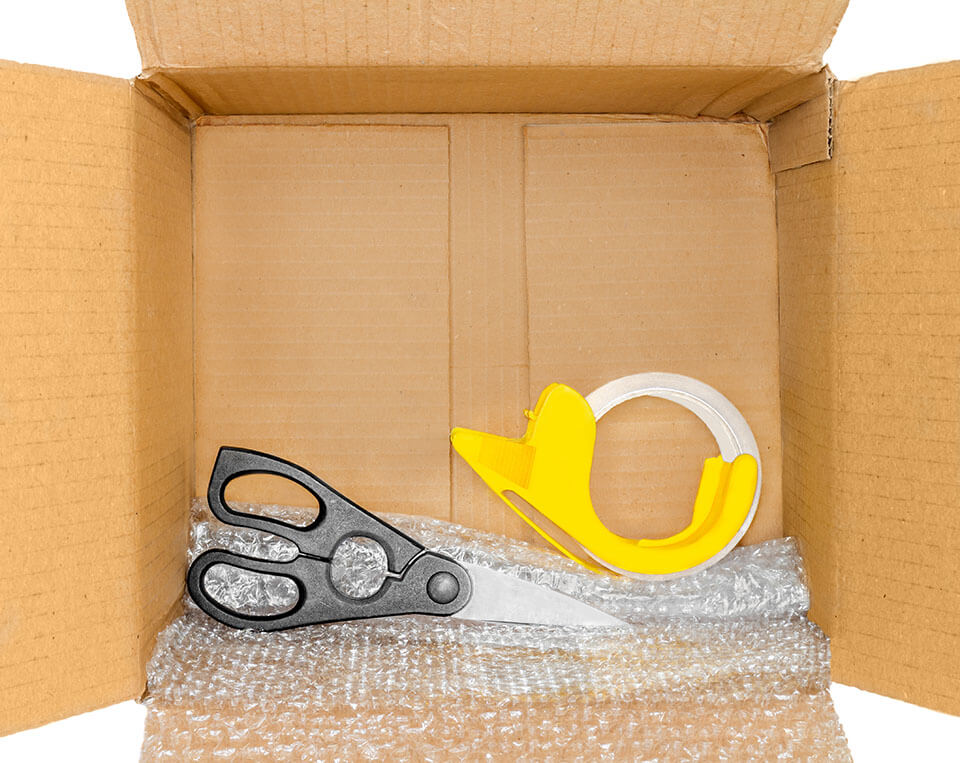 How to Pack Shoes for Moving
: Use Old Shoe Boxes or Purchase New Ones
Should shoes be stored in their boxes is not something to burden yourself with because they are designed to fit them perfectly, and the answer is an absolute yes. As a matter of fact, it's the best way to go about this task since they match the exact size and shape of the pair, thus eliminating any chance of potential damage, such as scuffing or scratching.
Go for Out of Season Footwear First
When trying to figure out how to pack shoes for a move, it's important to have a logical plan. As with any other item in your household, there should be an order in which you tackle stuff. You probably packed your least-used room first and made your way towards the areas you use more often. The same goes for footwear. Suppose you're relocating in the summer — first tackle all the winter boots. The same goes for specialty footwear, such as sportswear for hiking or any other activity. Remember to mark the boxes clearly, so you don't have to get around to tackling these until you actually need them.
Box up the Fancy Footwear Individually When Moving
You probably know quite well that boxing up your flip-flops and your high-heels are two different processes. And you're probably not that concerned about your running sneakers getting damaged because they already have a lot of wear and tear. But, how do you pack expensive footwear? What do you have to do to ensure they don't get damaged during the move?
The vital step here is to take care of each shoe individually by wrapping them carefully with clean paper or stretch wrap. Use boot trees for more sensitive ones, like high boots (rolled magazines are a good alternative, too). Put them in their original box if you have it or purchase ones that are sturdy and fit perfectly.
How Do You Pack Shoes Without a Box?
In general, it is always best to use original boxes, no matter what it is you're packing (this is especially true for electronics and fragile items). However, there are many helpful relocation hacks out there that could help you move efficiently either way. Not to mention, there are countless storage containers you can use instead of original ones. Plastic storage containers, wine cardboard packages, or just medium-sized cardboard will do the trick.
It's Best to Avoid Plastic Bags and Stick to Boxes
We understand that sticking to your relocation budget is a tall task sometimes, but still, it shouldn't be an excuse for making one of the biggest relocation mistakes. You already know how thin plastic bags are and how little protection they provide. None, to be honest. Stowing more pairs together in a bag may damage them all.
The only question is how severe the damage would be. Some of your more delicate footwear may get crushed under the pressure of heavier items, while others may get scratched. With no solid structure to protect the items and no air circulation to absorb the moisture efficiently, you're risking ruining both your effort and your footwear. So even if this is a last-minute move, say no to plastic bags.
Use Paper or Old Socks to Stuff Them
Now that you know more about what you need to keep the footgear intact while relocating, it's a perfect moment to learn how to hold their shape while in transit, so add this one to your to-do list, as well.
By simply putting pieces of crumpled paper inside or rolling up some old socks you find at home, all of your footgear will retain its original shape. Also, if you're wondering how to save space packing your footwear, this is where you have to look for the answer - odd as it may sound. When you run out of paper and socks, you can take any soft, flexible small items and pack them inside your shoes.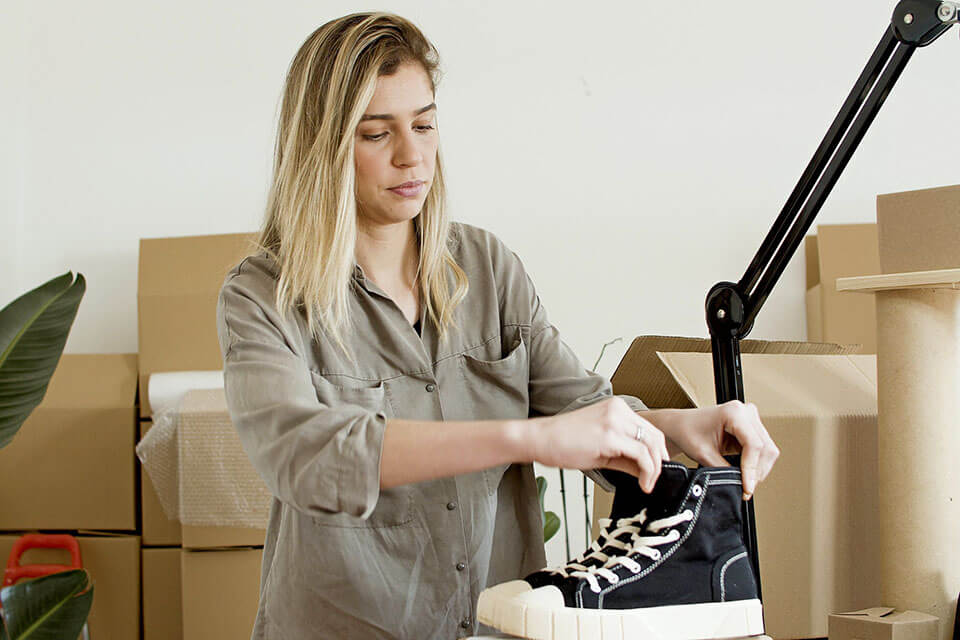 You Don't Have to Pack on Your Own When There's a Moving Company App to Help You Find Reliable Movers
You know the drill: a million decisions waiting to be made, from planning and organizing the move to boxing all of your belongings and loading them in the truck. On top of it all, everything has to be done impeccably. We're sure you're capable of doing some of the tasks yourself, but are you sure you can do it and save at least some of your nerves and energy?
Choosing a moving company can be a dreadful task because you never really know where to look and how to be sure you're not about to fall victim to one of the relocation scams you've heard so much about. Luckily, our app for moving is primarily designed because we wanted you, as a customer, to feel safe at all times. After you create an account and provide us with all the details on the upcoming move, our search engine will offer you a number of solutions. No matter the services you need, our app is here to narrow down trustworthy moving companies in the area so you can choose the one that suits your needs and budget best.
For any additional questions, feel free to contact our customer service, and our agents will be happy to walk you through the whole process.