Trust our word. Learning how to pack dishes for moving will turn you into a patient person. No matter how experienced you are, packing your kitchen from scratch to prevent damaging expensive china that has been in your family for years will call for all of your attention and love.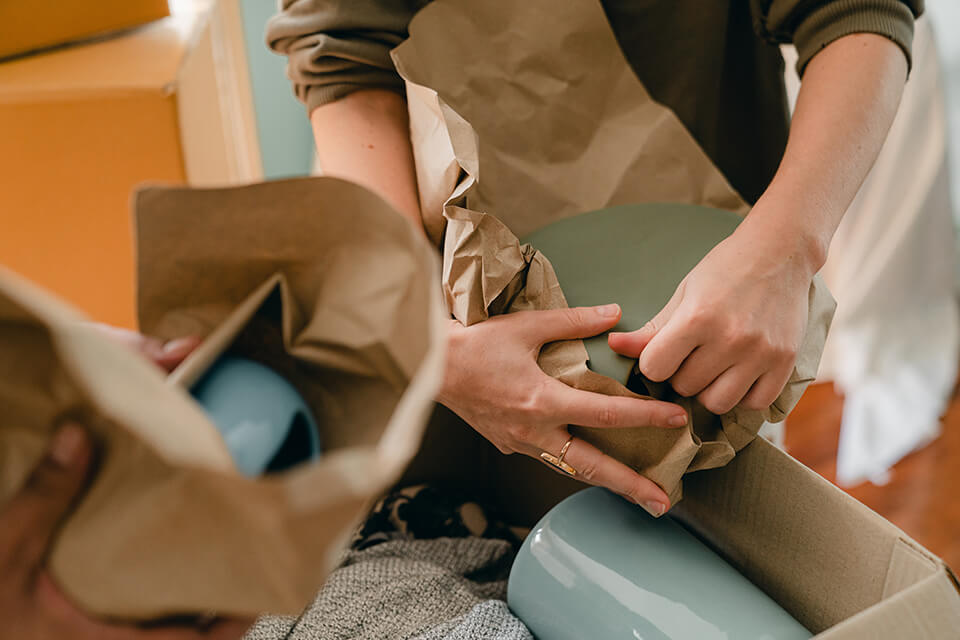 Even though the kitchen is one of the most challenging rooms to move, with our expert methods and tips, you'll deal with some of the trickiest objects with ease. However, don't put off learning how to pack dishes for shipping until the last minute because you need all the energy and patience to handle your breakables successfully.
Preparation Makes Perfect
So, you've finally decided where to live, and now it's time to learn how to organize packing to move your belongings safely to a new location. Understanding that you're dealing with some fragile items and learning some relocation hacks will make all the difference once your boxes are delivered to the new address. To grapple with a kitchen, start by creating a thorough packing list. Categorize the kitchenware on your own and figure out what you don't need anymore and what to get rid of. It's the best way to downsize for a move before you find yourself with way too many boxes piled up waiting outside the truck. To avoid such frustrating situations, choose a professional moving company and have a stress-free relocation guaranteed. You can also try to relieve the stress by using a moving app to compare moving companies nearby and get the best price.
The First Step Is to Clean Everything Before Packing
The most common things you forget to do are sometimes the obvious ones, like cleaning your kitchenware before boxing it up. And we're not talking about the dirty ones only, but all of them. Once you finally get into your new apartment, the last thing you'll want is to waste time washing everything. Although learning how to pack dishes when moving correctly may be time-consuming and tiresome, it's the right way to go if you want to move efficiently and unpack like a pro.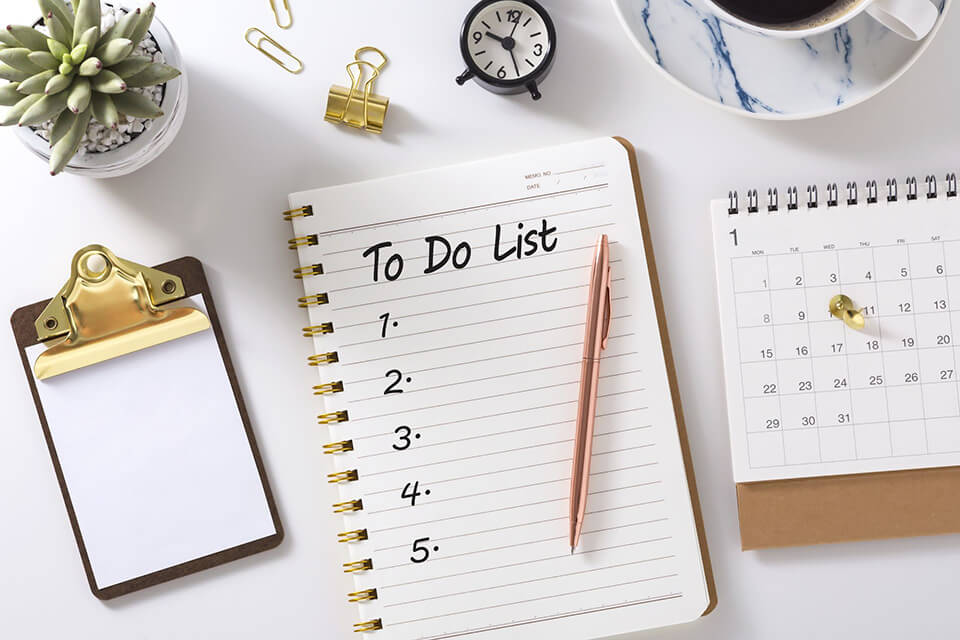 Have All Packing Materials on Hand
One of the priority tasks that should be part of your to-do list is purchasing suitable materials. Without them, preventing the breakables from getting broken or damaged would be impossible. Transporting your kitchenware from one place to another is a hectic job, for sure, and here's what you'll need to it correctly:
● Tons of packing paper or other protective materials,
● Medium-sized boxes,
● Specialty boxes with compartments,
● Quality tape,
● Labels and markers.
Keep in mind that the best way to pack dishes is to leave no space between them. Whether you're relocating in a hurry or have plenty of time, don't forget to be generous with materials of your choice. This can be anything from crumpled paper to old clothes - as long as it gets the job done.
One of the Best Tips Is to Use Specialty Cartons
Even if you have been saving money to move for a long time now, don't be stingy when it comes to investing in dish cartons. Even though they're a bit more expensive, these specialized cartons are designed to be sturdier, with protection that's worth every penny. Or at least worth your favorite dish. If you use a container with extra-thick walls, you don't have to worry about accidents because the contents inside will absorb shock more easily than in regular ones. We recommend getting a few of these on time, along with compartmentalized cartons for glasses.
Look for More Affordable Alternatives
Remembering possible alternatives when packing dishes for moving is also one of the relocation tips you should take because reusing some materials will certainly help you save money to move and worry less about the upcoming expenses. So, go visit all nearby grocery stores, shoe stores, and bookstores and ask them if they have any spare cartons they want to get rid of. Places like these usually have a lot of materials in decent condition that will just end up in trash otherwise. Don't forget to check out sites like Freecycle, where people all around the world give away items for free.
How Do You Pack Dishes for Moving Without Paper?
There are many ways to cut down on wasteful materials when it comes to wrapping and still avoid newspaper or paper. There are a few reasons why you should consider replacing them, each one equally important. The first reason not to use them is that newspaper print is not clean, and you've just put effort into washing and cleaning all your kitchenware. Even if they are, the ink often rubs off and stains your kitchenware. Using alternatives to it - towels, sheets, old clothing, blankets - which provide more protection, is always a better choice. Socks, for example, are a great solution if you're wondering how to pack glasses.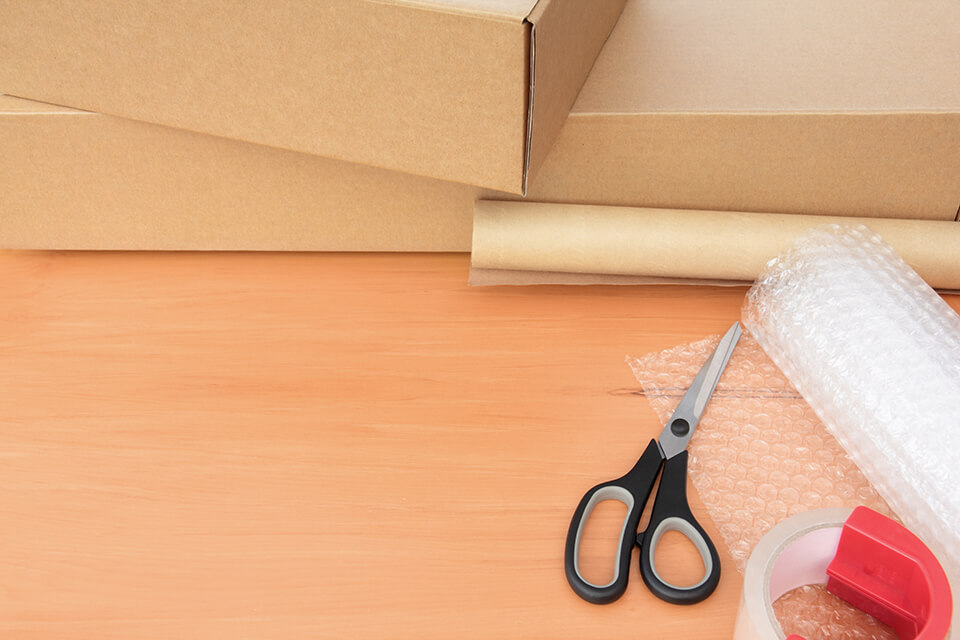 Strengthen the Box Properly
Kitchenware may not be bulky, but it sure knows how to give you a headache with all the handles and sharp edges. They can be pretty heavy, too, which is why reinforcing some of the boxes is a necessary part of the process. The goal is to increase their carrying capacity by taping down all the edges and the middle seam of the box. You can even add a cardboard layer, if you have some extra, at the bottom. Although it might be tempting to skip this one - protecting your belongings and checking off one of the biggest tasks will help you reduce the anxiety about moving out.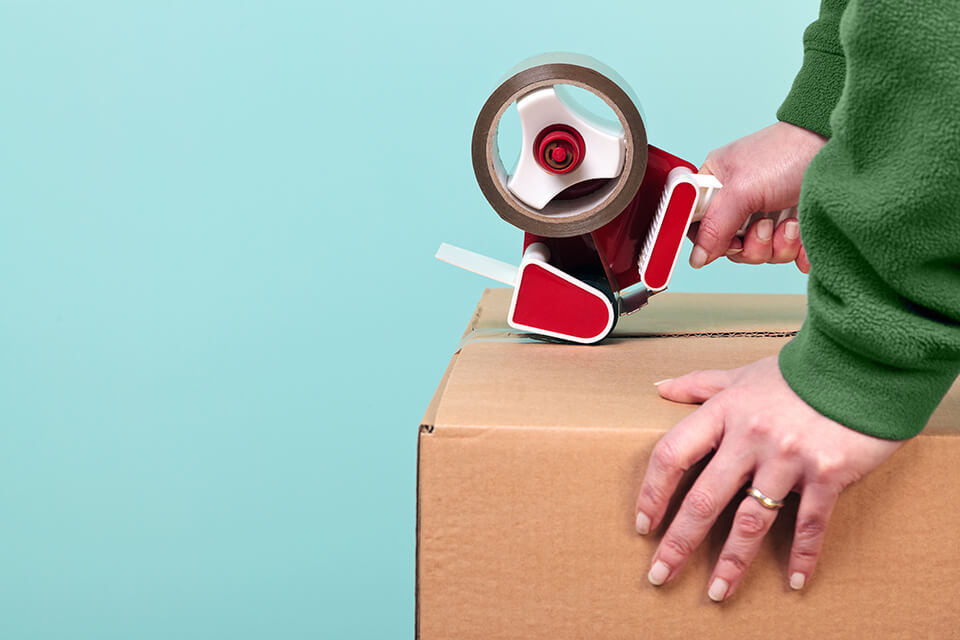 How to Pack Dishes for Moving
: Start With Plates, Because They're the Heaviest Ones
It doesn't come as a surprise if you're sitting in the middle of the kitchen, surrounded by different-sized chopping boards and bowls, some of your most beloved cups, cutlery scattered around, and wondering where to start packing. The good news is that the answer is simple - always go with the largest and heaviest objects first. In this case, packing your plates should go first.
Tableware is among the top things you need in your first apartment, so pack it properly and save space on the new apartment checklist for that wok you've been wanting to get. Tableware are super easy to handle, but we still recommend going for an individual wrapping method if you want to have them intact at your new home. Just place a piece of paper on a flat surface and put the plate at the center. Fold one corner at a time and secure them all with the tape.
Stack Them Vertically in a Box
If you're not sure how to pack dishes for a move, when it comes to plates, stacking them horizontally might be the first thing that comes to mind, but this is not the right way to go. This might be a good way to stack plates on a shelf, but relocation is a completely different story. Placing them in a box vertically to support each other will reduce the area of impact in case you drop it, making it less likely for any damage to occur. That is, if everything is padded the way it is supposed to be.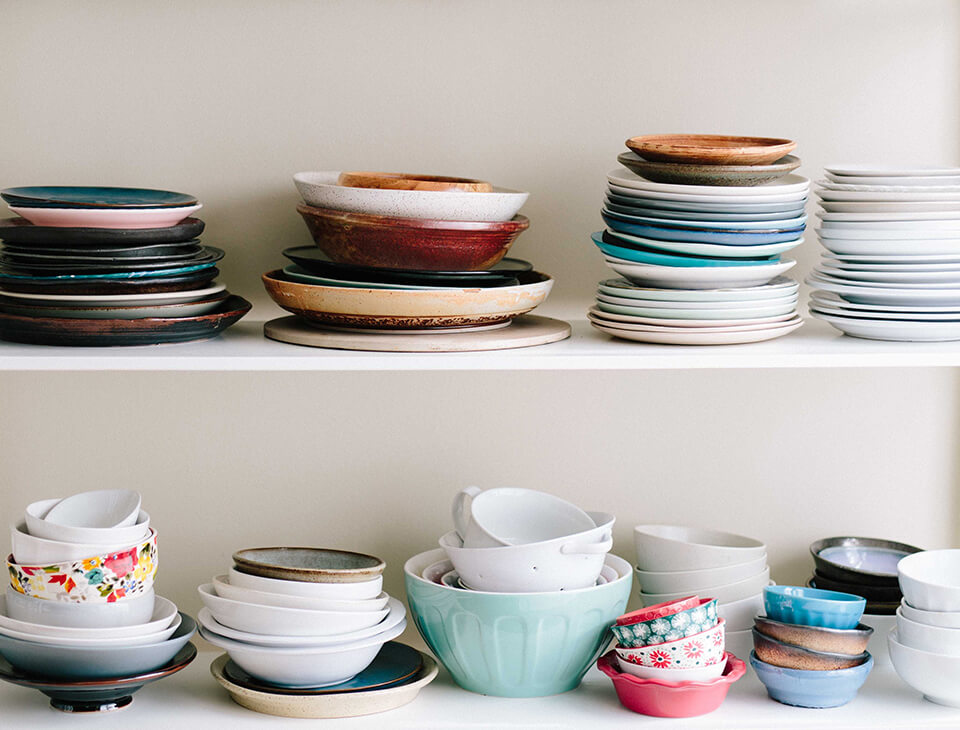 Be Gentle With Your Cups and Mugs
Although cups and mugs are not as fragile as some other kitchenware, they still need lots of care and attention to get to their home safely. Filling them with crumpled paper is a good starting point. However, it's crucial here to wrap the handles before wrapping each piece separately. Just roll the dish from one corner of the sheet to another, and fold in the excess for extra protection. Don't try to put more than one cup or mug in one go or to pair up different-shaped items.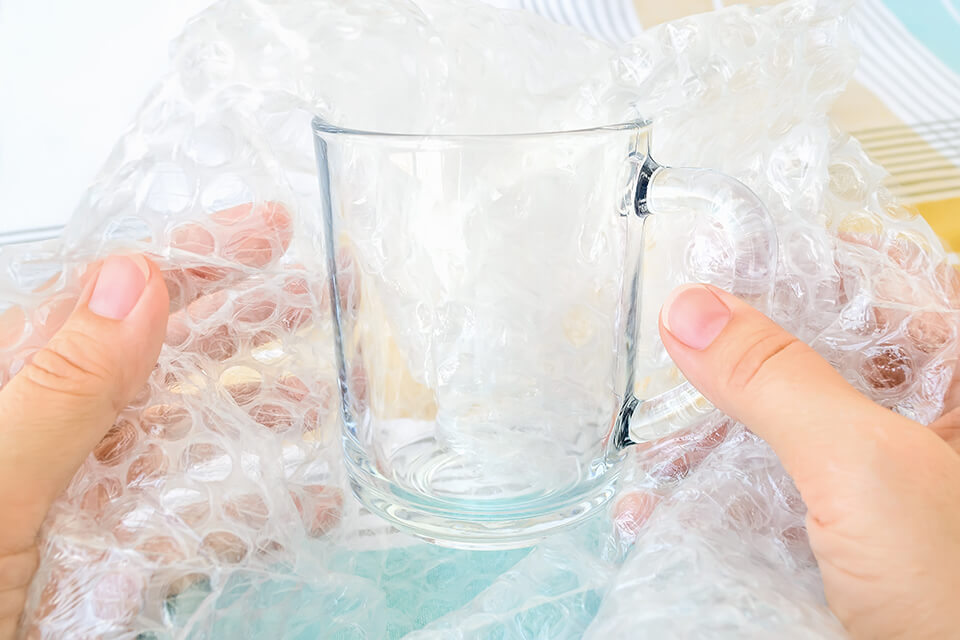 Wrap Your Glasses and Stemware With Utmost Care
How do you pack glasses for moving without breaking them? Well, the truth is that glasses and stemware are among the most delicate items you'll have to tackle, so it's essential to know how to protect them appropriately. Same as with the previous ones, gently stuff the stemware with protective materials before wrapping each piece separately with utmost care. Wrapping them in bubbles is an even better option since bubble wrap is one of the most effective protective materials. When double-wrapped, items can absorb shock more easily. If you have any, use compartmentalized cartons for these items.
If you don't want to put your most vulnerable belongings at risk and aren't confident enough in your packing skills, leave the task to professionals. A reliable and professional moving company will see to it that all your breakables make it to the destination in one piece. Remember to tip the movers now that you know how difficult of a task that is. Having honest and reliable relocation professionals by your side will help you learn more about how to protect yourself from relocation scams.
Pots and Pans Need Your Attention, Too
Although generally easy to move, it's their shape that makes it a bit tricky. Sure, pots and pans are pretty durable, but they still need more than a garbage bag. The good thing is you can group pots by nestling smaller into bigger ones. Be sure to wrap the glass lids with the protective material of your choice. Do the same with pans. Keep in mind that you'll need lots of padding for the box because of their irregular shape.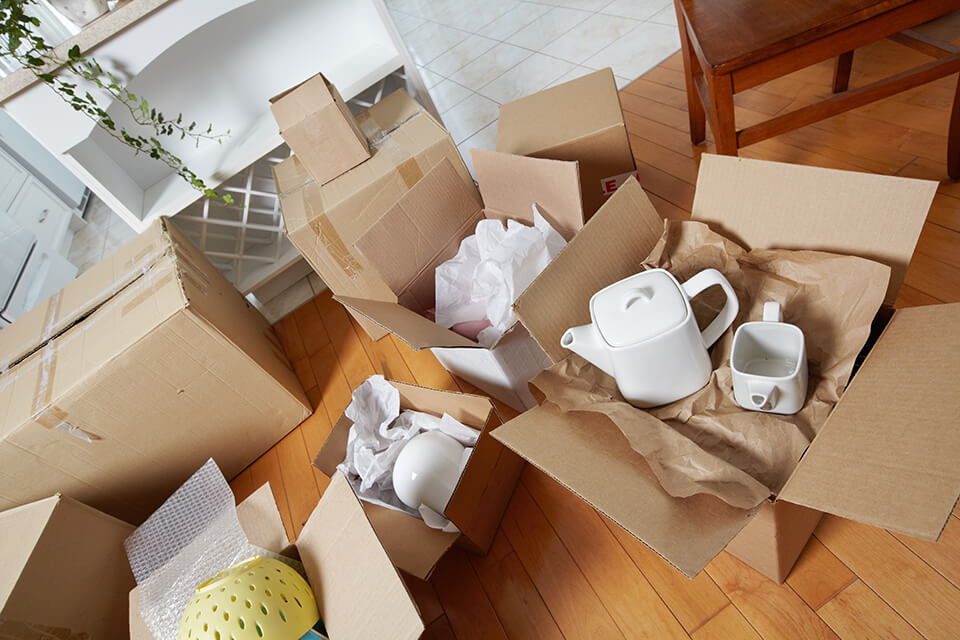 Tips for Closing the Box Properly
When you're sure there's no place for your stuff to bounce around, it's time to seal the package. Also, don't forget to leave enough room at the top for an extra layer of protection. Stuff any soft materials left around or soft kitchen items, such as sponges and old cleaning cloths. When full, close the flaps and double tape the box, just in case. Conduct a shake test - gently shake the sealed carton and listen for any noises. If it sounds like the contents are flying around, you'll need more padding.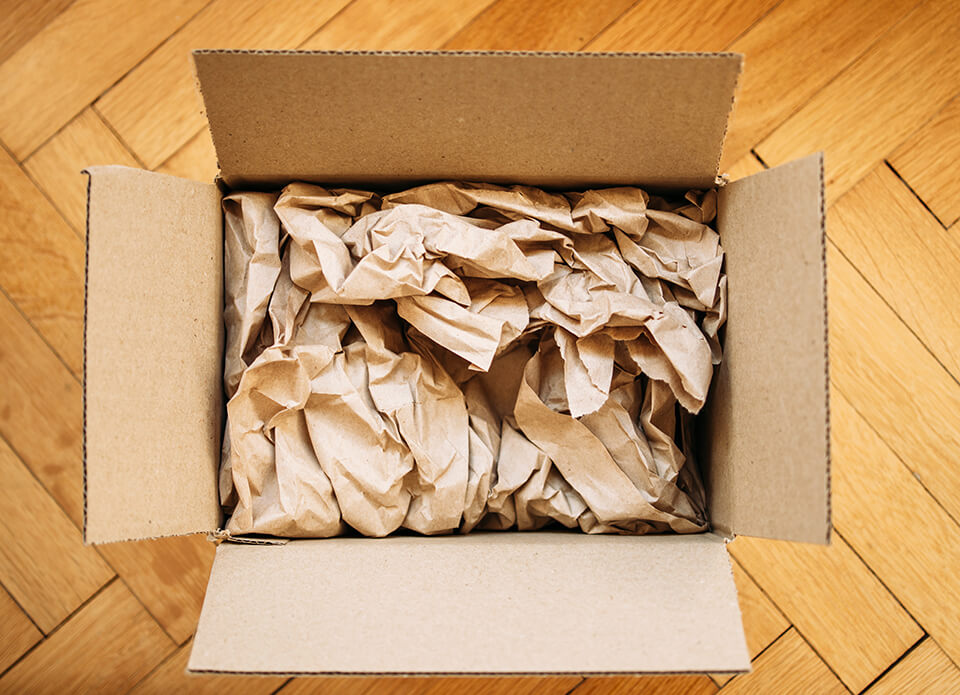 Label Your Kitchenware
Whether you're relocating from a house to an apartment or vice versa, unpacking is always overwhelming because you're slowly running out of energy, and fatigue is taking over. Knowing which box goes to which room will make the process much simpler. No matter which organizing system you use, by simply writing the room down or marking your boxes with numbers and color-codes, you'll quickly create order, and the unpacking process will be way easier.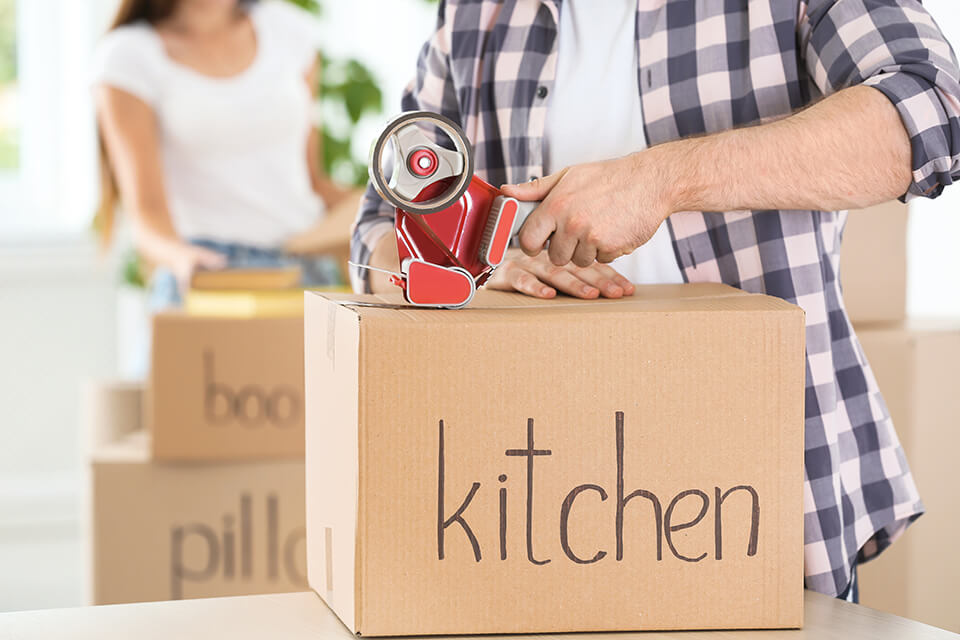 Take One Step at a Time and You'll Get There
We're sure there's nothing you'd like more than to enjoy your favorite meal once you finally settle in. One step at a time, and you'll make sure all of your kitchenware is moved safely to your new home. Just take a breath, have our tips somewhere close, and start packing. It will be a piece of cake, we promise. And if you'd rather leave the task to professionals, use our moving company app to find the ones that suit you best.