As any bookworm would tell you, relocating your whole home library to a new place is very stressful. How will you move your most precious book without damaging it? If you have no clue how to pack books for moving, you've come to the right place. We can show you essential tips for protecting these beloved household items.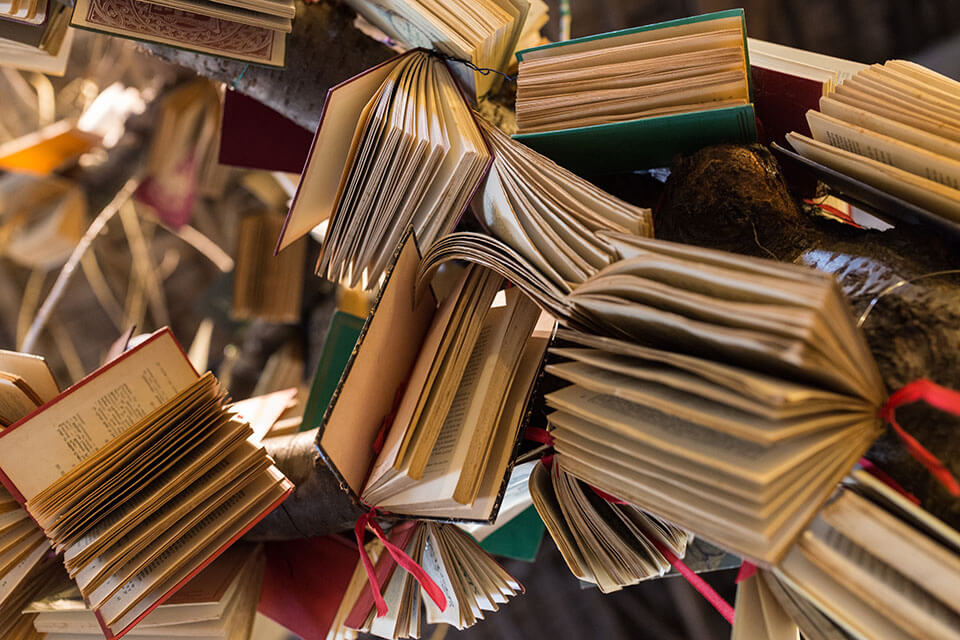 Is there the best way to pack books for moving or storage? Of course - there are standard guidelines that any literature lover should follow. There's no reason to lose a few pages from your favorite novel just because you weren't careful when you were filling packages for your move. So, how do you pack books for moving? Stay with us, and we will tell you all the tips and secrets.
How to Pack Books for Moving So They Stay Intact?
What is the best way to move books to your new home or storage? Well, any technique that allows your volumes to stay intact is a way to go, but how to wrap them up, so they stay safe? We will share our dos and don'ts with you that will help you move efficiently and transport your favorite volumes without worrying about torn or crumpled pages. Let's check out our essential relocation tips for bookworms and get to work so that you can check off this task from your packing list.
Packing Books for Moving Will Require Your Full Attention
We'll be honest - this is a bit of a stressful task. How can you not worry about every paperback book? They seem like they were made to be damaged, right? And what about your expensive, hardcover editions that you cherish the most out of all the items in your library? How to decide what is the best way to pack and store books? Especially if they have to stay in storage for a long time.
Worrying about your tomes will only add to the anxiety about moving out. But, if you figure out how to organize your move well and leave enough days or hours for this task, we're sure you'll be okay. Even if you're having a last-minute relocation, you will be able to pack to move in a hurry correctly with a bit of effort. Just concentrate on wrapping up items, follow our instructions, and your publications will continue to make your shelves beautiful in your new home.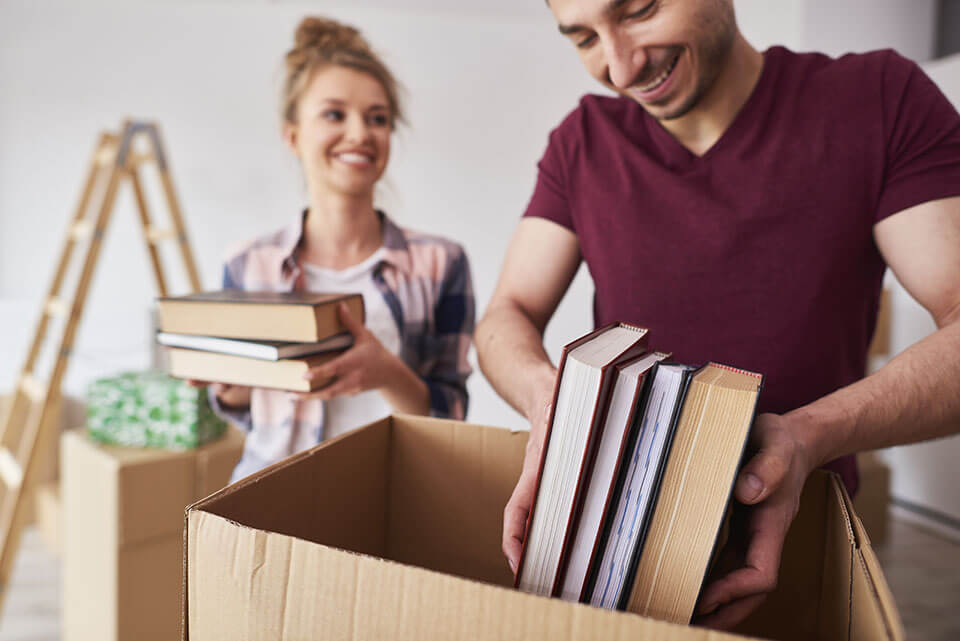 Decluttering Is An Unavoidable First Step
You likely already know that decluttering is the first thing on your to-do list. Now, when it comes to your library, this might be an emotional task. Honestly, how to part ways with the novels you've been collecting for years, and why should you? The answer is this - you simply have to get rid of a few things. Otherwise, you will have difficulties trying to move every single item from your home.
Don't avoid decluttering - downsizing for a move will make it easier. You can donate a few titles you are ready to part from or see if your friends or family would like to read something new - give them some quality reading material. That way, it stays in the family, which should give you some comfort. Also, don't forget that you can always take items to the storage if you can't find a better solution for now. Sort through your library carefully, and divide publications into three piles - keep, donate, give to friends and family.
Never, Ever Throw Away Titles You No Longer Want to Keep
We don't need to tell you this if you are a fan of a good book, but for those who don't prefer to spend their free time with their nose between pages - we must emphasize that throwing publications in the trash is not a nice thing to do. Once you decide what to get rid of when relocating, find a donation center that will take your old belongings. You never know how much that can mean to less fortunate people.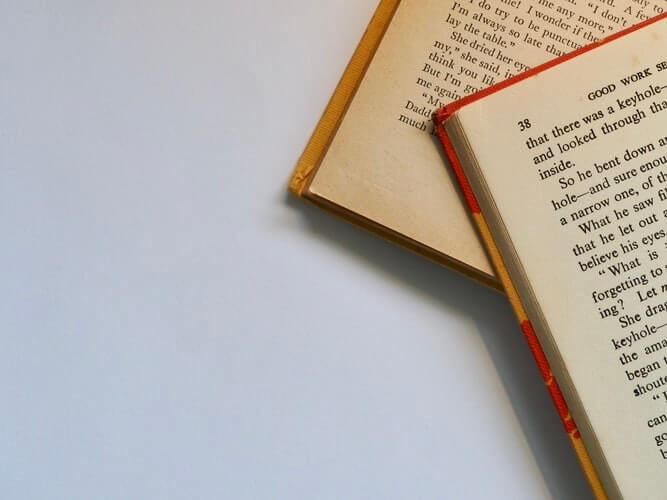 Get Proper Supplies
Before you get to work, be sure to prepare enough supplies so you won't have to run back to the supply store. After decluttering, you will have an approximate idea of how many boxes you'll have to use to get everything packed. Also, you will have to invest in a quality tape - but, don't worry, that's not expensive, so there's no reason not to get enough of it. Clean paper sheets will come in handy as well, and we'll later explain why you need them. If you wish to be extra careful, consider buying bubble wrap, but keep in mind that it's not essential for this.
You Can Use Suitcases for Hefty Publications
Repurposing suitcases for hefty tomes is one of the most common relocation hacks. Why is this better than regularly packing clothes in your suitcase? It's pretty logical - clothes are not as heavy as novels. You will have a hard time overpacking a box with clothes so that it's as heavy as one filled with your favorite literature. We know that clothes won't be something you forget to wrap up and take with you (you're more likely to forget to change voter registration or something like that), but it would do you good to remember to leave your suitcases empty and ready for hefty volumes.
Don't Use Large or Damaged Boxes
If large boxes aren't suitable for this job, what is the best size box for moving books? Experts suggest using medium-sized ones so that once they're packed, they won't be cumbersome. One of the tips we must mention here is that the proper size won't matter much if your box is damaged, dirty, or wet. You for sure don't want your favorite book to get all smelly and dirty during transport. So, you shouldn't run to the grocery or liquor store and ask them to give you free cardboard packages they no longer need. We strongly advise you to buy quality, sturdy, and clean packages that will protect your belongings adequately.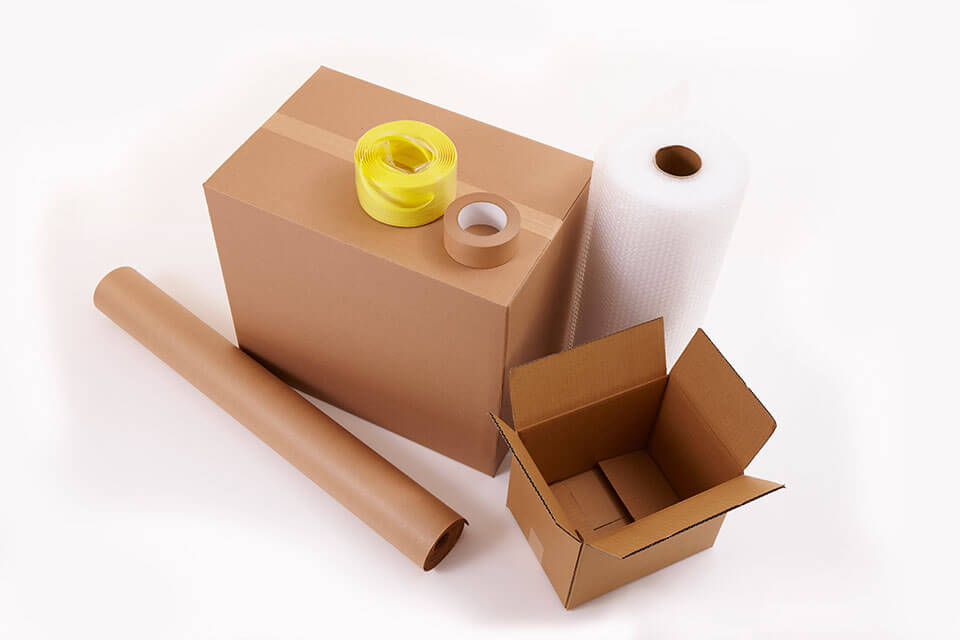 Make Sure You Prepare Boxes for Books Before Packing Anything
Now that you have quality packages, you might think that's all it takes. But, don't be mistaken - you still have to prepare your packages. You will have to do the same thing as you would do when packing plates. Get a lot of tape, and tape the bottom of each box, so it can't fall open if you accidentally overpack the package. To be extra cautious, tape the bottom third of all the sides as well. It can't hurt, right? One more thing before you start to fill the packages: you must place a few layers of paper (sheets, not crumpled ones) to the bottom. That will add extra safety to your belongings.
Don't Forget to Wrap Any Book You Find Valuable
Usually, there is no reason to wrap each novel separately before you put them in the package. Even the paperback ones will be okay on their own, but if you own some valuable editions you genuinely want to keep intact, we suggest you wrap them in clean wrapping paper. It's the same principle you would apply with other valuable items. When you're wrapping up glasses, you will be extra careful with the most expensive stemware, right?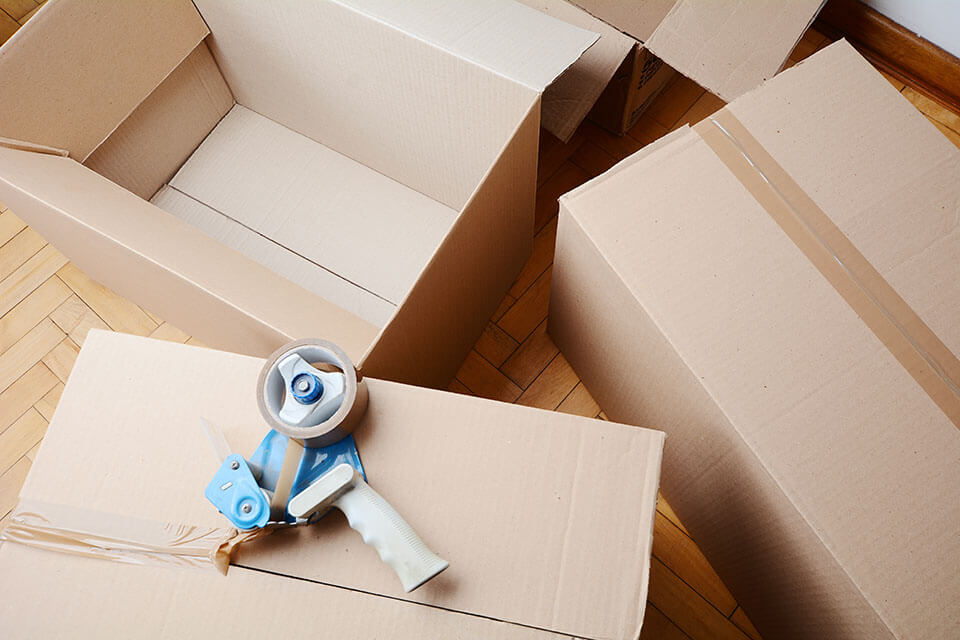 Here's How to Pack Books in Boxes the Right Way
Now, the moment has finally come - let's place those volumes in the packages. Naturally, we have more tips for you. You can't just randomly throw everything in the box, right? Check out these methods for arranging novels in the package:
● Flat method - The most straightforward way to arrange items in the package is to place them one on top of the other. You can do this with paperback and hardcover both. Just keep in mind that you should put spines on the same side to support each other. Also, heavier publications should go to the bottom and lighter ones on top.
● Upright positioning - Imagine placing novels on the shelf. That's what the upright method means. This is an excellent way to arrange hardcover editions, but if you're wondering how to protect paperback books, we would instead go with the flat method.
● Spines down - The name itself explains how to arrange volumes. The spines are rigid, and it's better to place them this way, at least for hardcovers.
One more thing to keep in mind - you shouldn't put paperback editions at odd angles. That goes for the hardcover as well, but paperback ones are more prone to damage, so we should be careful with them. When you're placing your publications in the package, try not to put them so close to each other that they can damage each other. Plus, it will be hard to unpack them if they're tightly packed, so you'll add a problem that could've been avoided.
Don't Pack Books With Spines Facing Upward
If there's a spines down method, can you place your hardcover and paperback editions the other way around? No, there's no such thing as spines up - that will just damage your volumes. Just imagine how that would look, and it will be apparent to you that spines down aren't a good idea. Some people get confused and replace spines down with spines up. Be careful not to do this, especially with paperback editions. That's the quickest way to destroy them.
Never Overpack the Box
Sometimes, when people are relocating from house to apartment, they try to keep packages to a minimum. That's what leads them to overpack. However, we want you to keep in mind that too many items inside one package are never a good idea. Even if we're talking about light items, we don't suggest you do this - you never know how much their added weight will be.
For hefty volumes, this is an incredibly horrible idea. The chances are that you won't lift the overweight package, or you will drop it and hurt yourself. Not to mention the possibility of pulling a muscle. Don't put yourself in the position to research how to treat a pulled back muscle. Keep the weight of your packages up to 20 pounds, and you should be fine.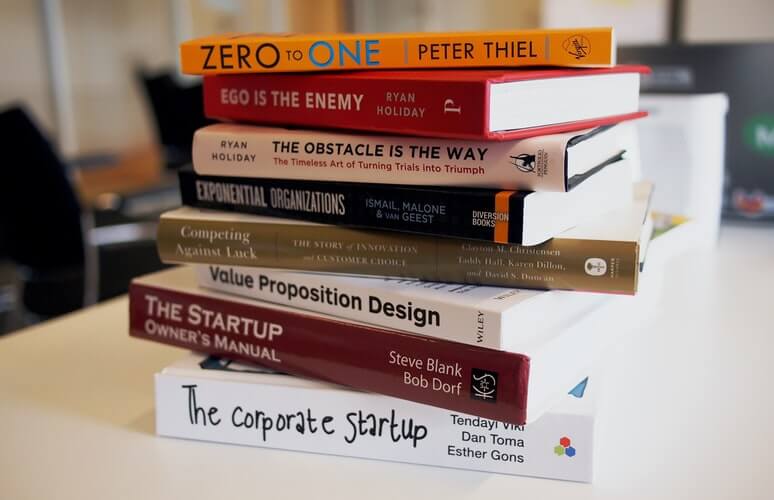 Don't Forget to Fill the Residual Space and Label Packages
If you're moving out for the first time, you will have a lot on your mind. Don't let all the difficulties distract you, and always remember to fill the residual space when filling up packages. This doesn't only apply to those that contain your literature - you should never leave residual space in the cardboard package, whatever is inside of it. Which padding materials to put inside? You can fill the space with anything you have - crumbled paper, styrofoam peanuts, or bubble wrap.
If you know how to prepare for movers, you already know that you should label your packages. This is more important for fragile items, but you wouldn't want your movers to throw around your favorite novels, so it might be a good idea to label packages that contain literature. Consider drawing an arrow to show which side of the package is up so the movers don't accidentally turn it and get your volumes in the spines up position. Remember, that's almost certain damage.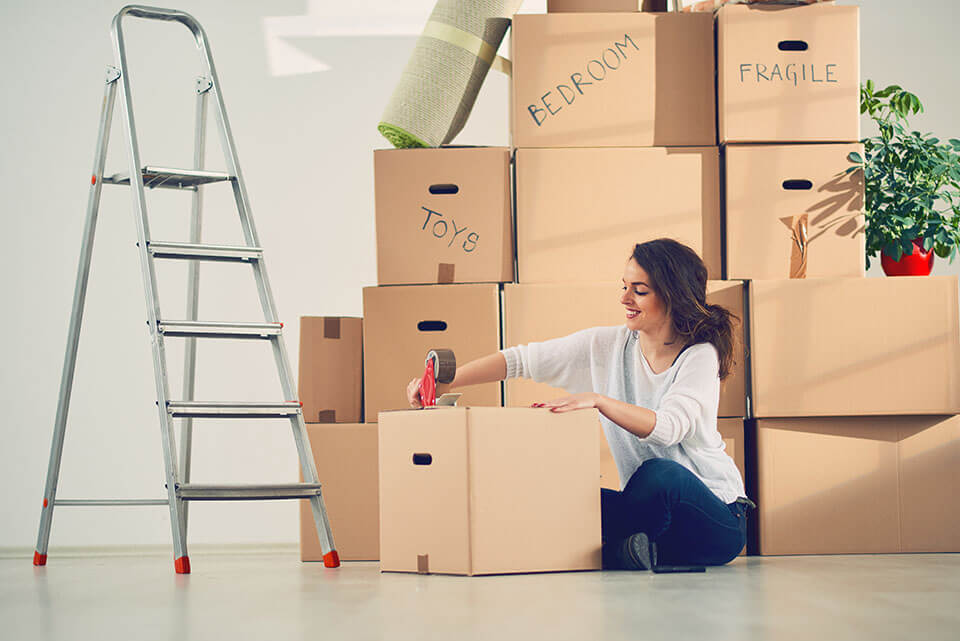 Have you Found Trustworthy Movers Yet? Our Moving App Can Help You
Hiring bad movers is one of the common relocation mistakes, and that's something you want to avoid at all costs. Why become a victim of some crazy relocation scams when you can simply use our app for moving and find yourself a reputable moving company that can make your move effortless or take your belongings to the storage without any problems? There are great companies out there, many of which offer relocation services for an affordable price that won't destroy your relocation budget - even if you don't know how much do movers cost, reputable businesses won't rip you off.
Mod24 Is the Smartest Solution for Finding Movers
So, if you need help figuring out how to choose a relocation company, an app to compare moving companies is the solution for you. Our Mod24 features will come in handy for anyone looking to have a stress-free relocation since choosing the right movers for you can allow you to avoid a lot of industry challenges and issues. If you're still wondering what can Mod24 bring to the industry, we can proudly say that we can get you everything you need - we have become an unavoidable part of choosing relocation businesses. Whatever questions you have for us, don't hesitate to reach out - feel free to contact us, and we will solve any issues you may have.