The 190 Most affordable Torrance Movers
We've hand-picked and vetted the 190
best moving companies in Torrance

for you
Torrance Movers
Mod24: Find Your Favorite Torrance Movers In A Few Simple Steps
At Mod24, we take pride in connecting you with reputable and professional moving companies in Torrance, CA. Our platform is designed to simplify your moving process and ensure a seamless transition to your new home. We work exclusively with licensed and insured movers who have a proven track record of delivering exceptional service. With Mod24, you can trust that your move to or from Torrance will be handled with utmost care and efficiency.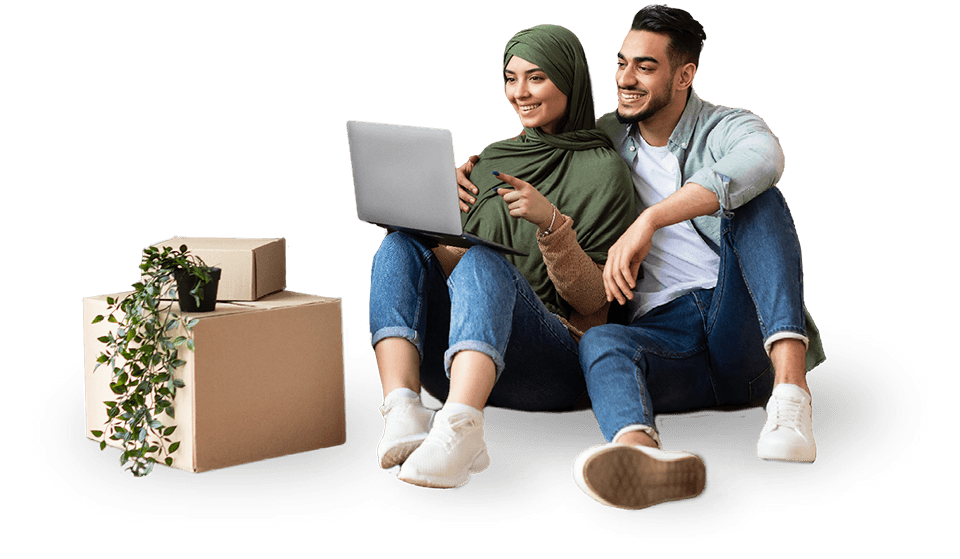 Get Quick Quotes and Book Your Torrance Movers
When it comes to your move to Torrance, choosing Mod24 offers several advantages. We are the first verified platform for moving companies, ensuring that you have access to trustworthy and reputable movers. By joining Mod24, you can easily compare estimated rates from different movers in your area, helping you make an informed decision. You can also request precise quotes within minutes, allowing you to find the best moving option that fits your budget. Our platform provides discounts for Mod24 members and allows you to read and compare reviews from other customers, giving you valuable insights into the quality of service.
Torrance Mover Costs and Stats
FAQ
How much do movers in Torrance cost?
The cost for Torrance movers depends on the services you'll order, the location of your destination, and how many things need to be moved. Plus, the more services you get, the higher the price. However, most moving companies offer package deals that will save you money without compromising the services you need. Faraway destinations and more items will cost you more but are still at an affordable price.
How can I find the best moving companies in Torrance?
We partner with the best professional moving companies in California. You can go over our list and contact the company you want using the contact number provided.
Can I use digital payments to pay for moving services?
Yes, you can. Digital payments are now part of the trends in payment transactions. More and more moving companies have adopted the payment process to cater to their customers' needs. They also avoid the risk of the COVID-19 virus brought about by physical transactions. However, you still need to check with the company to verify if they accept digital payments.
How many movers do I need for my move to Torrance?
The number of movers you need depends on the moving company's estimate. They need to survey the size and quantity of your items. Having lots of things to move can take more than one mover. But, you don't have to worry about the price since they are fairly quoted at an affordable range.
What do I get when I book Torrance moving company through mod24?
Experienced Movers
Mod24 works directly with the best moving companies in Torrance. Rely on our professional, trained movers with years of experience.

Loading & Unloading
Our dedicated labor-only movers on Mod24 guarantee a seamless customer experience, no matter how big or small your upcoming moving project may be.
Instant Pricing
Transparent pricing. Instant quote comparisons. No hidden fees. Mod24 offers instant, straightforward, and detailed pricing for your upcoming relocation.
Protective Covering
Protective materials such as moving blankets, tape, and shrink wrap will always be provided during your move to ensure the safety of your belongings.
Secure Online Payment
Book online in a few minutes and secure your moving date with absolute ease. We offer online payment options that are comprehensive, straightforward, and secure.

Moving to Torrance
Demographics
Torrance is a vibrant city located in Los Angeles County, California. With a population of approximately 145,000 residents, Torrance offers a diverse community and a high quality of life. The city is known for its safe neighborhoods, excellent schools, and abundant recreational opportunities, making it an attractive place to live for families and professionals alike.
Climate
Torrance enjoys a pleasant Mediterranean climate with mild, wet winters and warm, dry summers. The city experiences average temperatures ranging from the mid-60s Fahrenheit (15-20°C) during winter to the mid-70s Fahrenheit (24-26°C) in summer. Torrance benefits from the cooling effect of the nearby Pacific Ocean, creating a comfortable climate for outdoor activities throughout the year.
Economy: Jobs, Housing, Rental Prices
Major Employers
Torrance has a diverse economy with a variety of job opportunities. The city is home to major employers in industries such as aerospace, manufacturing, healthcare, technology, and automotive. Companies like Toyota, Honda, and ExxonMobil have a significant presence in Torrance, contributing to its strong job market. Additionally, Torrance's proximity to other business centers in Los Angeles County offers further employment options.
Housing Prices
Torrance offers a range of housing options to suit different preferences and budgets. The real estate market includes single-family homes, townhouses, and apartments. Home prices in Torrance can vary depending on factors such as location, size, and amenities. The city's diverse neighborhoods offer various architectural styles, from traditional to modern, ensuring there is something for everyone.
Rental Prices
Rental prices in Torrance vary based on the type of property and its location. On average, rental prices for apartments in Torrance range from approximately $1,500 to $3,000 per month. Factors such as the size of the unit, amenities offered, and proximity to shopping centers and transportation hubs can influence rental rates.
Lifestyle: Shopping, Culture, Education, Food and Sports
Shopping: 9/10
Torrance boasts a thriving shopping scene with numerous retail centers, malls, and boutique stores. Del Amo Fashion Center, one of the largest malls in the United States, offers a wide range of shopping options, including well-known brands and luxury retailers. The city is also home to various neighborhood shopping centers and local stores, providing a diverse shopping experience for residents and visitors.
Culture & Arts: 10/10
Torrance embraces its cultural diversity through various events and festivals. The city hosts an annual Cherry Blossom Cultural Festival, showcasing Japanese culture and traditions. The Torrance Cultural Arts Center offers a variety of performances, including theater productions, music concerts, and art exhibitions. Residents can also explore the rich history of Torrance at the Torrance Historical Society and Museum.
Education: 10/10
Torrance is served by the Torrance Unified School District, which includes highly regarded public schools. The district emphasizes academic excellence and provides students with a well-rounded education. Torrance is also home to several private schools and educational institutions that offer alternative educational approaches. The city's commitment to education is evident through its strong school system.
Food: 10/10
Torrance is a food lover's paradise, offering a diverse culinary scene. The city is known for its Asian cuisine, particularly Japanese and Korean flavors. Residents and visitors can enjoy a wide range of restaurants, from traditional sushi bars and ramen shops to Korean BBQ and fusion eateries. Torrance also features international cuisines, seafood restaurants, and cozy cafes, ensuring there is something to satisfy every palate.
Sports: 10/10
Torrance provides ample opportunities for sports and outdoor activities. The city has numerous parks, sports fields, and recreational facilities where residents can engage in various sports and fitness pursuits. Torrance Beach offers beautiful sandy shores for swimming, sunbathing, and beach volleyball. The city also has golf courses, hiking trails, and biking paths, ensuring there are plenty of options for outdoor enthusiasts.
Trusted by our customers
If you are tired of looking for moving help online, calling different moving companies for quotes, taking quick notes and scrambling to find movers near you just in time for the relocation – welcome to Mod24.
4.9 out of 5
Based on 150 reviews
Find Professional Movers in Torrance with Ease
Wouldn't it just be perfect to have all the professional moving companies in Torrance on one platform, along with their estimated rates, live reviews, and detailed information?
Shop Around With No Hassle
Compare moving quotes easily with a click of a button, and find the perfect Torrance movers, or long distance movers for your budget and needs.
Licensed & Insured Moving Companies Near You
Every local and long distance moving company you come across on Mod24 is verified, licensed and insured. We pledge a professional moving service, no matter where you are and may be moving to. On Mod24, everyone is guaranteed a safe and simple move.
Book Your Move Online In Under 10 Minutes
Not only is acquiring moving company quotes a quick and easy process when you become a member of Mod24, but booking your move is even easier. Contact your moving company of choice to book, or simply do it online in under 10 minutes. It's really that easy.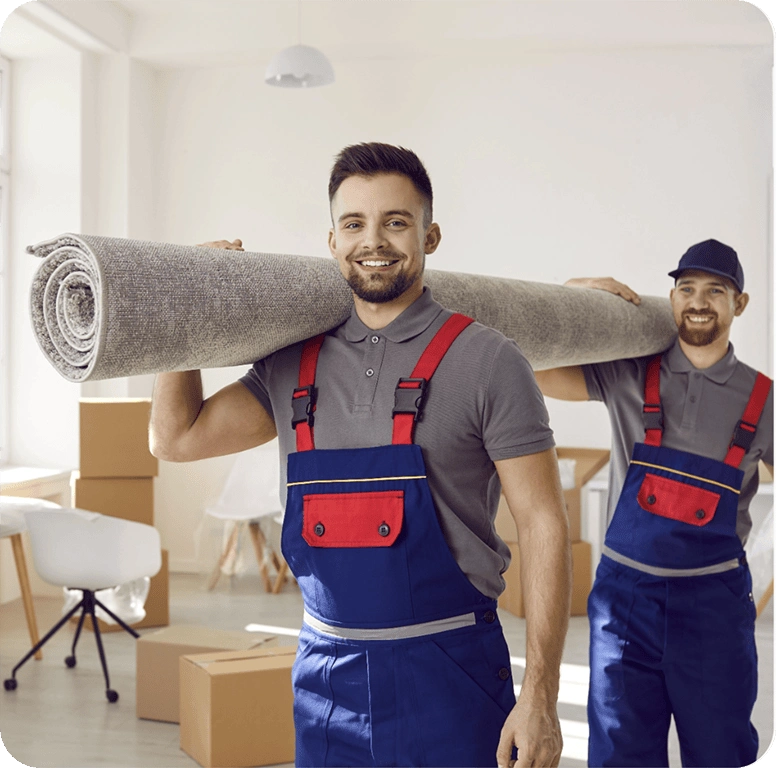 Benefits of Becoming a Member of Mod24
By becoming a member you will be granted access to our VIP list. With Mod24 membership you can get benefits that will make life easier during your next move. Check all we offer and join today!
Only
yearly!
Psst… 1st year is on us.
$49 Discount on Future Moves
$100 Worth TV Insurance
1 Month Free Storage
$200 Cross Country Move Discount
Booking Priority
$50 Off Car Shipping Services
VIP Concierge Service
20% Off For Packing Supplies
How does mod24 work to find the best Torrance movers?
Tell us what you're moving
It's simple. We require very minimum information on the specifics of your move to generate a quote from a company of your choosing. Simply let us know about the type of move you are interested in (residential, commercial, storage, etc.) and the size of the move based on the square footage or inventory list.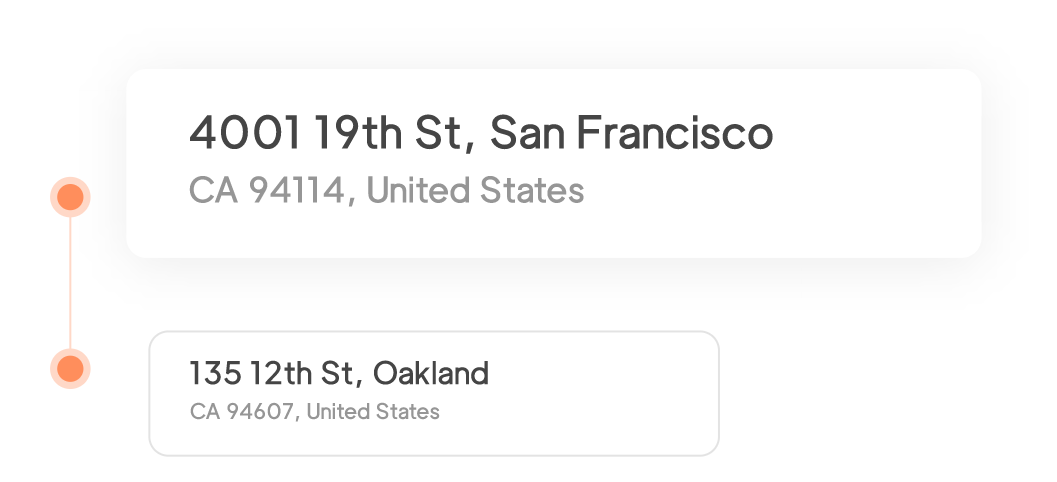 Select your pick-up location
Let us know where you will be moving from (the zip code of the pick-up location). Some companies cover multiple pick-up and delivery locations, so a pit stop won't be an issue! Just let us know about your pick-up needs and we will create the perfect quote for you!
Find your move destination
It is important to select where you will be moving to – so the distance between the two locations can be calculated. Remember that your detailed moving quote may vary depending on the distance between your pick-up and delivery locations, so try to be as accurate as possible when selecting both for an online quote.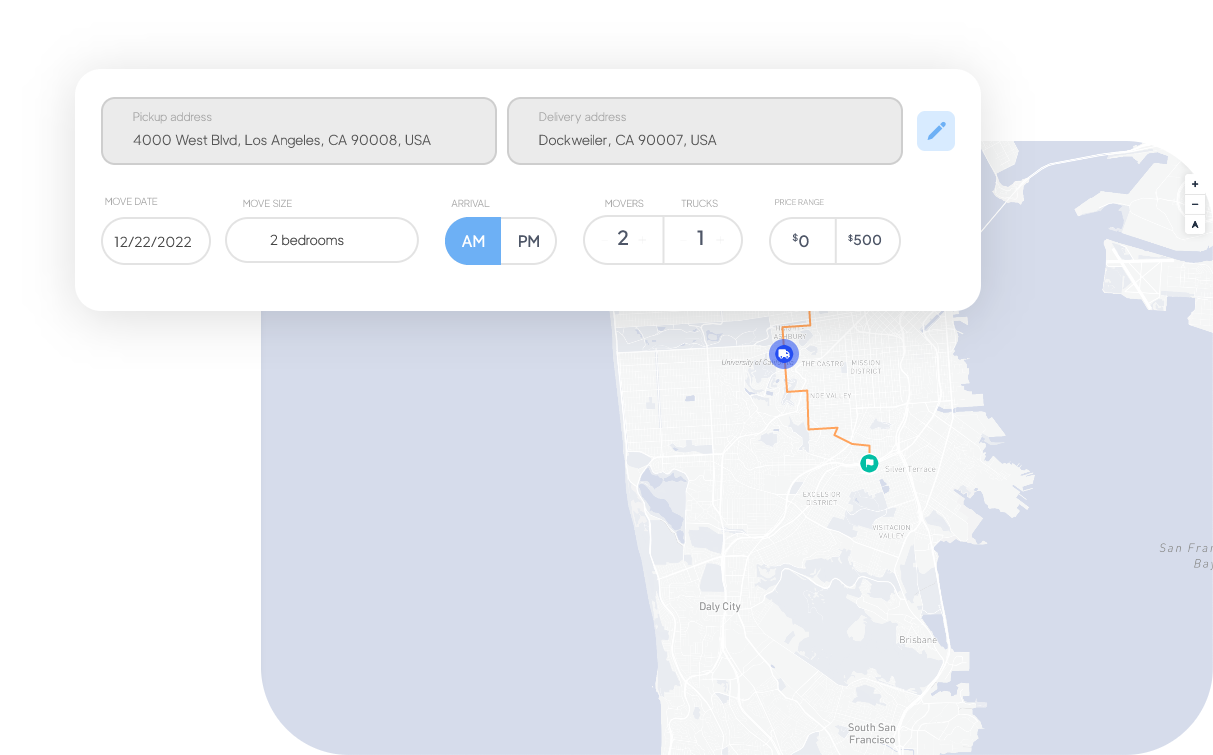 Choose your preferred date
Choose the preferred date and time for your move to take place and we will find the best moving company in Torrance to suit your needs!
Compare quotes and book instantly
Book in just a few simple steps and secure the best Torrance moving company for your upcoming relocation!