The 8 Most affordable Santa Clara Movers
We've hand-picked and vetted the 8
best moving companies in Santa Clara

for you
If you haven't yet decided on the best option among many moving companies in Santa Clara, Mod24 is here offering different choices. All those various types of moving services, from small apartment moves to major commercial moving - both local and long-distance movers in Santa Clara - are now collected on our easy-to-use platform! Finding moving services in Santa Clara maybe wasn't the most enjoyable experience in the world, but thanks to the easy search and accessible reviews you can find in just a few clicks on the Mod24 platform, a perfect team of Santa Clara movers is just around the corner!
Santa Clara Mover Costs and Stats
FAQ
Aiming to Find Professional Santa Clara Movers? Say No More!
Navigating the search for the perfect Santa Clara moving company was never easy. The choices are endless and it feels that each and every day we notice a few more moving companies in Santa Clara. However, we at Mod24 believe that experience and tradition count, as they show the stability and skills that are necessary to deliver immaculate moving services - which is the ultimate goal, isn't it?
How Much Do Moving Services in Santa Clara Cost?
Prices are always an important factor in determining which option is right for you and for what you need, and moving is no different. Movers in Santa Clara mostly base their pricing hourly, and the exact price will vary depending on the number of movers, trucks, moving supplies, and the exact type of moving services. What we can guarantee is that no Santa Clara movers who are listed on our platform will ever surprise you with any hidden costs! There is a zero-tolerance policy to such practices, so you can rest assured that every Santa Clara moving company here is completely legit and fair.
Movers Santa Clara Will Offer their Assistance at any Time
Maybe you have already organized and planned the entire relocation process and all you need is a team of Santa Clara movers to help you finalize it, or you may just have started thinking about moving. Maybe you missed organizing things properly, and you need movers in Santa Clara as soon as possible, possibly even today? There is no trouble that can't be solved when you have a highly professional Santa Clara moving company by your side to assist you to handle it all. What we at Mod24 assure you is that you will find the problem-solving process easy and simple when you can lean on the great movers Santa Clara offers.
Skills and Experience Brought by Excellent Movers Santa Clara
We believe that only highly-skilled professionals can remain in an industry that is as competitive and as fast-growing as the moving industry is. Mod24 lists the best moving companies in Santa Clara that have shown by their attitude, dedication, and hard work how to build and nurture the bond with their clients throughout the years. All that your Santa Clara movers need to know in order to bring you the best moving experience of your life is what it is you exactly need help with - and the rest of the journey will be carried by the professionals themselves
What do I get when I book Santa Clara moving company through mod24?
Experienced Movers
Mod24 works directly with the best moving companies in Santa Clara. Rely on our professional, trained movers with years of experience.

Loading & Unloading
Our dedicated labor-only movers on Mod24 guarantee a seamless customer experience, no matter how big or small your upcoming moving project may be.
Instant Pricing
Transparent pricing. Instant quote comparisons. No hidden fees. Mod24 offers instant, straightforward, and detailed pricing for your upcoming relocation.
Protective Covering
Protective materials such as moving blankets, tape, and shrink wrap will always be provided during your move to ensure the safety of your belongings.
Secure Online Payment
Book online in a few minutes and secure your moving date with absolute ease. We offer online payment options that are comprehensive, straightforward, and secure.

Moving to Santa Clara
Undoubtedly, the possibilities and amenities that the Golden Bay Area provides are endless. Choosing Santa Clara to be your home, you are starting an amazing journey that deserves to be kicked off with the best movers Santa Clara can offer. Being only about 45 minutes away from downtown San Francisco, Santa Clara offers the perfect balance between a vibrant city life experience and calm and charming neighborhood energy.
Demographics
Around 130,000 people live in Santa Clara. Highly educated people of all age categories are what makes this city the diverse, always-evolving heart of Silicon Valley.
Climate
Certainly one of the best perks of the area is its climate, given that the temperature typically varies from 43°F to 80°F and is rarely below 35°F or above 90°F. No weather like Mediterranean weather!
Economy: Jobs, Housing, Rental Prices
Major Employers
Intel, NEC Electronics, Fujikura Automotive America, StorSimple, Applied Materials, NVIDIA, AMD, ServiceNow, Agilent Technologies.
Housing Prices
The median listing home price in Santa Clara at the beginning of 2023 was $1.2M, which seems to be the common price given the area pulse.
Rental Prices
If you are looking to rent a place in Santa Clara in 2023, you should prepare an amount of somewhere between $2,400 and $2,800.
Lifestyle: Shopping, Culture, Education, Food and Sports
Shopping: 10/10
Many shopping options will bring the attention of shopping savvies to Santa Clara, given that there are many malls and stores, with the most visited spots being Westfield Valley Fair, Mariposa Shopping Center, and Santa Clara Square Marketplace.
Culture & Arts: 8/10
There are great places to attend the cultural and art events in Santa Clara, even though it seems that some other cities in the Bay Area have elevated it to a higher level. Nevertheless, spots such as the Triton Museum of Art, or Vino Artist have a lot to offer all year round.
Education: 10/10
If you are looking for a place that has public schools rated with an A, then Santa Clara is the right place for you - but the private ones are rated with the highest scores as well!
Food: 10/10
Just like the rest of the area, different cultures have influenced the cuisine over the years, so if you enjoy experimenting with different flavors, the restaurants Santa Clara offers are the perfect choice for you!
Sports: 10/10
Santa Clara is home to the National Football League's San Francisco 49ers, but Santa Clara Broncos are probably a team most people's hearts will go to. University sport is also quite developed.
Trusted by our customers
If you are tired of looking for moving help online, calling different moving companies for quotes, taking quick notes and scrambling to find movers near you just in time for the relocation – welcome to Mod24.
4.9 out of 5
Based on 289 reviews
Find Professional Movers in Santa Clara with Ease
Wouldn't it just be perfect to have all the professional moving companies in Santa Clara on one platform, along with their estimated rates, live reviews, and detailed information?
Shop Around With No Hassle
Compare moving quotes easily with a click of a button, and find the perfect Santa Clara movers, or long distance movers for your budget and needs.
Licensed & Insured Moving Companies Near You
Every local and long distance moving company you come across on Mod24 is verified, licensed and insured. We pledge a professional moving service, no matter where you are and may be moving to. On Mod24, everyone is guaranteed a safe and simple move.
Book Your Move Online In Under 10 Minutes
Not only is acquiring moving company quotes a quick and easy process when you become a member of Mod24, but booking your move is even easier. Contact your moving company of choice to book, or simply do it online in under 10 minutes. It's really that easy.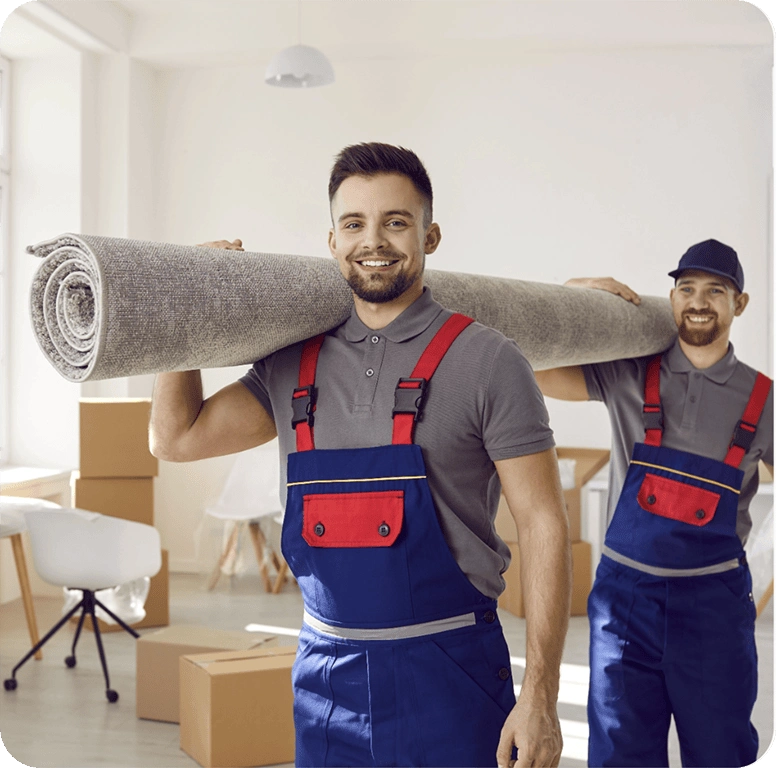 Benefits of Becoming a Member of Mod24
By becoming a member you will be granted access to our VIP list. With Mod24 membership you can get benefits that will make life easier during your next move. Check all we offer and join today!
Only
yearly!
Psst… 1st year is on us.
$49 Discount on Future Moves
$100 Worth TV Insurance
1 Month Free Storage
$200 Cross Country Move Discount
Booking Priority
$50 Off Car Shipping Services
VIP Concierge Service
20% Off For Packing Supplies
How does mod24 work to find the best Santa Clara movers?
Tell us what you're moving
It's simple. We require very minimum information on the specifics of your move to generate a quote from a company of your choosing. Simply let us know about the type of move you are interested in (residential, commercial, storage, etc.) and the size of the move based on the square footage or inventory list.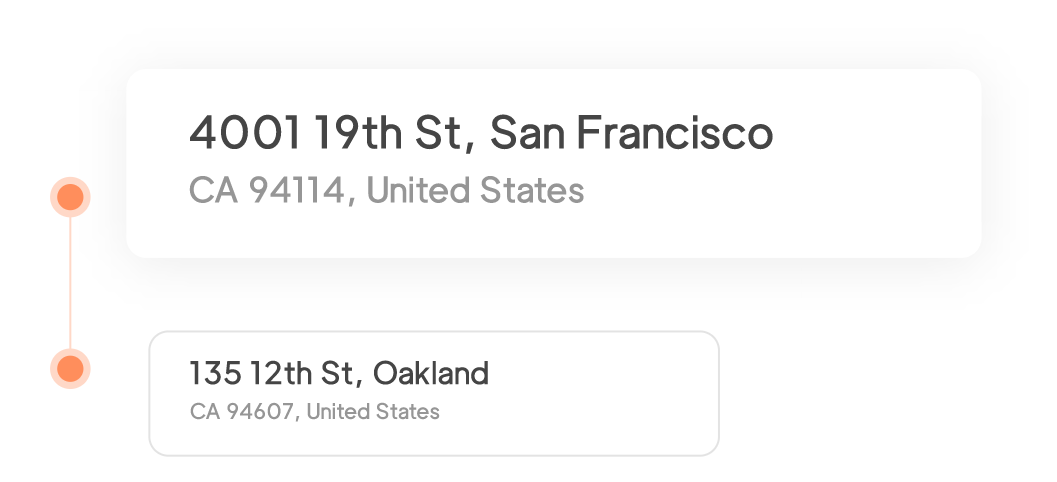 Select your pick-up location
Let us know where you will be moving from (the zip code of the pick-up location). Some companies cover multiple pick-up and delivery locations, so a pit stop won't be an issue! Just let us know about your pick-up needs and we will create the perfect quote for you!
Find your move destination
It is important to select where you will be moving to – so the distance between the two locations can be calculated. Remember that your detailed moving quote may vary depending on the distance between your pick-up and delivery locations, so try to be as accurate as possible when selecting both for an online quote.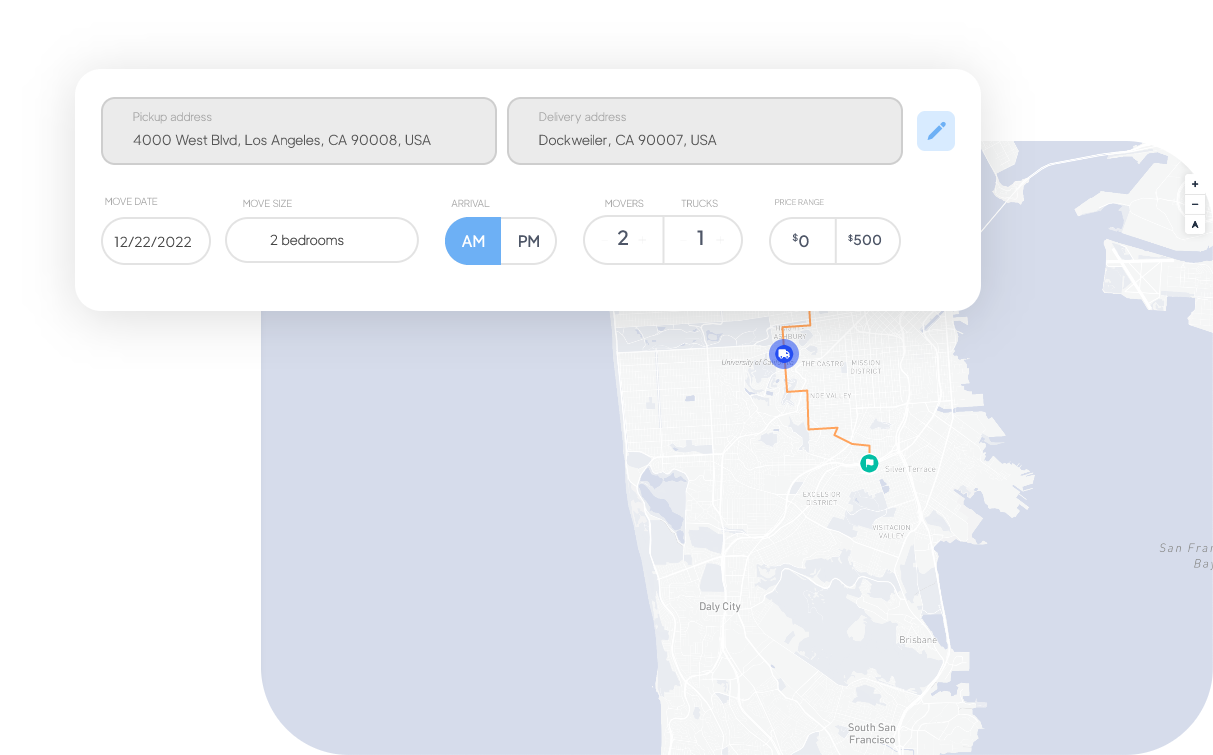 Choose your preferred date
Choose the preferred date and time for your move to take place and we will find the best moving company in Santa Clara to suit your needs!
Compare quotes and book instantly
Book in just a few simple steps and secure the best Santa Clara moving company for your upcoming relocation!