The 10 Most affordable San Jose Movers
We've hand-picked and vetted the 10
best moving companies in San Jose

for you
We have decided to create an easy solution for those who are looking for a moving company in San Jose by collecting the most professional ones here on Mod24. For those of you who have the need for some professional movers in San Jose, but don't have time to waste - we are here to help you out and assist you through the process of finding a perfect crew of packers and movers in San Jose!
San Jose Mover Costs and Stats
FAQ
What is the price of hiring movers in San Jose?
Depending on what it is you exactly need, you can expect the prices for moving services in San Jose to vary based on different factors. The size of the move, the number of movers and vehicles that will be needed, and the exact type of services will determine the pricing range, but rest assured that this is the place where it is completely realistic to find some of the best yet cheap movers in San Jose!
Hire San Jose movers at any moment
No matter how far you are in the San Jose moving preparation journey, we are quite certain that you will find the movers to help you out. The wide range of moving companies in San Jose that offer their services over the Mod24 platform allows you to choose the best date and time based on your current situation. What that means in practice is that you can schedule the move as early as months ahead of time or - on the same day!
What can you expect from movers in San Jose?
Mod24 only lists fully insured and bonded moving companies in San Jose, which allows you to rely on a high level of skills, experience, and efficiency in all the different areas in the moving industry. That means that whether you are looking for some packers and movers in San Jose to move your home or just some piano movers - you can rest assured that all the options available on Mod24 are the correct choice in terms of professionalism.
What do I get when I book San Jose moving company through mod24?
Experienced Movers
Mod24 works directly with the best moving companies in San Jose. Rely on our professional, trained movers with years of experience.

Loading & Unloading
Our dedicated labor-only movers on Mod24 guarantee a seamless customer experience, no matter how big or small your upcoming moving project may be.
Instant Pricing
Transparent pricing. Instant quote comparisons. No hidden fees. Mod24 offers instant, straightforward, and detailed pricing for your upcoming relocation.
Protective Covering
Protective materials such as moving blankets, tape, and shrink wrap will always be provided during your move to ensure the safety of your belongings.
Secure Online Payment
Book online in a few minutes and secure your moving date with absolute ease. We offer online payment options that are comprehensive, straightforward, and secure.

Moving to San Jose
Being situated in the heart of Silicon Valley brings not only comfort, convenience, and accessibility to amazing career opportunities, but also the possibility of enjoying all the benefits of the areas surrounding this vibrant neighborhood. It is a true struggle to find the downsides of living in such an environment that supports your personal and professional life the way that San Jose does!
Demographics
With a population of just over 1 million people, San Jose is the largest neighborhood in Santa Clara County and the 10th most populated city in the US. The diversity of this vibrant city creates a specific atmosphere that is greatly appreciated and conserved by its citizens.
Climate
A beautiful Mediterranean climate with great pleasant summers and short winters is another gem of the area. With the temperatures varying from 40°F to 80°F, you will experience the perfect balance between the seasons.
Economy: Jobs, Housing, Rental Prices
Major Employers
Cisco Systems, Western Digital, Librato, Sanmina, PayPal, Align Technology, StacVelocity, eBay, Adobe.
Housing Prices
The median listing home price in San Jose, CA at the beginning of 2023 was $1.2M, trending up 9.9% year-over-year.
Rental Prices
The average rental price in San Jose in 2023 is between $2,370 and $3,707.
Lifestyle: Shopping, Culture, Education, Food and Sports
Shopping: 10/10
San Jose is a perfect place for everything from family shops that can be found at San Jose Market Center and Westfield Oakridge to luxury retailers at Westfield Valley Fair.
Culture & Arts: 10/10
Cultural diversity has been one of the main characteristics featuring the city, and it has influenced the cultural heritage that is greatly appreciated and preserved today. The cultural events, museums, and art galleries depict its uniqueness in an immaculate way.
Education: 8/10
Schools in San Jose have an average ranking of 8/10, which is in the top 30% of California public schools. Based on the fact that most of the residents hold bachelor's or master's degrees, it is safe to say that the motivation for higher education is enhanced.
Food: 10/10
Thanks to the different cultural influences, the food in the San Jose area is distinctive and delicious, and we have no doubt that you will enjoy it!
Sports: 10/10
Sharks hockey team, Earthquakes soccer club, Giants minor league baseball, and many other sports societies and individuals make San Jose a perfect place to grow your love for activities, whether as a supporter or by practicing.
Trusted by our customers
If you are tired of looking for moving help online, calling different moving companies for quotes, taking quick notes and scrambling to find movers near you just in time for the relocation – welcome to Mod24.
4.9 out of 5
Based on 334 reviews
Find Professional Movers in San Jose with Ease
Wouldn't it just be perfect to have all the professional moving companies in San Jose on one platform, along with their estimated rates, live reviews, and detailed information?
Shop Around With No Hassle
Compare moving quotes easily with a click of a button, and find the perfect San Jose movers, or long distance movers for your budget and needs.
Licensed & Insured Moving Companies Near You
Every local and long distance moving company you come across on Mod24 is verified, licensed and insured. We pledge a professional moving service, no matter where you are and may be moving to. On Mod24, everyone is guaranteed a safe and simple move.
Book Your Move Online In Under 10 Minutes
Not only is acquiring moving company quotes a quick and easy process when you become a member of Mod24, but booking your move is even easier. Contact your moving company of choice to book, or simply do it online in under 10 minutes. It's really that easy.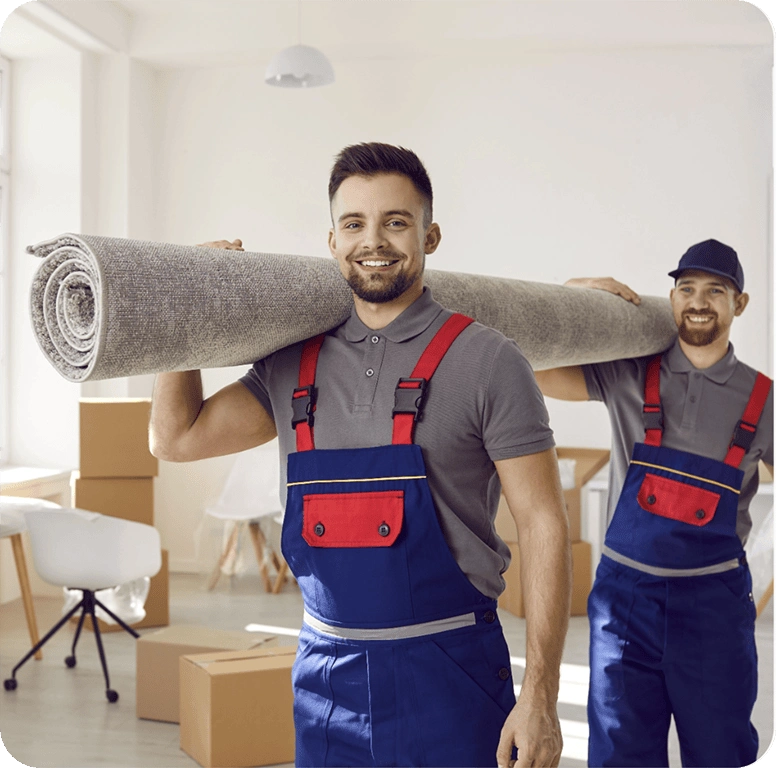 Benefits of Becoming a Member of Mod24
By becoming a member you will be granted access to our VIP list. With Mod24 membership you can get benefits that will make life easier during your next move. Check all we offer and join today!
Only
yearly!
Psst… 1st year is on us.
$49 Discount on Future Moves
$100 Worth TV Insurance
1 Month Free Storage
$200 Cross Country Move Discount
Booking Priority
$50 Off Car Shipping Services
VIP Concierge Service
20% Off For Packing Supplies
How does mod24 work to find the best San Jose movers?
Tell us what you're moving
It's simple. We require very minimum information on the specifics of your move to generate a quote from a company of your choosing. Simply let us know about the type of move you are interested in (residential, commercial, storage, etc.) and the size of the move based on the square footage or inventory list.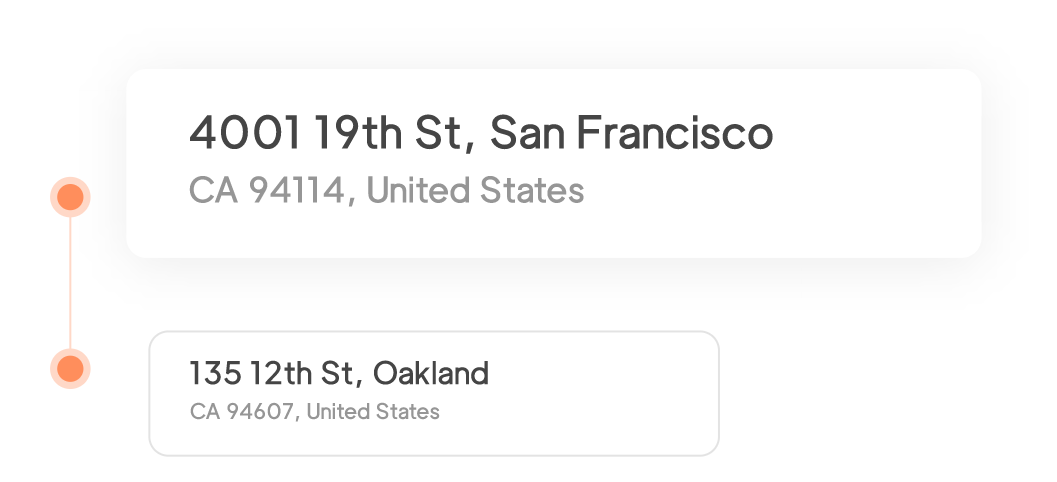 Select your pick-up location
Let us know where you will be moving from (the zip code of the pick-up location). Some companies cover multiple pick-up and delivery locations, so a pit stop won't be an issue! Just let us know about your pick-up needs and we will create the perfect quote for you!
Find your move destination
It is important to select where you will be moving to – so the distance between the two locations can be calculated. Remember that your detailed moving quote may vary depending on the distance between your pick-up and delivery locations, so try to be as accurate as possible when selecting both for an online quote.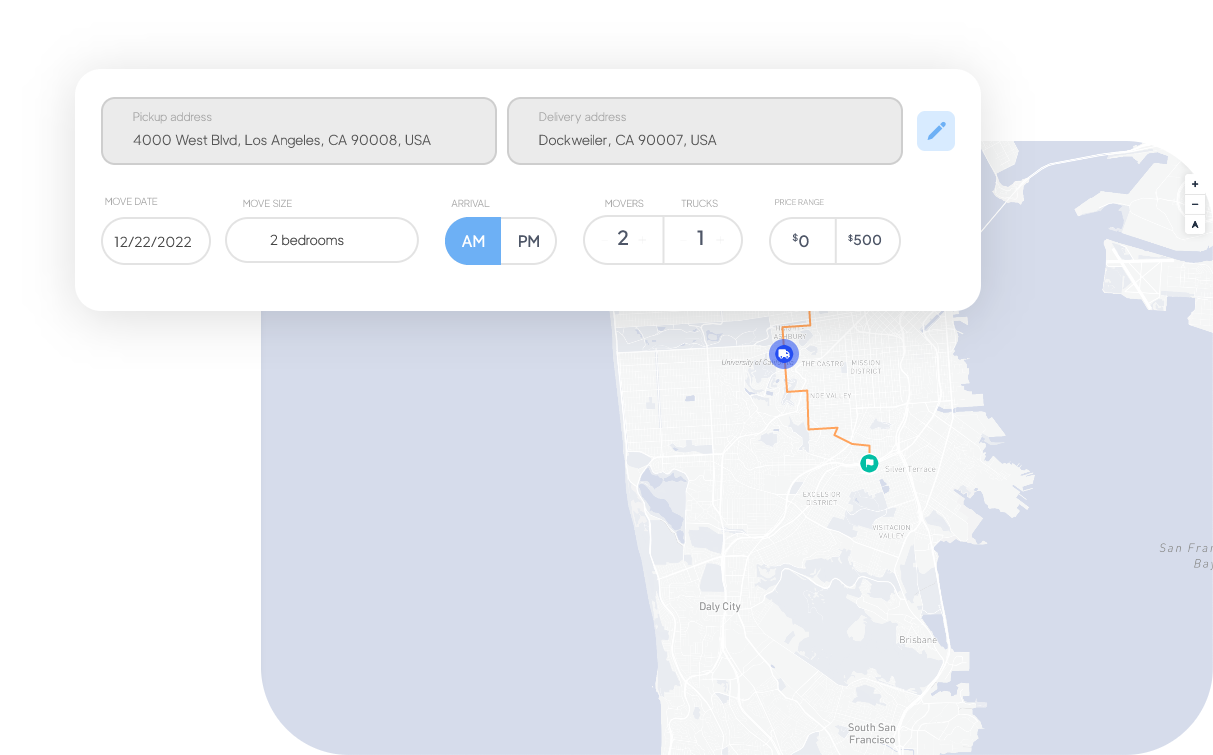 Choose your preferred date
Choose the preferred date and time for your move to take place and we will find the best moving company in San Jose to suit your needs!
Compare quotes and book instantly
Book in just a few simple steps and secure the best San Jose moving company for your upcoming relocation!