The 42 Most affordable Lafayette Movers
We've hand-picked and vetted the 42
best moving companies in Lafayette

for you
Lafayette Moving Services
People move all the time. To move successfully, you first need to find a reliable Lafayette moving company that will take over your relocation. Nowadays, this is easier than ever. We've selected reliable Lafayette movers for you to choose from. All you have to do is register on Mod24 for only $49 a year and find your trustworthy moving company. Enter your area, date and type of the move and Mod24 will provide you with all available Lafayette movers. After that, let us know what you would like to move and we will get started.
Lafayette Mover Costs and Stats
FAQ
How Much do Movers in Lafayette Charge?
Different companies that provide Lafayette moving services may have different price tags. The price of your move depends on several factors such as size and distance, but also when you move, traffic, specialized items, etc. What you should know is that local Lafayette movers charge per hour whereas long-distance moving companies that have Lafayette on their maps offer flat rates. The average cost to hire movers for a 1-bedroom home is $364 per hour, but the prices can vary depending on the company.
What to Do to Find the Best Movers in Lafayette?
Choosing the best movers in Lafayette can be tricky, especially when you don't receive any recommendation from a friend or a family member who moved with them earlier. However, Mod24 allows you to read and compare real life reviews all in one place. You can also check the prices and additional information about all Lafayette movers, making it easy to decide. In Mod24, we've included the best licensed movers only, so you will have a variety of choices between reliable companies! At the end of the day, you can't go wrong and all you need to do now is select movers that you find can be the best for you.
Can I use digital payments to pay for moving services?
Yes. Credit and debit cards, as well as other modes of payment, are accepted by the vast majority of services these days. Just make sure you chat with them first.
How Efficient Are Lafayette Movers?
Sometimes people who move have time restrictions, which incentivizes Lafayette movers to be as efficient as possible. However, when you are moving on a tight schedule, you usually pay more money. On average, Lafayette moving companies can take between three hours and a day (or two) to complete your entire move. Local Lafayette movers offer a three-hour minimum. On the other hand, major residential move and office relocations can last two days if there's a lot of items to pack. Packing is done on the first day and transportation and unpacking on the second.
How many movers do I need?
Often, movers in Lafayette send 2 movers and a truck, which is enough to cover all of your moving needs. However, these are for smaller moves, usually up to 2 bedrooms. If you have three or four bedrooms, you can expect three, four or five movers. The size of your home dictates how many people your Lafayette moving company will send. Head out to Mod24 and find your movers in Lafayette—you can always check with them regarding the number of movers you can expect.
What do I get when I book Lafayette moving company through mod24?
Experienced Movers
Mod24 works directly with the best moving companies in Lafayette. Rely on our professional, trained movers with years of experience.

Loading & Unloading
Our dedicated labor-only movers on Mod24 guarantee a seamless customer experience, no matter how big or small your upcoming moving project may be.
Instant Pricing
Transparent pricing. Instant quote comparisons. No hidden fees. Mod24 offers instant, straightforward, and detailed pricing for your upcoming relocation.
Protective Covering
Protective materials such as moving blankets, tape, and shrink wrap will always be provided during your move to ensure the safety of your belongings.
Secure Online Payment
Book online in a few minutes and secure your moving date with absolute ease. We offer online payment options that are comprehensive, straightforward, and secure.

Moving to Lafayette
Lafayette is a popular place in California, great for families and close to San Francisco and other major cultural centers. There's plenty of opportunity in this city with great public schools, tons of activities for people to do (you can play various sports and go to dance classes for example). With the proximity of Highway 24 and BART, getting to San Francisco and Oakland is a joy rather than nuisance.
Demographics
As of the 2020 census, the population of Lafayette was 25,026. The median age of residents is 47.9 years old. The city is predominantly White, with 79.1% of residents identifying as White alone, followed by Asian (10.4%), Hispanic or Latino (5.7%), and Black or African American (1.0%). The city also has a small population of people of mixed race (2.9%) and other races (1.0%).
Climate
Just like other places in Contra Costa County and the Bay Area, Mediterranean climate is standard for the region. It is characterized by mild, wet winters and warm, dry summers. The climate is influenced by the nearby Pacific Ocean, which helps to moderate temperatures and cool the area.
Economy: Jobs, Housing, Rental Prices
Major Employers
Pacific Gas and Electric (PG&E), Lafayette School District, City of Lafayette.
Housing Prices
The average cost of a home in Lafayette, California is $1,606,400.
Rental Prices
You can also rent a place in Lafayette for approximately $2,739 a month!
Lifestyle: Shopping, Culture, Education, Food and Sports
Shopping: 8/10
Although a small place to live in, Lafayette downtown has a surprisingly high number of stores of different kinds where you can shop.
Culture & Arts: 7/10
The people of Lafayette know how to enjoy life. The city has a strong arts community with events such as the annual Art & Wine Festival, the Lafayette Gallery, and the Town Hall Theatre Company.
Education: 10/10
With the highly-respected Lafayette School District and Acalanes Union High School District, there's no better place for students. Furthermore, the city is close to some top-notch universities.
Food: 9/10
There's nothing missing in Lafayette, CA! Thanks to the Lafayette Farmers' Market, you can enjoy fresh and locally grown produce (if you like cooking and eating at home). On the other hand, you can always make a reservation in one of the restaurants here and have a great lunch or dinner!
Sports: 7/10
With plenty of schools and universities around, there's a lot of sports activity and if you want to watch some games, you can always find something entertaining. On the other hand, the city has its fair share of gyms and recreation facilities, but nothing spectacular.
Trusted by our customers
If you are tired of looking for moving help online, calling different moving companies for quotes, taking quick notes and scrambling to find movers near you just in time for the relocation – welcome to Mod24.
4.9 out of 5
Based on 386 reviews
Find Professional Movers in Lafayette with Ease
Wouldn't it just be perfect to have all the professional moving companies in Lafayette on one platform, along with their estimated rates, live reviews, and detailed information?
Shop Around With No Hassle
Compare moving quotes easily with a click of a button, and find the perfect Lafayette movers, or long distance movers for your budget and needs.
Licensed & Insured Moving Companies Near You
Every local and long distance moving company you come across on Mod24 is verified, licensed and insured. We pledge a professional moving service, no matter where you are and may be moving to. On Mod24, everyone is guaranteed a safe and simple move.
Book Your Move Online In Under 10 Minutes
Not only is acquiring moving company quotes a quick and easy process when you become a member of Mod24, but booking your move is even easier. Contact your moving company of choice to book, or simply do it online in under 10 minutes. It's really that easy.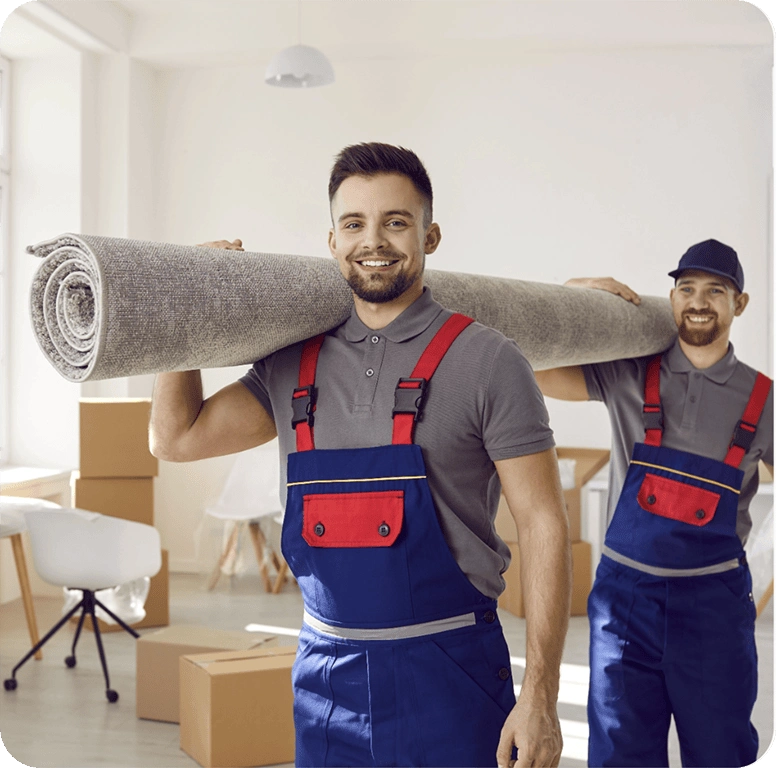 Benefits of Becoming a Member of Mod24
By becoming a member you will be granted access to our VIP list. With Mod24 membership you can get benefits that will make life easier during your next move. Check all we offer and join today!
Only
yearly!
Psst… 1st year is on us.
$49 Discount on Future Moves
$100 Worth TV Insurance
1 Month Free Storage
$200 Cross Country Move Discount
Booking Priority
$50 Off Car Shipping Services
VIP Concierge Service
20% Off For Packing Supplies
How does mod24 work to find the best Lafayette movers?
Tell us what you're moving
It's simple. We require very minimum information on the specifics of your move to generate a quote from a company of your choosing. Simply let us know about the type of move you are interested in (residential, commercial, storage, etc.) and the size of the move based on the square footage or inventory list.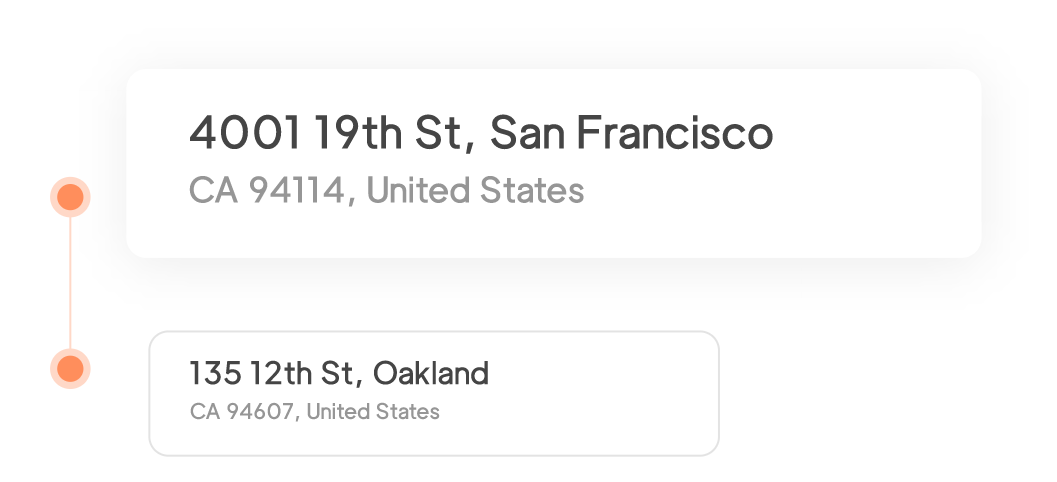 Select your pick-up location
Let us know where you will be moving from (the zip code of the pick-up location). Some companies cover multiple pick-up and delivery locations, so a pit stop won't be an issue! Just let us know about your pick-up needs and we will create the perfect quote for you!
Find your move destination
It is important to select where you will be moving to – so the distance between the two locations can be calculated. Remember that your detailed moving quote may vary depending on the distance between your pick-up and delivery locations, so try to be as accurate as possible when selecting both for an online quote.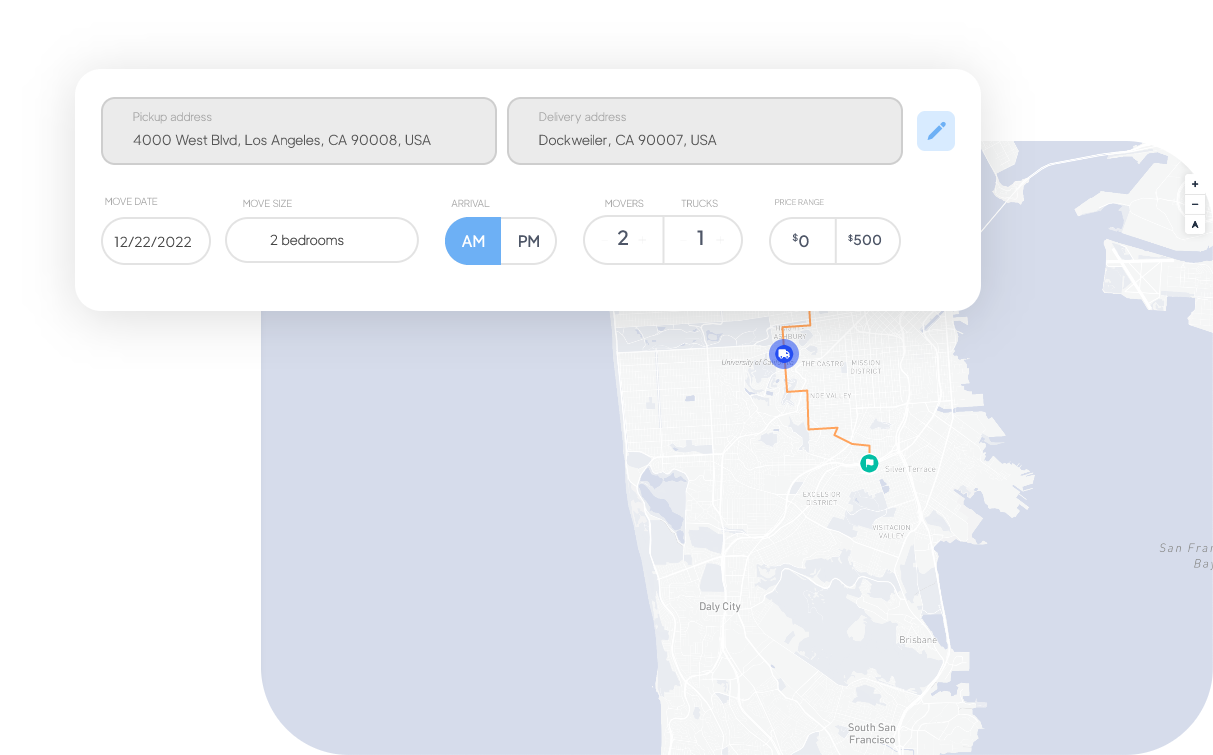 Choose your preferred date
Choose the preferred date and time for your move to take place and we will find the best moving company in Lafayette to suit your needs!
Compare quotes and book instantly
Book in just a few simple steps and secure the best Lafayette moving company for your upcoming relocation!