The 12 Most affordable Concord Movers
We've hand-picked and vetted the 12
best moving companies in Concord

for you
Organizing your move to Concord can take away your time, money and patience. Finding the best Concord moving company is only the first step of the process, but don't forget that you need to move afterwards as well. You can join hundreds of people who look for their trusted moves in Concord via Mod24.Mod24 allows you to read the reviews and compare different moving companies in Concord before you schedule your move with the company you choose. It is easy to use and you can find all the information about all of the available Concord movers in a few minutes. Choose your date, the area you move to and the type of the move and book your movers.
Concord Mover Costs and Stats
FAQ
How expensive is the average Concord moving company?
The price of your movers in Concord, CA depends on several factors. Some of the most common aspects that determine the cost of the local move are size, duration, distance, but also weather, traffic, time of the year when you move, etc. On average, the price of the local move per hour is $280 for studio apartments and 1-bedroom homes, but the price goes up as the size of the move increases. Therefore, check the specifics with the Concord movers you want to hire to get the accurate moving quote that will help you organize your budget and prepare for the move. It is also important to note that most Concord moving companies that perform local moves charge by the hour, while long-distance movers offer a flat rate.
How do I find the best Concord moving company?
When we move, we want to get the best services for a decent price and finding the best Concord moving company usually comes to that. Which movers in Concord can relocate efficiently, safely and without charging their clients a fortune? On Mod24, we've included the best Concord movers for you. And the best thing about looking for movers here is that you select the date of the move which means that Mod24 will only show you movers that are available. Professional moving companies are all licenses and have a track record that is impeccable. It is up to you to see which Concord movers are the best for you – depending on the services they provide, prices and feedback.
How long do Concord movers take to complete the move?
Different Concord moving companies may require more or less time to complete your move. Again, the size and duration of your local moves are the main things you need to take into consideration. Usually, Concord movers have a three-hour minimum for local relocation. For example, you can have multiple pickup and delivery locations, which also affects the duration of the move. Either way, your Concord moving company will try to be as efficient as possible and complete your move quickly so that you can continue to unpack and settle in your new home.
How many movers do I need?
Movers in Concord, CA usually send two movers and a truck for smaller-sized moves. For three or more bedrooms, office moves and other types of relocation, you can expect three or four movers. The bigger the move is, the more movers will be sent your way.
What do I get when I book Concord moving company through mod24?
Experienced Movers
Mod24 works directly with the best moving companies in Concord. Rely on our professional, trained movers with years of experience.

Loading & Unloading
Our dedicated labor-only movers on Mod24 guarantee a seamless customer experience, no matter how big or small your upcoming moving project may be.
Instant Pricing
Transparent pricing. Instant quote comparisons. No hidden fees. Mod24 offers instant, straightforward, and detailed pricing for your upcoming relocation.
Protective Covering
Protective materials such as moving blankets, tape, and shrink wrap will always be provided during your move to ensure the safety of your belongings.
Secure Online Payment
Book online in a few minutes and secure your moving date with absolute ease. We offer online payment options that are comprehensive, straightforward, and secure.

Moving to Concord
Concord is one of the largest suburban areas in Contra Costa County and its proximity to Oakland is one of the main reasons why people move here. The population is over 125,000 which gives you the nice urban feel. Although there's a lot of residents, the city's pretty quiet, which makes it perfect for families and the Food scene is quite good, especially around Todos Santos Plaza.
Demographics
The population of Concord is growing slightly and according to the latest update, the median age here is 38.1 years on average. As for the people who live here, you can find the neighborhoods to be predominantly white, followed by Asian and a smaller percentage of African American. Here's how the demographics look: - White: 58.15% - Other race: 13.87% - Asian: 12.8% - Two or more races: 10.59% - Black or African American: 3.61% - Native Hawaiian or Pacific Islander: 0.59% - Native American: 0.39%
Climate
The climate in Concord, CA is Mediterranean with warm and dry summers and not so cold winters. A lot of people love living in the Bay area because of the weather. Concord receives an average of about 20 inches (51 cm) of rainfall per year, with the majority of the precipitation falling between November and March. The average temperature ranges from the mid-80s °F in the summer and the mid-40s °F in the winter.
Economy: Jobs, Housing, Rental Prices
Major Employers
Chevron Credit Center, John Muir Medical Center - Concord Campus, Conco Cement Concord Hilton, Costco, T-Mobile, Home Depot, BART, Concord BMW, PG&E, Lowe's, Sam's Club, Shaw Environmental, etc.
Housing Prices
Concord is much less expensive than some of the neighboring cities with the average housing rate of $612,600.
Rental Prices
To rent a place in Concord, on average, you'd have to pay $1,953.
Lifestyle: Shopping, Culture, Education, Food and Sports
Shopping: 8/10
Shopping is pretty good in Concord and you can find everything you need for your daily life. If you plan to go on a shopping spree, it is good to visit the Sunvalley Shopping Center and The Veranda
Culture & Arts: 7/10
Concord Pavilion hosts concerts and other events, and the Lesher Center for the Arts features theater productions and art exhibits. Other than these two places, there's not a flourishing cultural scene.
Education: 7/10
Concord schools depend on the neighborhood and it is important to search carefully when looking for one. There's an abundance of good schools, but some are not that great and this is one of the pain points of Concord.
Food: 8.5/10
We've already touched upon food and mentioned the Todos Santos Plaza and the places around it. In Concord, you can find a prominent Mexican, Vietnamese and Italian cuisine, which makes it a perfect place to be when it comes to food.
Sports: 7/10
The proximity of Concord to Oakland allows for its residents to enjoy professional sports, but Concord itself offers a variety of recreational opportunities for its residents.
Trusted by our customers
If you are tired of looking for moving help online, calling different moving companies for quotes, taking quick notes and scrambling to find movers near you just in time for the relocation – welcome to Mod24.
4.9 out of 5
Based on 343 reviews
Find Professional Movers in Concord with Ease
Wouldn't it just be perfect to have all the professional moving companies in Concord on one platform, along with their estimated rates, live reviews, and detailed information?
Shop Around With No Hassle
Compare moving quotes easily with a click of a button, and find the perfect Concord movers, or long distance movers for your budget and needs.
Licensed & Insured Moving Companies Near You
Every local and long distance moving company you come across on Mod24 is verified, licensed and insured. We pledge a professional moving service, no matter where you are and may be moving to. On Mod24, everyone is guaranteed a safe and simple move.
Book Your Move Online In Under 10 Minutes
Not only is acquiring moving company quotes a quick and easy process when you become a member of Mod24, but booking your move is even easier. Contact your moving company of choice to book, or simply do it online in under 10 minutes. It's really that easy.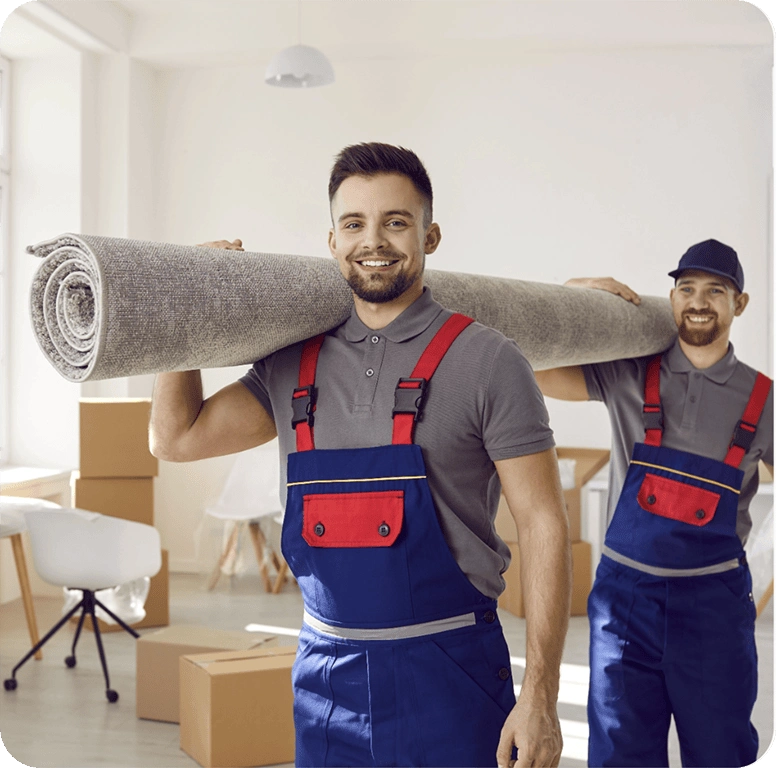 Benefits of Becoming a Member of Mod24
By becoming a member you will be granted access to our VIP list. With Mod24 membership you can get benefits that will make life easier during your next move. Check all we offer and join today!
Only
yearly!
Psst… 1st year is on us.
$49 Discount on Future Moves
$100 Worth TV Insurance
1 Month Free Storage
$200 Cross Country Move Discount
Booking Priority
$50 Off Car Shipping Services
VIP Concierge Service
20% Off For Packing Supplies
How does mod24 work to find the best Concord movers?
Tell us what you're moving
It's simple. We require very minimum information on the specifics of your move to generate a quote from a company of your choosing. Simply let us know about the type of move you are interested in (residential, commercial, storage, etc.) and the size of the move based on the square footage or inventory list.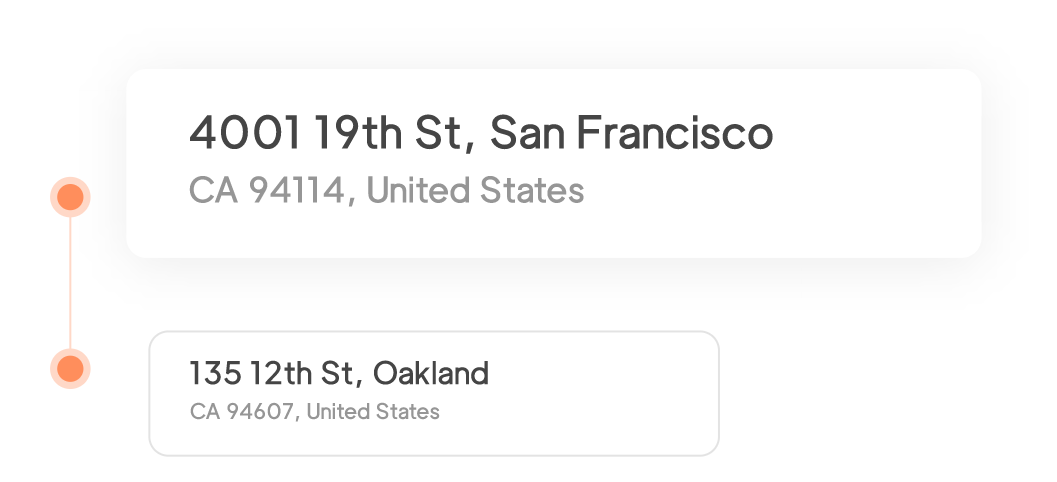 Select your pick-up location
Let us know where you will be moving from (the zip code of the pick-up location). Some companies cover multiple pick-up and delivery locations, so a pit stop won't be an issue! Just let us know about your pick-up needs and we will create the perfect quote for you!
Find your move destination
It is important to select where you will be moving to – so the distance between the two locations can be calculated. Remember that your detailed moving quote may vary depending on the distance between your pick-up and delivery locations, so try to be as accurate as possible when selecting both for an online quote.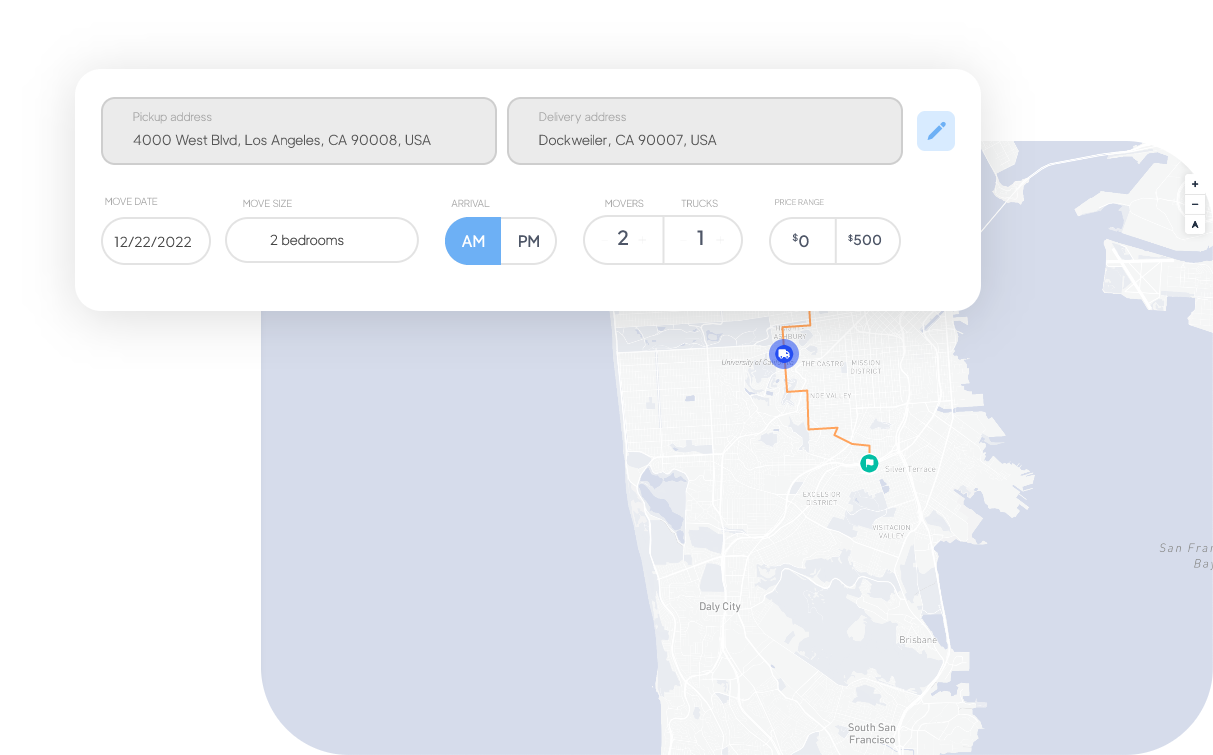 Choose your preferred date
Choose the preferred date and time for your move to take place and we will find the best moving company in Concord to suit your needs!
Compare quotes and book instantly
Book in just a few simple steps and secure the best Concord moving company for your upcoming relocation!