Whenever relocation is on the schedule, we worry we might make mistakes or spend too much money. The worries worsen when the time for moving furniture comes since the process requires lots of effort and preparations. Whether you contact professionals or decide to do it yourself, we have tips that'll help you prepare for the move.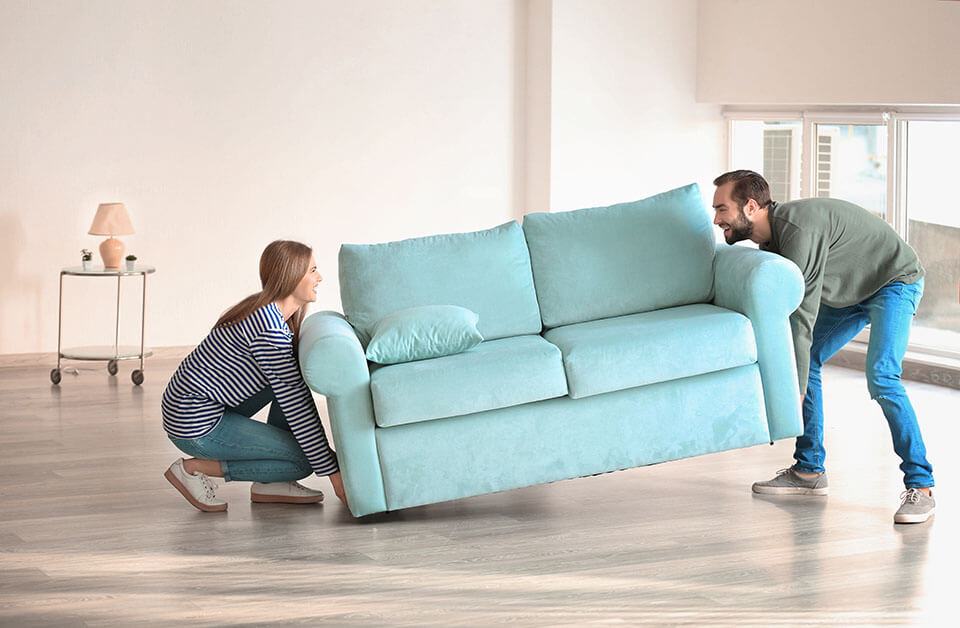 How Much Does It Cost to Move a Couch?
The most important question on anyone's mind is the cost of furniture moving. A lot depends on its amount, weight, and size, while for many professional moving companies, the price depends on the overall amount of cargo you have for relocation. This is why one of the most common relocation tips is to simply leave some stuff behind and downsize for a move as much as possible.
If you have no intention of leaving your couch and bed behind, nor hiring professionals despite relocating for the first time, that's alright. In that case, the pricing depends on the size and effort required for the job. You have to consider getting the proper tools for disassembling and assembling items, the size of the relocation truck to rent, and the tools that will make loading and unloading easier, such as dollies and ramps. Forgetting to make preparations for this type of job is the most common relocation mistake, so ensure you remember this.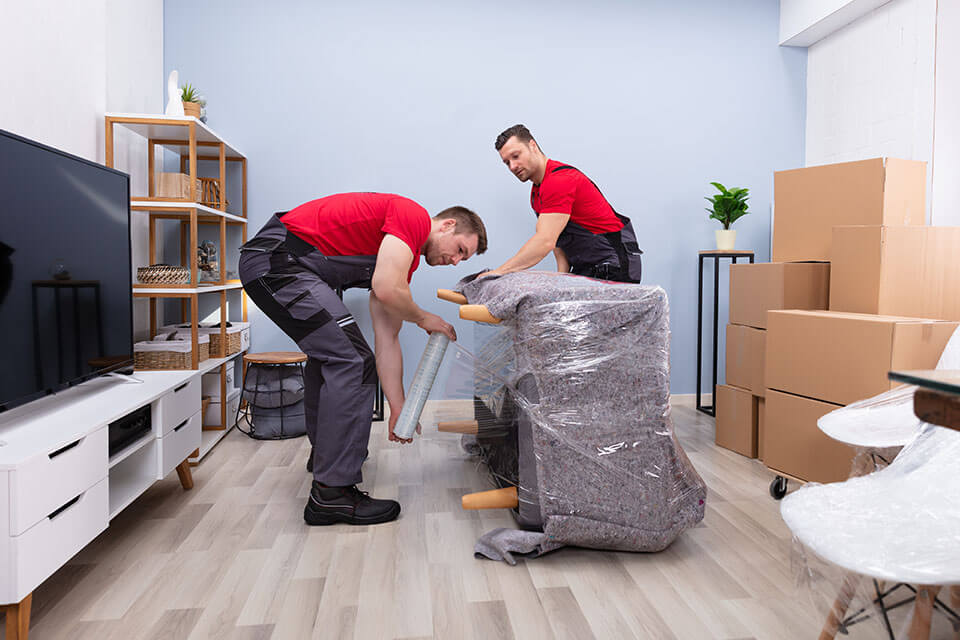 The Necessary Preparations for Moving Furniture Without Damaging Anything
How do you move heavy furniture by yourself? The answer to this question depends on who you're asking. We all have that one family member who fixes everything on their own, successfully or not, who would tell you relocating a couch or a king-size bed is a piece of cake. On the other hand, certain forums and blogs might scare you into thinking it's impossible without the assistance of experts.
We're here to say that a mix of confidence and caution is a good combination because the caution will force you to research and get a hold of the suitable lifting methods and essential equipment, while the confidence will simply boost you enough to possibly give you some peace of mind. You can do it yourself, as long as you know what it takes.
Make Sure You Have All Hands on Deck When Moving Furniture
One of the relocation essentials is getting enough assistance. If it's not professionals, it should be friends or family members strong enough to do some heavy lifting. To avoid injuries, you also have to learn the basic lifting techniques and purchase some harnesses or waist belts for carrying bulky objects. Getting personal help for moving furniture is a nice way to save money to move. Of course, you should still repay those assistants for their troubles in some way.
To move one couch and load it onto the relocation truck, you'll need two to three pairs of hands. You can do it with one person if you're both strong enough, but some pieces require three or more people to carry them. You may think of the "the more, the merrier" philosophy, but that's not true here, believe it or not. It's good to have all hands on deck when it comes to packing boxes, but for couches and large objects, you can organize your move with just three to four people and do fine. If there's a crowd running around the house and blocking passageways, the move is going to turn into havoc.
What Equipment Is Essential for This Type of Move?
A vital relocation hack is to disassemble your heavy pieces as much as possible, for which you'll need a screwdriver. You can even prepare a hammer and some prying tools just in case, as well as a tape measure for checking the dimensions of cargo and doorways. Other essential supplies and tools are:
● Sliders - single or multi-piece padding made of plastic that's used for placing under couch or bed corners; sliders reduce friction and ensure you move efficiently with very large objects,
● Lifting straps - these are used to carry the load for you, as they're basically a lifting replacement for your arms; they're elastic and can hold a lot of weight, so you only have to learn how to handle them,
● Dollies - one- or two-wheeled dollies are enough for transporting large objects from the room to the relocation vehicle; they have rubber on the wheels to protect the flooring, too,
● Harness or lifting belt - this piece is essential since a harness helps maintain your posture and keep you from damaging your back while lifting,
● Plastic wrap - wrapping is vital if you want to protect your couch and chairs from any kind of external damage,
● Blankets - they're a part of wrapping essentials, especially if the large item, such as a piano, is fragile,
● Ramp or ramps - these are used for the final part of the packing process, loading onto the vehicle, and they make the move stress-free in those final moments.
If you have a tight relocation budget, you can forget about dollies and sliders. Simply remove the legs of the couch before wrapping, or if it doesn't have wooden legs, just wrap it in a blanket from your household inventory. You also don't need to put a ramp on your packing list but use planks and bricks or any wooden surface you can find at home or elsewhere to prop up onto the vehicle.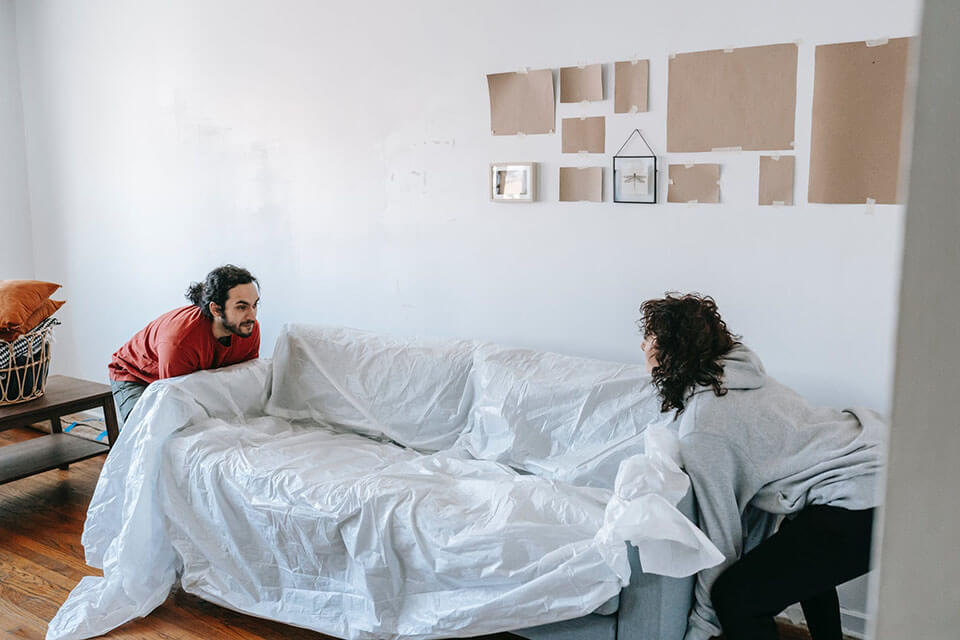 How to Properly Pack, Lift, and Carry Heavy Household Objects
Suppose you want to move a large, three-seat sofa from your living room to the vehicle. If the sofa is too wide for the doorway, you have to take out all removable objects from it, mainly cushions, and then turn it sideways so it can fit through. You can return the cushions onto the sofa before loading, but ensure to wrap the item with some plastic or blankets at that time, too.
You can see that the process requires patience, and packing to move in a hurry could make the move more complicated than it already is. Instead, you should organize packing for a move a few months before and take the time to get bulky items out of the way first. However, both in the case of planning and last-minute relocation, if the doorways in your home are wide enough, you can simply wrap blankets and plastic around the sofa without removing the cushions, then lift it properly and carry it to the relocation vehicle.
How to Organize, Lift, and Carry Bulky Objects
Lifting bulky stuff is no small task, and this is the time when another pair or two of helping hands can change the way your relocation's going. Friends, cousins, and neighbors, whoever it may be, can help with moving furniture within homes before reaching the final doorway to take it outside—changing the layouts of the rooms a few weeks before relocation day could mean a lot for easing the strain on everyone's backs. Along the way, you can see if there's something you want to get rid of when relocating and start the dreaded process of move-out cleaning.
When you lift a large, weighty sofa, ensure you're wearing a harness or a lifting belt and that you're picking it up by bending your legs and knees instead of at the waist. When we bend without using our knees, the risk of pulling a vital muscle increases because there's no real gravitational support, and the chances for sudden, risky movements increase. Instead, you can try to squat, grab the bottom of the sofa, and get up slowly. Be sure that your hands are placed appropriately and not just holding the very ends or the wrong parts of the object.
You should also ensure you're as close to the object as possible and not trying to lift it from afar. Give yourself a sturdy base, too, by spreading your legs a little wider than hip-width apart for stability. When you're setting down the item, it's okay to squat again instead of bending. These are some of the essential tips for lifting and carrying bulky items. Another small but important thing to note, if you're relocating with pets, ensure they're not there on packing day as they could get in the way or injure themselves.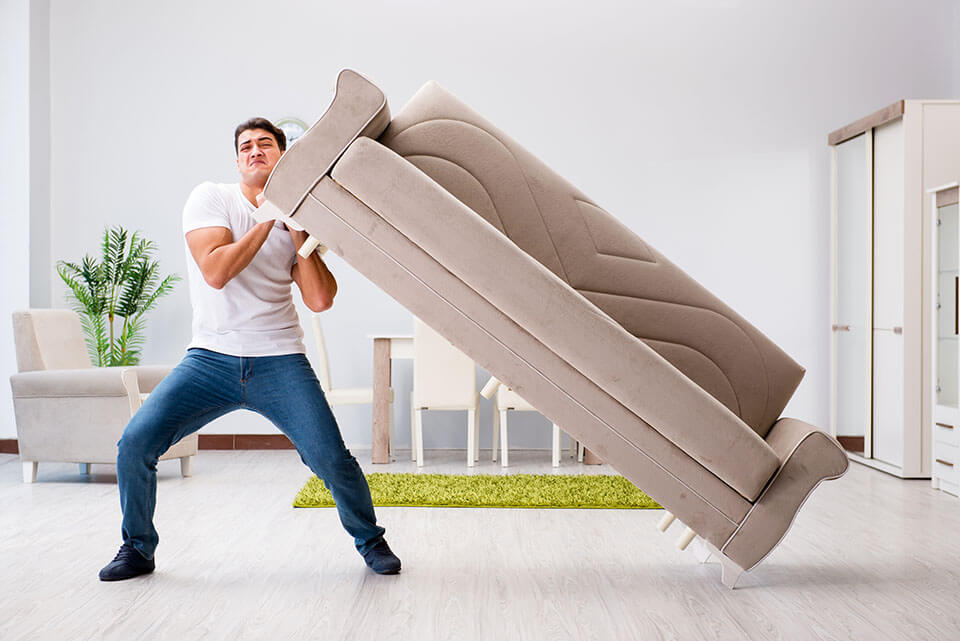 What Should You Do When Loading the Relocation Truck?
When you're loading and unloading the vehicle, it's important to use a ramp or some kind of object that will ensure you can load the cargo straight in on a dolly. It would be depressing to lift and carry everything for a while, just to see the vehicle is too tall, and you have to climb into it with the sofa. Not to mention that it's impossible to properly secure cargo in the storage trailer by doing it that way.
You can reduce that anxiety about relocating if you go and look for some bricks and planks and fashion a ramp of your own. It's easy, and there are probably loads of instructions online. That know-it-all cousin we mentioned probably knows how to make it, too. Some sort of support in the form of a ramp may come with the rental vehicle, but if not, put it on your relocation to-do list and ask for it during renting. This way, you should get the bulky objects into the storage trailer first and place boxes on top and around them.
Why Not Hire Movers to Move Furniture and Help With Other Tasks?
Just in case you have no clue what to do around a relocation vehicle, like what to load first, you can simply open a moving company app and contact professionals for their services. We'll get into why getting in touch with expert relocation companies makes more sense overall, but you can also change your mind at any point of your move. You can prepare for movers by letting them know about the amount of cargo and the size of the relocation vehicle. They can do the rest, and you won't regret booking their service.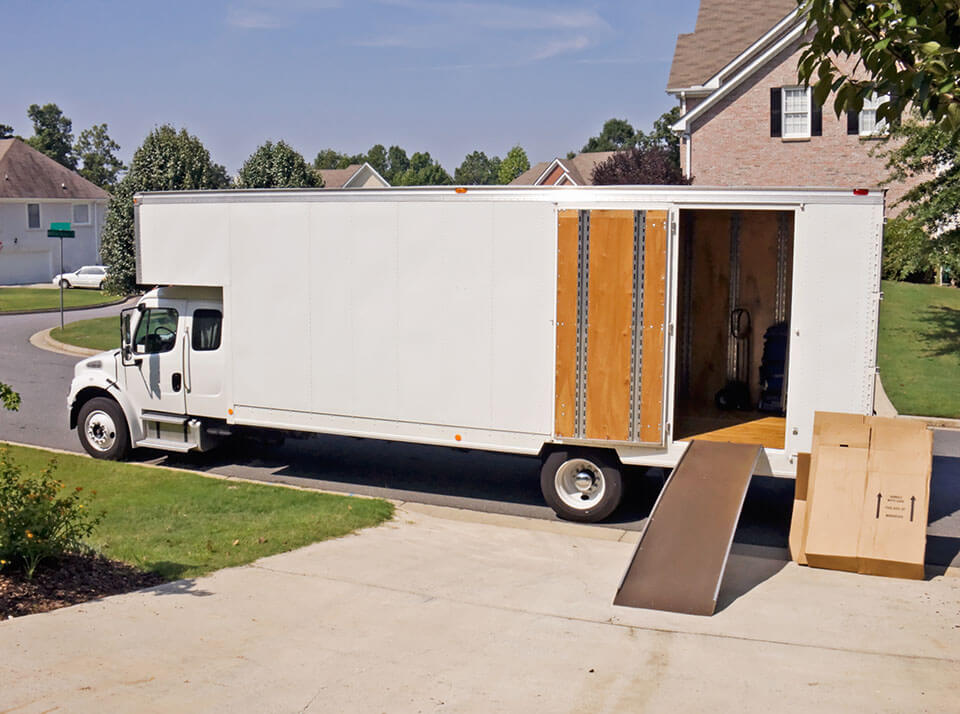 Hiring Movers to Help You Is a Smart Choice
When things start going south, it's time to open a moving app and choose a moving company.
Understandably, you have some doubts about booking a local or a long-distance relocation company because there's always news of relocation scams circling. However, you can find an app to compare moving companies such as Mod24 and its features, which would help you decide on the best services for you. As soon as you choose, you can contact them and learn about the process of going to a new home.
And how much does it cost to have furniture moved? When you get in touch with a local or long-distance service provider, you can freely ask them how much movers cost, and learn about other options, such as storage services, what is included in the regular relocation service, and maybe even how to tip movers at the end of the process. Relocation experts are trained in lifting and transporting bulky objects that seem impossible to move. You can also take advantage of storage units in case your long-distance trip gets delayed. All in all, you'll spare yourself the backache and improvizing tools for fixing a couch when it gets stuck in a doorway and move without a hitch.